selling 1240 and 1242...
In
O/N session
.......1242 hasn't hit yet........betting they don't want to spend much time trading near the 1250
RAT
on this opt. Exp Monday....
will hold for
gap
fill...
Snapped this 30m chart last night ... my
ES
"map" for coming into Monday's trading. Blue lines are potential signif
PASR
areas (Magenta, semi-signif) ... Whitish Dashed lines are Wkly Pvts ... Red Lines at 1241-1242 are an area of many Fib related numbers and some regular pivot numbers (Kool pointed some out in his weekend analysis). Range at 1248-1254 (a wider "zone" than usual) but seems the next really signif resistance above 1242 area. Pre mkt currently trading at 1241. Hope it's helpful.
Click image for original size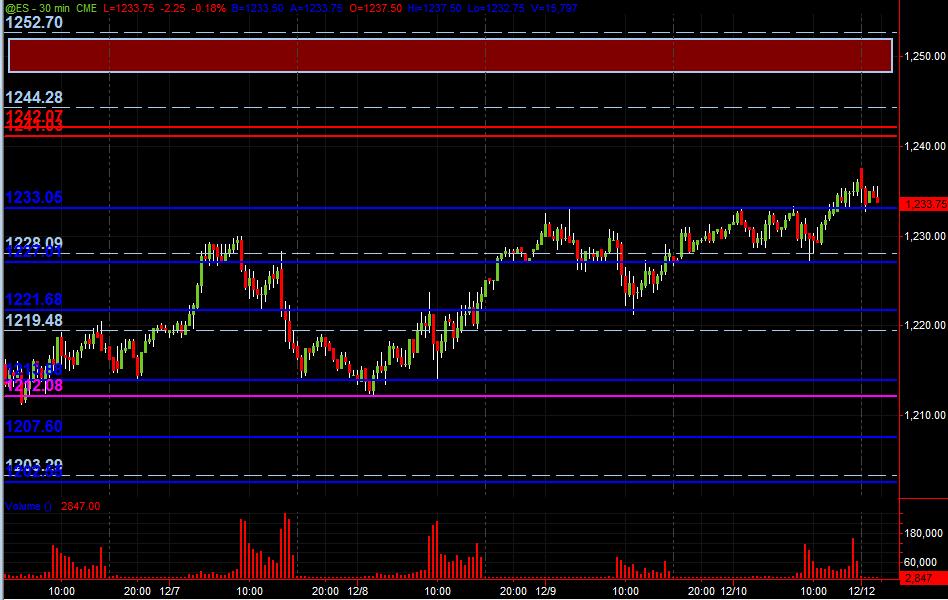 there's half the
gap
fill and lorns
LVN
from
O/N
....good place to take something off just in case they bring it back up again
with any luck the final target will be 34 even...but will watch any 39 retest now to see about new shorts
ok...on new shorts at 39.25.....will watch what happens only at 38.25 fill in...if it comes....
Just entered short at 1239.25 at the
low volume
break point on Lorn's chart.
Targets Below:
Gap
Fill at 1236.00 (high volume level on Lorn's chart)
VAH
at 1235.75
VPOC
at 1234.50
all air and hidden air is filled in ...would like to see open print NOT retested and then new lows....ideal situation for the 34 target...otherwise they may push up into 42 and 44 so lets hope they can't get open print for shorts to win
highest one minute volume bar close is 37.50...they like those closes...so a fsilure to attract volume and buyers will go back to that a THIRD time!!
Great job from everyone! BruceM, Lorn, Monkey M, & Pt-mini.

Thanks for sharing the way you see.