ES Short Term Trading for 12-16-10
ES Short Term Trading for 12-16-10
Here's my "map" of the
ES
on a 30min chart coming into Thursday's trading. Blue lines are potential signif
PASR
with Magenta semi-signif. Whitish dashed lines are Wkly Pvts and I've got a Red line at 1242 area which was/is a cluster of Fib numbers that now is also a
PASR
level as well. The 48-52 zone is a wide area of potential Resistance ... couldn't narrow it down any more and feel comfortable, but is something to work with for me. So I've got that big-assed zone, but am seeing:
*
1242
area as very signif with
1244
Wkly Pvt nearby and a Daily R1 at 44 calculated off
RTH
*
1229-1227
as combination of signif and semi-signif
PASR
along with a Wkly Pvt and Daily Pvt
*
1221.50-1219.50
next potential support of
PASR
and another Wkly Pvt (w/Daily Pvt at 22.50 as per
RTH
calcs.)
(not gonna list
HVN
's here as it would likely convolute things with an already pretty busy looking chart ... leaving that for Lorn, Bruce and others ... but am watching that too!)
Here's the All Trading Hours
ES
30min chart with all the pretty lines and Disney Land colors.
Hey El Koolio ... where you be Mister Kool Blue?? Nice recent analysis coming from ya this past weekend and on into the week. You had that 1242 area pegged ... and was also something that others were posting from diff perspectives ... I had it on my radar ... Bruce as well and some other folks. And thanks for the SEASONAL charts you provided. I've still got my eye on those and incorporating into my trading. What do ya have for Thursday that you're seeing bud?
the
POC
and daily pivot at 33.50 is getting a workout in
O/N
...so that is current magnet price and a key number in early trade today. monitor for moves away from there that fizzle out for mean reversion strategies
ON profile. Tight range and within YD's range....possible consolidation?
Click image for original size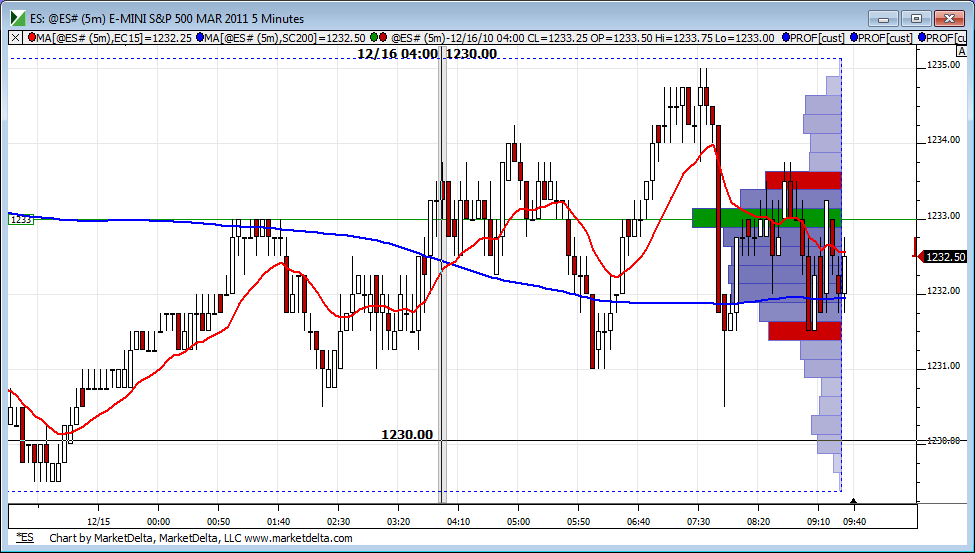 My outside objective is at 1237.00 and will be void below yesterday's low 1228.75

If below 1228.75 them I will be looking for 1225.00 and possibly 1217.00

Es now trading 1231.25 @ 10:51

Will see. And as always, the market has the last word and in due time will show us the way.
Originally posted by i1hunter

...the market has the last word and in due time will show us the way.

That almost sounds like a zen koan.
May the Force be with you ... live long and prosper ... and never buy a used car from a Hungarian moose.
here's where my thinking was...not my specific trades though ..I was looking at mean reversion...hard to hold sometimes !! watching
O/N
high now to see if we can stay above that but still in YD range and we traded both sides of open..
Click image for original size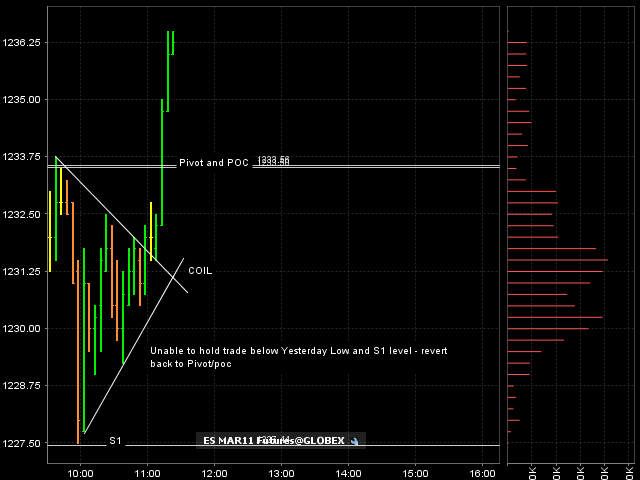 uppr target on last one is 1238 even...that is R1....they are liking the standard stuff in this dull volatility
a 15 minute close below 35 will stop this out..that is
O/N
high...
and nice call Ihunter!!!
It gave us the 1237.00, now lunch time for 4w and then final 5 after lunch... for possibly 1242/44 Will see, in due time will show us the way.....
ES
trading 1236.00 @ 11:34
Sure was Bruce.
Originally posted by BruceM

they just ran them.....that's one for the manual when we write it.....seriously though...anyone interested in triples should print out today's chart it was a beauty...