ES Short Term Trading 2-11-11
ES Short Term Trading 2-11-11
Here's my
ES
30min chart with 20 days of
Volume Profile
vertically displayed on the right side of the chart. The Green Dashed lines are simply the
HVN
prices. The
PASR
levels are the Red lines as potentially significant with the Magenta lines as potentially semi-significant. The Yellow line above price is a multi-fib cluster area fwiw. [the grey areas are the "overnight" session, not
RTH
] This is simply a MAP for going into Friday's trading. Hope it's helpful!
Click image for original size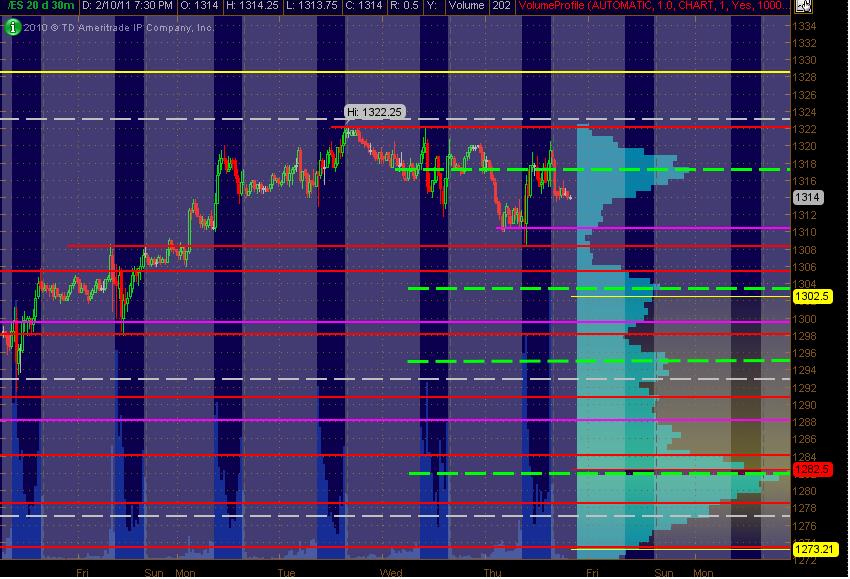 MM
Originally posted by koolblue



Originally posted by koolblue



Originally posted by BruceM

the two highest volume bars from YD are at 1309 and 1318....they like to test those. they match up with some of your numbers


Inoticed that,Bruce... i tend to think 18 would be a decent short as i still think 1306 is possible ( Kools calendar has a conventional cycle low due Mon)


It should be noted 1318.50 is the on high and daily notes page shows yesterdays range was 12 handles, and 5 day avg around 11.25! That means to me , if today is a normal day, and the 1318.50 high holds as i suspect, 1318.50-12= bingo!! 1306.50

Kools projection up is 1318.50-75 and c=a at 1319.00! ..gotta run..good luck!
Wow!,just got back. This went further than i had imagined!..selling 1321.50
got my short at 1322.00 ,
short 23.50....gonna be tricky ..llok at those closes
Mubarak has waived right to presidency
i see that.. stopped at 1324.00 loss of 2 handles(on two es)..ugh will re try at 1326.50
Well i guess i can take some solace in the fact that 1318.50 was a good scalp, but id be lying if i didnt say i never saw this much strength coming! Still think it'll be short lived tho!