ES Short-Term Trading 3-7-2011
ES Short-Term Trading 3-7-2011
i think we go below 1300 also as shown on the 30 min chart...1305 gets me short.. the real question is do we break the 1296.25 low?!?
short at 1305.25, usual 3 point stop to start(2 es this time)...WISH ME LUCK!
they want 07.75 again....they want to jerk it around on both sides
Well, maybe ,Bruce but she's gonna have trouble gettin above the 5 min red avg which is currently at about 1306.50(at least i hope so!)
I was thinking they want to at least test that breakdown from that double low to see if it is real....so I'm looking at 1307.50 minimum
i wish i had a
market profile
here to look at... at any rate looking at the march seasonals they go up into wed after a bottom today, fwiw.
Also, fwiw, i see no pos divergences yet on the 5 ,13 , or 30 min chart so regardless of how far the rebound carries, i suspect lower prices yet in store!
one last little tidbit... the nas has been leading on the downside today! And that aint good.. it looks like the blogger Cobra agrees with my suspicion of lower prices later!...
Click image for original size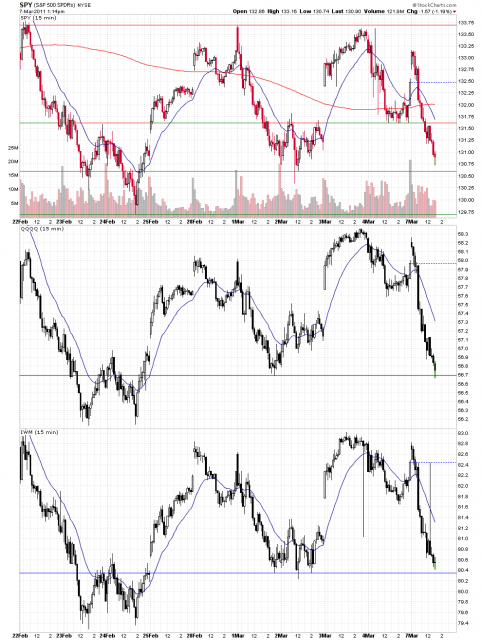 ..by the way great call, Bruce!!!
note the nas already hit the low from before! And it usually leads... he concludes any rebound is doomed to failure (a view i agree with)