ES Short-Term Trading 3-7-2011
ES Short-Term Trading 3-7-2011
here is the look in my volume world.....just like failed pushes away from
VWAP
, we need volume to break away from big previous
high volume nodes
......this is my chart of the day!!
No better example you will see , this is textbook stuff and they don't usually give us such a great picture of the failed push away
Click image for original size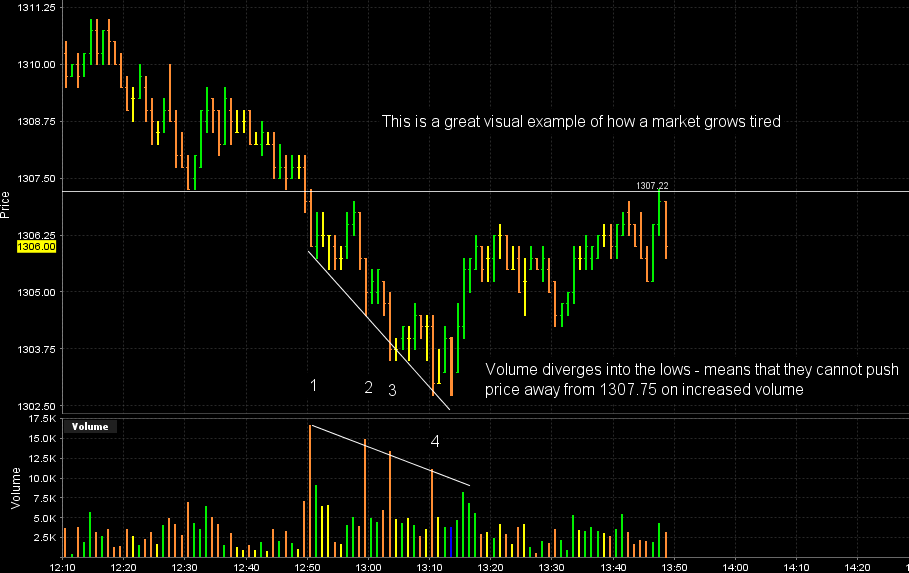 well i hope your right ,pal. i covered my short at 1305.75 for a 2
tick
loss hoping to sell higher prices(around 1308.50 or so)
well they did the test and that's all we can really count on with such a volume
divergence
...we are in a giant bracket so the smart money may be trying to slowly buy into this decline now......I'm not convinced they want to run the bracket low at 1300 today..but in general the bracket players will try to buy down here and will only exit if we get a big volkume flush below 1300...
so I think up is the way now
short from 1308.50, hoping theres still some downside left today...
its getting late in the day for me, so i'll exit very soon. but again, lower prices today, tomorrow, or certainly this week, would NOT be a surprise to me!
ugh! tried for one last trade ,to sell at that high vol node of 1308.75, but we didnt quite make it!...just as well i guess.GOING TO GET SOME REST... all in all, a great day for me , despite my usual mediocre trading! Good trading all, aND
SEE
YA MANANA!