ES numbers for 4-15-11
1326.75 big volume here from Monday and that days open...it was also a
VPOC
before the flip down
1323.50 big resistance spot as per
single prints
and mondays midrange, afternoon high of Monday
1319.75 big volume and mondays close
1315 - Wednesday peak volume before it flipped down to 1308.50 ******
1310.25 - 1311.25 ***** Thursdays close is here, BIGGEST Volume spike here,
VA high
is here, 1st deviation off
Vwap
up
1306 - 1306.75 ******* closing
vwap
is here,
POC
as per time is here, midpoint is here, Volume buildup here
1302.75 ***** Thursdays open, 1st deviation off
vwap
down,
VPOC
1299.50 ******** 2nd biggest volume of the day happened here, 2nd deviation off
vwap
Lots of numbers in 3 - 4 point intervals so they reflect the smaller ranges...hopefully we will see something to confirm them in the
O/N session
. I'd like to see overnight strength for sells in the day session into one of the many zones labelled.
ideal shorts will be above
O/N
highs preferably near the 14 - 15 area to target the 1310.25 - 11.25 area....failure up there will go to 1319.75 - 20 area...
lets hope we see some clues with Volume....opt exp today
Lorn, on your weekly profile 1317 looks like resistance to me, overall a little "b" pattern for the week, bearish omen.
14.25 is also middle of weekly range
Good morning.. Mr Daltons assesment...
Click image for original size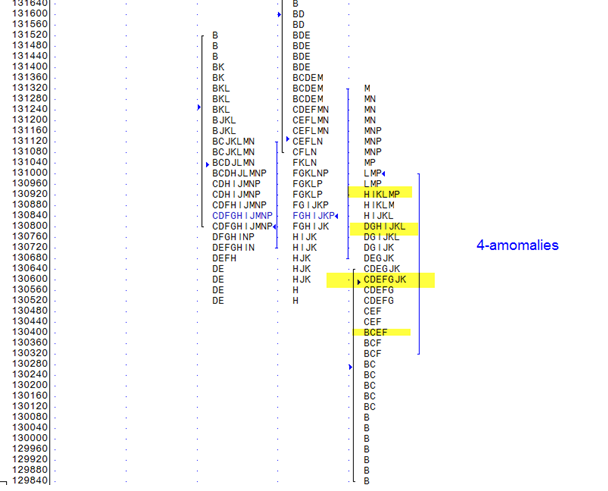 ..."Yesterday's rally was very poor and appeared to be mostly short covering as overnight inventory along with early selling got too short; when the market couldn't find price acceptance below 1300 the shorts were caught. When these conditions develop the more astute, professional day and short-term traders, who recognize the condition of the market, immediately begin to bid the market. The resulting structure from the 1304 level upward is weak.
We should open within balance; however, near the upper end of the range. If there is no upside follow-through the poor underlying structure can find price attracted back to it.
Overnight inventory is net short; however, it is moderate." I have been busy trying to increase my size (no, not with Extends! lol ) and wont post much during the transition. Longer term ,expecting a rally for today ,maybe into next tues, but i dont think we've seen the bottom yet!..Expecting 1291 longer term ,then off to the races,but we'll see...
air pockets
below so we know the drill...key on this will be if they can hold the
O/N
high on a retest from above.....then our shorts wil find trouble
One ticked Lorn's 1316.75
LVN
!
I was waiting for an entry, but they took it straight up and straight back down ! Hate when that happens, thankfully it doesn't happen that often...
well I'm covering all but two at 13.50....this was off 15.50 and part of the plan....no need to explain...old stuff......trade now needs to stay below the
O/N
high to target 1311.50
once again we get challenged at the OR too....