ES Short Term Trading for 4-21-11
ES Short Term Trading for 4-21-11
Here's my MonkeyMap of the
ES
30min chart of 20 days. The Gray background is the "overnight" trading. The right vertical axis shows the 20-days worth of Volume at Price in Light Blue. The Red lines are my
PASR
"zones" of potential
S/R
with the Magenta potential semi-significant. The White dashed lines are the Weekly Pivots. Have a Yellow line above the current market that looks like a potential significant Fib cluster area to me. Hope this helps some in this whacky current market action!
Click image for original size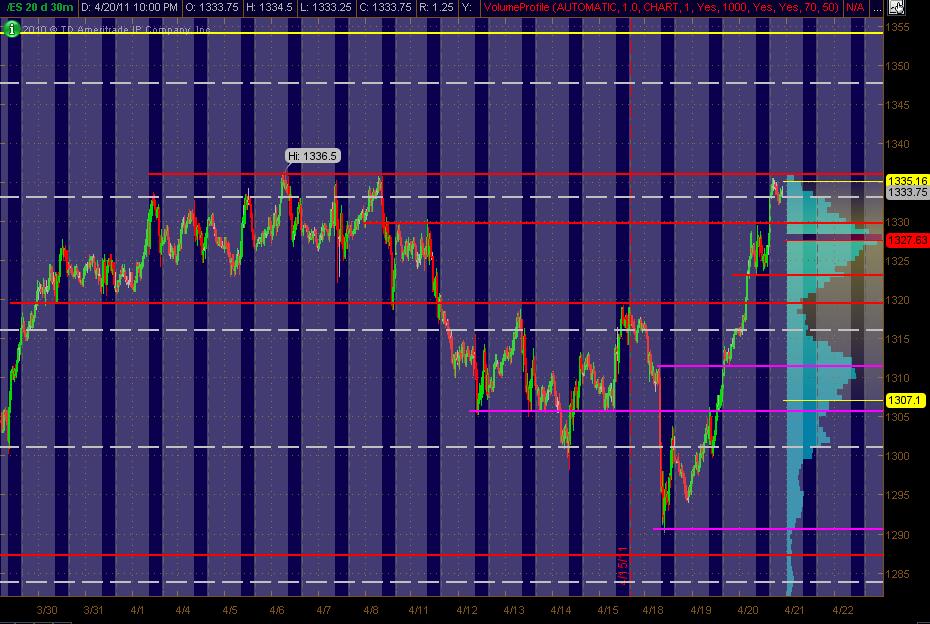 Don't have much in the way of
PASR
above what is a 3 year high for now ... my bad!
Originally posted by koolblue



Click image for original size



..selling 1333.25 but just another quick scalp..if we even get there...
short a bunch at 1333.25, took a bunch off at 1332.50. exit ther rest at maybe 1331.75?(expecting lower)
selling into 33.25..if we stay symetric then they will come back for 31- 31.50....otherwise 34 - 35 seems to be a key area to watch ..aware that an hour range needs to run out still
That was a 10 lot.. holding only one now, as i have to leave briefly... see ya in 45 min or so
In theory this should take some very aggressive buying to push this away from that peak volume and
Vwap
at 1331 area,,,no sign of that yet...
here is something I'm messing with today but not specifically trading from...It's a 5 minute chart with only todays
RTH
VWAP
( thick red line) with a
volume profile
,,,,,,big green line is peak Volume...so when
Vwap
is very close to Peak volume we tend to stay symetric until we snap away from it...with Volume
IN the lower pane is
Cummulative delta
.....so far a nice
divergence
from the
CD
at the open to the retest back up..
The light green lines are two standard deviation off of
Vwap
..
we'll see how this plays out..I certainly am not thrilled that we are consolidating near the hour highs....I'd prefer that run out to be over with....could be a big break out so using caution and this
fade
has been initiated lighter
Click image for original size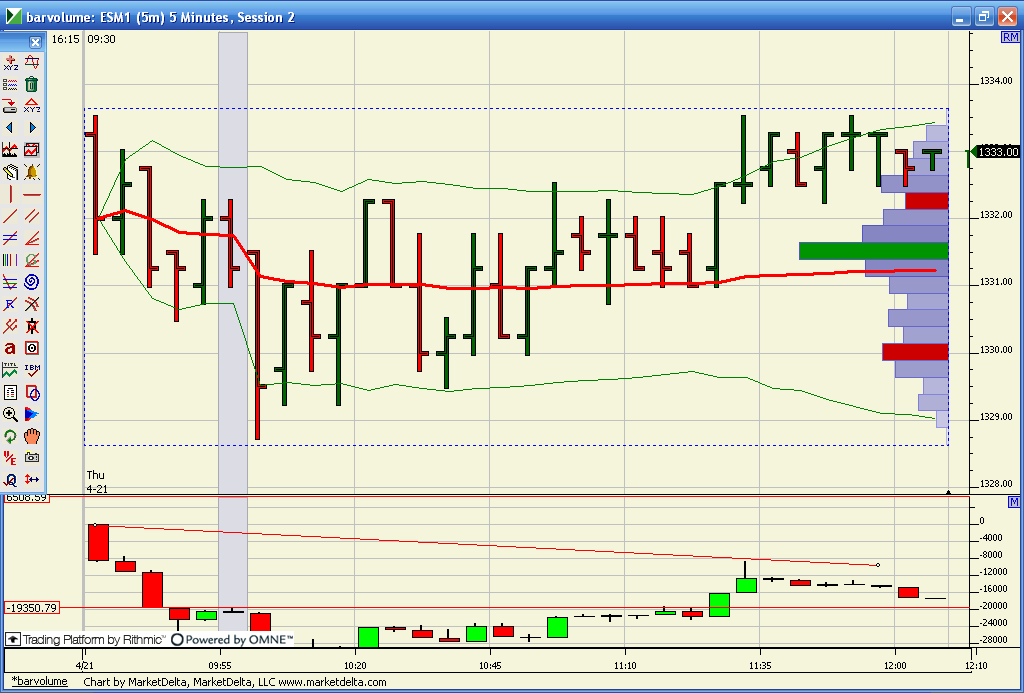 Ideal
add
point will come if they print into 34.50 area,,,,,that will be peak volume from Overnight but also it will be equal points from peak volume. Meaning peak volume to todays low is 3 points so if we
add
those 3 points to the 31.50 we get 34.50...that would make it price symetric....
Hey Lorn...is your
CD
getting worse as we push up right now...I'm showing
CD
weakening on these attempts to go higher right now
Well, i just woke up from my nap and was about to post how it looks like 1331.00 held it, but check out the last 4 min of trading!...ha! Crafty bastards! too late to take advantage of!... c ya next week!