ES Short Term Trading for 4-21-11
ES Short Term Trading for 4-21-11
Here's my MonkeyMap of the
ES
30min chart of 20 days. The Gray background is the "overnight" trading. The right vertical axis shows the 20-days worth of Volume at Price in Light Blue. The Red lines are my
PASR
"zones" of potential
S/R
with the Magenta potential semi-significant. The White dashed lines are the Weekly Pivots. Have a Yellow line above the current market that looks like a potential significant Fib cluster area to me. Hope this helps some in this whacky current market action!
Click image for original size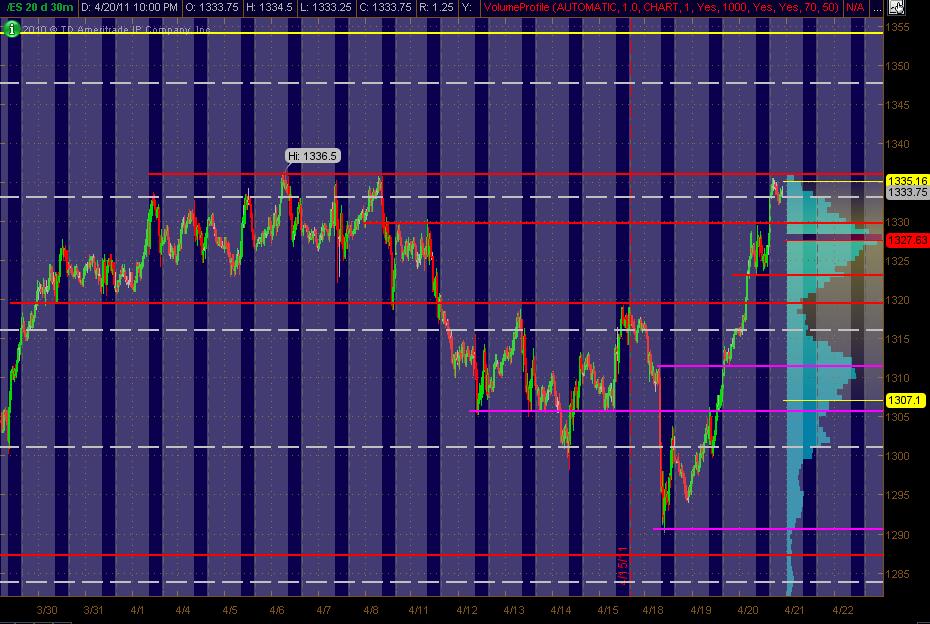 Don't have much in the way of
PASR
above what is a 3 year high for now ... my bad!
Well, i just woke up from my nap and was about to post how it looks like 1331.00 held it, but check out the last 4 min of trading!...ha! Crafty bastards! too late to take advantage of!... c ya next week!