ES 6-6-2011
Last weeks
volume profile
for study.
Click image for original size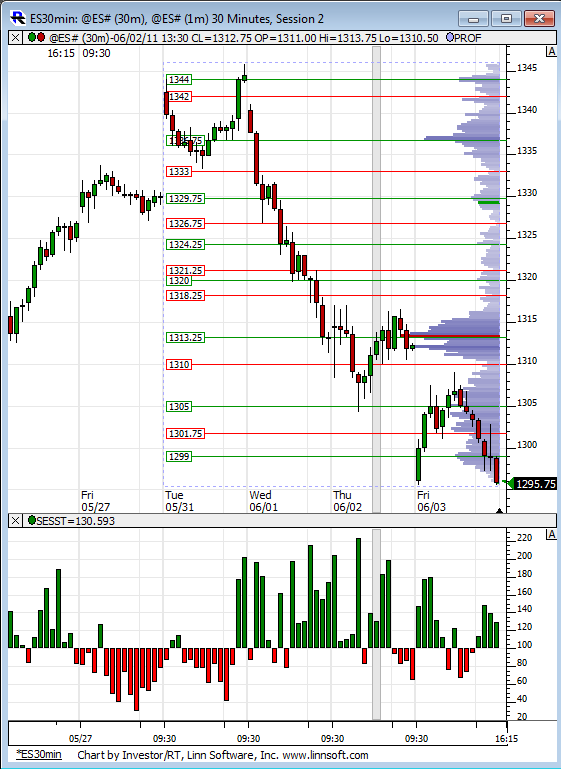 For resistance I'm using 1302.25 - 1304.50 ***** we have quads, POCs ( Time and Volume) ,Closing
Vwap
..and the Friday afternoon highs...a STRONG magnet that needs to be revisited soon..
I think there is work to do on the upside with the Friday low at 1295 and the 1289 - 1290 as critical support. Bulls do not want to see a breakout below there with high volume.
Volume was slightly lower on Friday except for the Compx which can be a sign that selling was a bit labored.
Above Fridays
RTH
highs we run into more resistance at 1312 - 1313 and then we have a poor high up at the 1317 double top - on 30 minute data.
Lower trading below Fridays lows will also be the fourth day of selling ..not the greatest time to be putting on shorts...dumb money tries selling after the third day.
No reports today at 10 am so we have a good chance to back fill on a lower open from fridays close...so we need to think about buying under Fridays
RTH
lows.
The
O/N
is building volume at 1296 even...so we can set up our first resitance zone and a target ( if we buy under that
RTH
low) at the 94.50 - 96 area. IDEAL buys will come under 1290 if they have the power to push it that far.My bias is on the upside especially if we get the lower open.
Good luck today.
I wanted to bring this to anyone's attention. If you get the
gap
guys free video, take the time to notice a couple of things on the table he shows that quantifies the
gap
opening research he did for the day.
today, for instance, he tested for probability of
gaps
filling (or being profitable by the close) when price closed at a new 50 day low close, but price remained above the 200 period
simple moving average
(daily
RTH
). (These were in place on Friday)
in the performance summary, he gives the number of occurrances and the number of profitable trades (not necessarilly
gap
fills)
He runs these things on a 5min
RTH
only bar chart.
for today, if you look down the column titled LONG TRADES (means price gapped down at open and you went LONG at the open)
you can see that a
gap
down is profitable 86.96% of the time (HEFTY),
but additionally,
descriptions of the stats are in a column on the left.
Go down to the 4th set of descriptions.
find
"Avg bars in winning trades" and follow over to the LONG TRADES Column
for today, avg bars in winning trade = 15.55
these bars are 5 minute bars. 12 bars = an hour,
so, on average, the
gap
fill occurs by or near 10:45 eastern
you can also look at the 3rd grouping of descriptions in the left hand column,
Avg Trade Net Profit
for the long trades today, that number is 3605.98.
he uses 10 contracts when he runs these things, therefore, move the decimal point one slot to the left, makes it avg winner/contract of 360 bucks
divide that 360 by 50 bucks a point and average is 7 pts.
(remember, these are just averages)
That's great stuff Paul...thanks. I think is is good business to have a healthy fixation on the long side with these overnight lower prices...
I'm also focusing on this formation that happened on Friday...we have Five - 5 minute bars with matching highs......Those don't usually stay unfilled for too long......my crude stats would show they are filled within one or two days..which would be today or Tuesday...so lots of targets on the upside
Click image for original size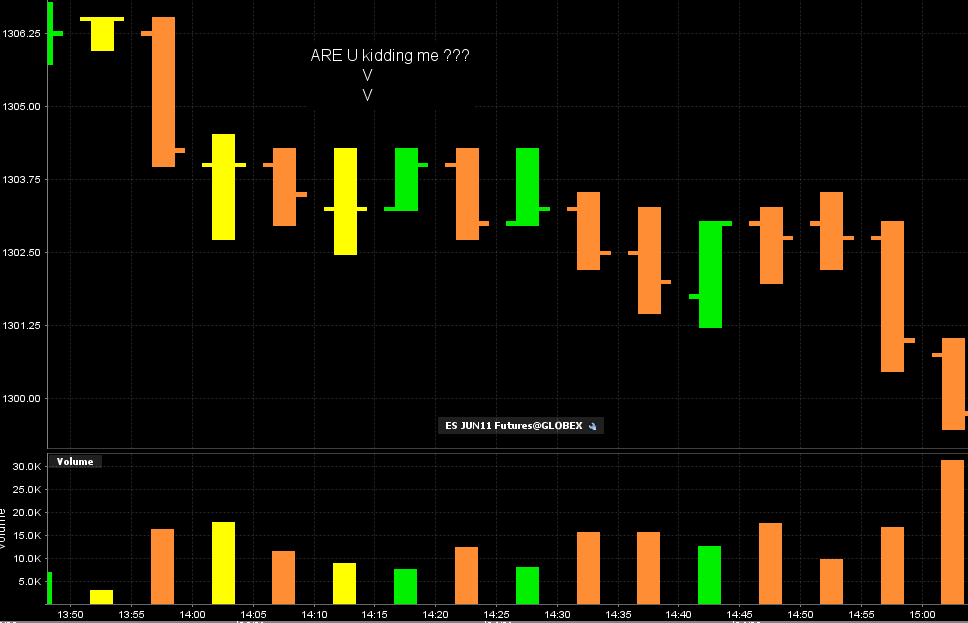 That was a very large volume spike into the recent trade at 1297.
this needs to push up into
low volume
at 95...that would be 5 points up off the lows too
Lorn ..Ym is way out of synch too
sorry big mike I had a data freeze up with
IB
....that doesn't happen much...Glad Lorn took care of ya....
I was hoping we would hit into 1281.50 to be exact because that would have put us 2.5 points under that old
VPOC
and into the S2 level....I don't like initiating right on those old volume points unless volume gives a clue...My preference would have been to try and buy underneath that for the retest back up...
Now that my charts are back it seems that I would have missed the trade accoring to my filters......too late for me too..Congrats to u folks who got the long off....nice trade!
Originally posted by Big Mike

Wasn't 1284.50 also a Naked POC?