ES 6-6-2011
Last weeks
volume profile
for study.
Click image for original size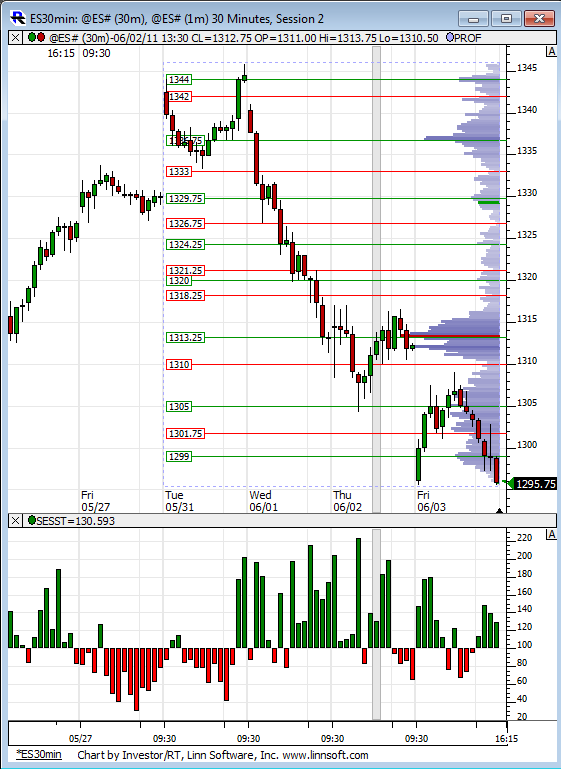 and of course before the
O/N
low comes into play we will need to take back the 60 minute low on
NQ
and
ES
.....
I will not be adding on new lows if they come...too late for that


Volume is still poor on this entire day/decline....suspicious to me!
u long
NQ
players must be pleased that it is back above Fridays lows.....
I'll be happy if they can just get to 1292 on
ES
to target
not a great entry for me otherwise I would have tried to target the 2.5 number up off the swing low at 1291... a one point target is ridiculous to me...only slightly better then my 2 point target..LOL!
If the hour breakdown players don't show up then the bigger faders ( not me) will push for the midrange and higher. I'm hoping to get most off in front of that 1293 midrange and pull 2 runners up...to tighten stop
johnpr2010 whenever you have a moment, do you mind posting a chart to show your 284 level ? thank you in advance
Originally posted by johnpr2010

I see a very nice support @ 1284 once it breaks RTH low.

still not seeing real signs of heavy seeling as we go lower...volume is still symetrc and it seems like they have some work still to do in the center....bonds closing in 25 minutes may change that opinion...we'll see
I covered my runners at 90.25 on the way back up...initial plan was to give the runnesr room with profits from the other 3 contracts......i don't like 5 minute double bottoms.......not the best structure to hold this and they already did the test up....
I'll try one more long and that will only be if we can get back inside 60 minute lows after 3 pm...
last try at 87.25...jumped in a bit...hoprfully not too early
sorry big mike I had a data freeze up with
IB
....that doesn't happen much...Glad Lorn took care of ya....
I was hoping we would hit into 1281.50 to be exact because that would have put us 2.5 points under that old
VPOC
and into the S2 level....I don't like initiating right on those old volume points unless volume gives a clue...My preference would have been to try and buy underneath that for the retest back up...
Now that my charts are back it seems that I would have missed the trade accoring to my filters......too late for me too..Congrats to u folks who got the long off....nice trade!
Originally posted by Big Mike

Wasn't 1284.50 also a Naked POC?