ES 6-6-2011
Last weeks
volume profile
for study.
Click image for original size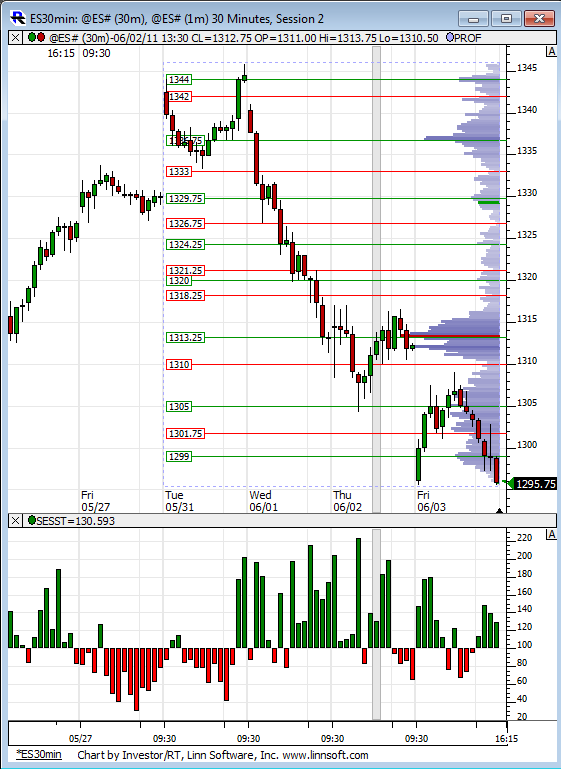 divergence
between
ES
and
NQ
is severe.
I look to
NQ
to give me a tell as to what ultimate outcome should be, but this is pretty severe
have to pay attention to this day to see what the resolution to the difference turns out to be.
Another observation, prices have now tested the April low of 1290.25. This is critical pivot here for the bulls.
agree Lorn and that's why I mentioned that as a key area...that little swing low is trying to contain the bigger bracket of prices...


now this 94 - 95 is key with Fridays lows and 50% of the days range
so far I need to entertain the thought thay I might be wrong now with the long bias.....we are building value lower than Fridays
Value area
...so price SEEMS to be accepted lower so far...
us long traders would not want to see
NQ
roll over with
ES
below
O/N
lows and then the hour lows too...that could get ugly
Best thing would be for
ES
to consolidate near 94 - 95 and then come out of the Opening range highs...
Following on to Bruce's thoughts, on the bearish side, we have the selling tail still pretty much unchallenged at the top of the range indicating that other-time frame seller is still in control.
wake me when it's over

zzzzzzzzzzzzzzzzzzzzzzzzzzzzzzzzzzzzzzzzzzz
looks like es is headed to the 200 dma
Long on the 90...not convince of this decline..need this to get back above
O/N
low to be agressive on it though....so far no volume is coming in below the key volume lows mentioned on page 1
YM
is still divergent...hasn't busted it's
IB
low..
sorry big mike I had a data freeze up with
IB
....that doesn't happen much...Glad Lorn took care of ya....
I was hoping we would hit into 1281.50 to be exact because that would have put us 2.5 points under that old
VPOC
and into the S2 level....I don't like initiating right on those old volume points unless volume gives a clue...My preference would have been to try and buy underneath that for the retest back up...
Now that my charts are back it seems that I would have missed the trade accoring to my filters......too late for me too..Congrats to u folks who got the long off....nice trade!
Originally posted by Big Mike

Wasn't 1284.50 also a Naked POC?