ES Monday 7-18-11
Thought I'd post my "map" of the
ES
30min chart with potential significant
PASR
levels that I have in Blue (any in Magenta are semi-significant). The Dashed White lines are the Wkly Pvts. Also, have a Yellow line that is a Fib cluster fwiw.
Click image for original size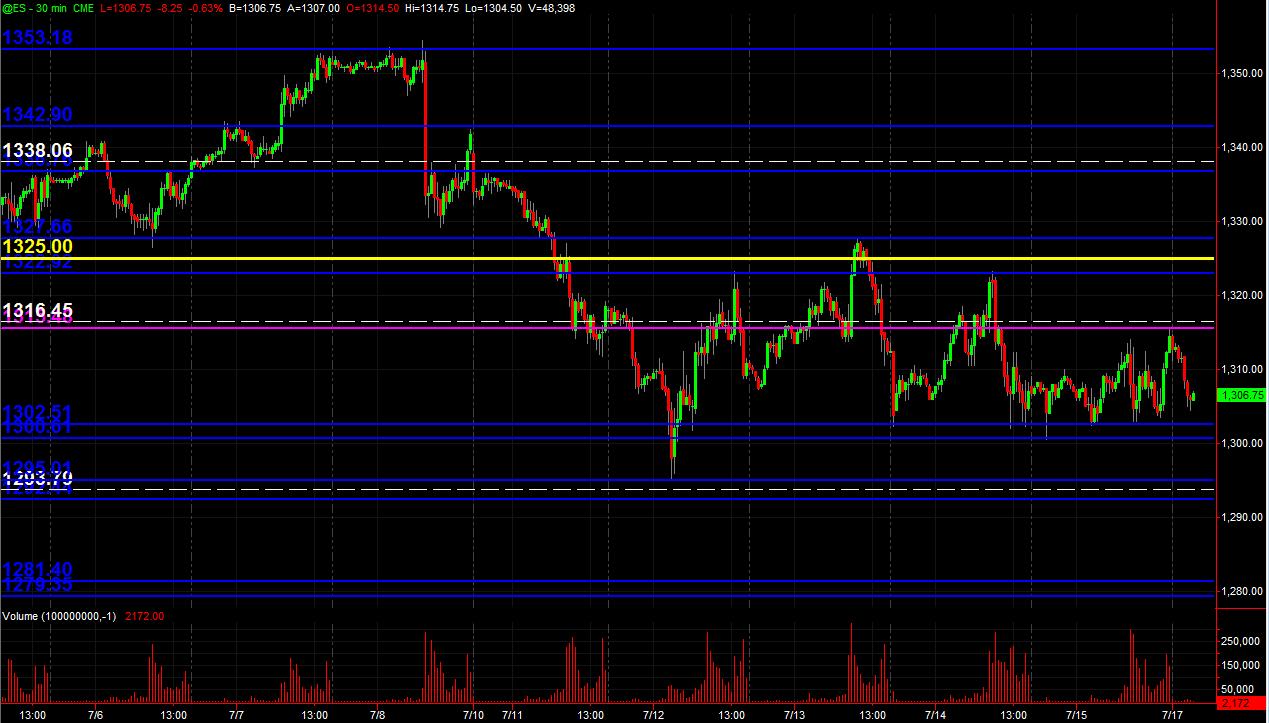 Whether trading equities or
ES
... hope this is helpful.
And any/everyone post your analysis with rationale for what you're seeing coming into Monday's trading session.
As a follow up with a bigger picture ... here's a 60min chart with some trendlines and
S/R
lines showing a compression of price. Also, if price moves to the upside, I have the regular Fib retracements in Red:
Click image for original size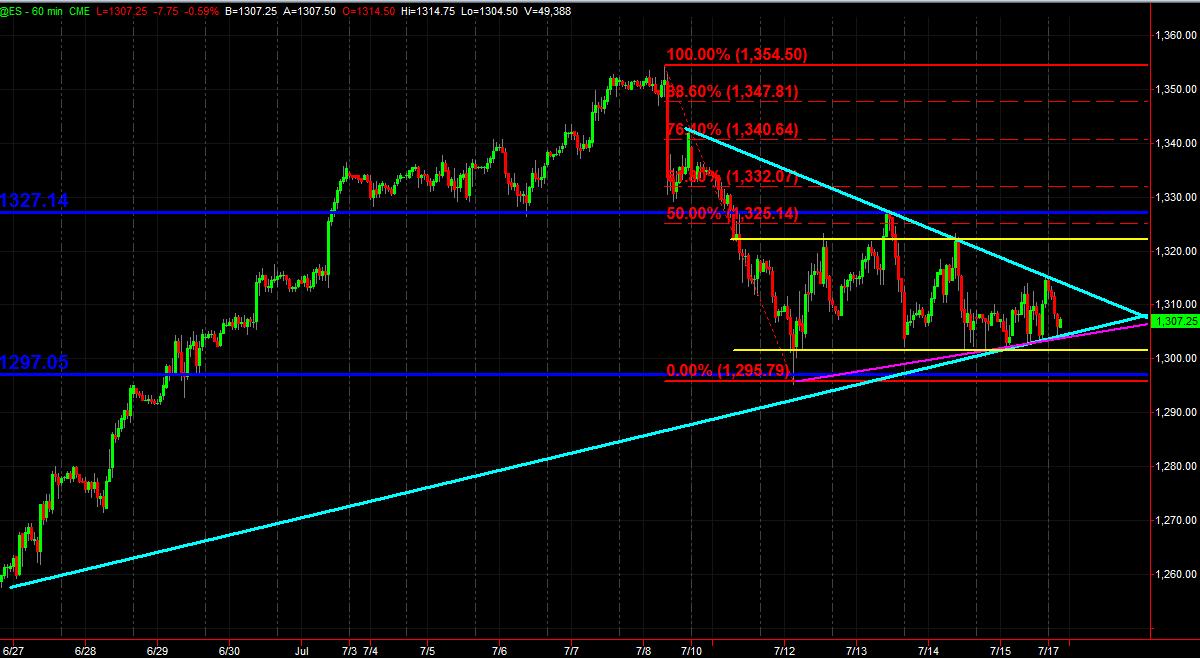 Yeah, we're in the middle of Summer trading doldrums, but keep in mind that as of Friday's close, we've got a
RTH
ID/NR4 ... and All Trading Hours closed above the 50 Day
SMA
Friday (after a couple of days of slightly probing below it with Friday closing above it).
And the
SP
-500 index ... pretty much the same action on the 50 Day
SMA
which additionally coincides with a 50% RTC on the daily chart.
MM
"The suspense is terrible. I hope it lasts."
Willy Wonka(Gene Wilder)
Watching the banks chewing at support levels(currently under) and have been in a vacuum.
1303.50 all I got.
Up targets if corrective would be sub 1320. Preferably below 1317.25 and Friday
hod
. Otherwise,reevaluate.
I have 1295 and 1292 as targets (60-min chart)
. My caption program still does not work.
can anyone pull up previous day's comments and see any "previous" pages.
I just pulled up 7-15-11 and I can only see the last page.
RE the .618 extension of Monday's range, (Monday of last week, .618 extension was hit
RTH
, historic odds based on data back to 2001 is roughly 8 in 10 that full extension of Monday's range will be printed sometime before the close of the next Monday.),
the full extension from Last Monday is 1296.50, it was hit today (
LOD
so far has been 1296.25)
now, if I could just discover a price pattern that effectively "sounds the alarm" that the event horizon is at hand.
I like that. "Event Horizon"
Currently using 1297.50-1298 as
s/r level
and the mark. I like the sound of 1291
as a target level(small timeframes)
mainly I look for patterns but the trend is paramount
I looked back at Friday and there was a tab to select the pages.
RE previous pages, THX

OK, I see it now, in green background
i wrote this on friday...it seems i was a day late
"i would expect the
o/n
lows to at least be tested today. I have some support penciled right above in the 301-302 area but would be cautious abt it, meaning i would wait for a failed break of the
o/n
much bigger support lies below in the 94-96 area for me; we might not get there today but i think we are headed that way eventually"
i think that if this 94-96 area does not hold the next big support lies around the 88 area; hourly projections, a daily projection and a
vpoc
from june 28 if am not mistaken...so i think we would eventually test that area in the coming days
Originally posted by PAUL9

...now, if I could just discover a price pattern that effectively "sounds the alarm" that the event horizon is at hand.

Paul, my event horizons (targets) are based on the previous swings low (buyers show up)and other levels where buyers came in the past (I expect residual orders there). It is very simple, as I am a "brick and mortar" person.
1295 was a breakout with retest level on 6/29
1292 was a breakout to take out the swing high on 6/22
Both levels had large long orders coming in
I do not trade theoretical extensions, though started to look at them recently. Still I would not act at extension levels until i see buyers/sellers coming in. Sorry for not posting reasons for my levels, as I was in a trade.
M-Meat. Thanks for the "big picture" posts. Thanks also for the reminder to post reasons for predictions. We all should post only meaninful information.
I expect buyers (or residual orders) to come at 1295 and 1292
Originally posted by day trading

[quote]Originally posted by PAUL9


We are adding new features to the Flow format but not doing any work on the old format.

DT, thanks for the imrovements. It would be great to
add
an automatic return to the
bottom of the page
after update, instead of the top of the page.
Keep up the good work.