ES Wed 7-27-11
The
VAL
for the
ES
for trading on 27-July-2011 is at 1328.25. The overnight price has been hovering around here since this session started (white bars on right). Below us is the
single print
at 1316.50 from 7/19.
Market Profile
traders will be looking for longs at 1316.50 if we drop down there and if we open below the
VAL
will be looking to get short at 1328.25. If we open inside the
value area
we'll be looking for sideways trading but we have a very tight range of 4.5 points in the
VA
so we'd expect a breakout of that.
The Daily Notes page:
http://www.mypivots.com/dailynotes/symbol/445/-1/e-mini-sp500-september-2011
shows the average daily range to be between 17.00 and 19.50 points over the last 5 to 120 days so don't expect the price to stay inside the 4.5 point
VA
if it starts out in there.
Click image for original size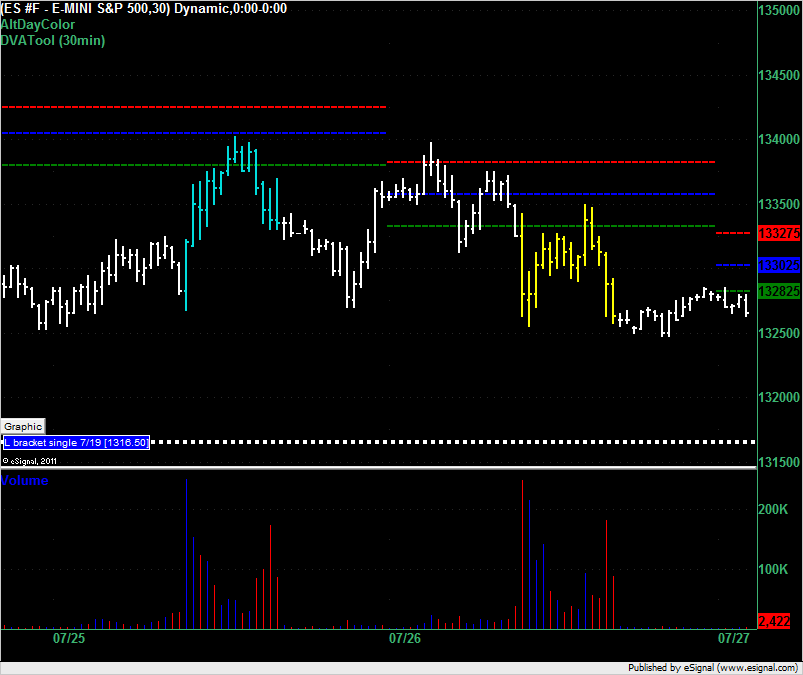 started new longs at 1311 ..looking to get back to 16 but air is first to be filled...in 15 area......will only
add
from here on footprint long signals
just a quick note here on printing a full extension down of Monday's range: That's all I got. I have not conducted any studies on reversals from a full extension down.
sorry (it only took me about 25 hours to review all the charts I did to come up with the print 618 down (
RTH
) will print 1.00 down
RTH
.
but that's all I was able to figure out. just that it should print, nothing about reversing or going further. sorry.
The
Market Profile single print
(from L bracket on 7/19) long at 1316.50 is obviously a failed trade and a loser.
Click image for original size
geez, dt, I thought every single trade in the
MP
world worked (kidding, of course)
Unfilled
gap
below
I posted the unfilled
gap
numbers earlier
just tagging the upper edge can produce a small bounce.

I wish they did!
Just trying to post the losers and winners to give a balanced view.
trying for +2.5 from 1308.25

1310.25 and 1311.5 above
1307.25 the 50% level between 1311.50 and 1303
Boehner might be holding a press conference soon. (cnbc notes that microphones are set up, but Boehner walked past them on his first pass
all my
add
ons are trying to get to
low volume
at 13.50 but will get out agressively at 12.50 print......I trade for the restests....
"what do others think of that idea?"
sounds fine to me,
in my "old school" view of the markets, right now, markets are weak due to uncertainty about the debt ceiling.
If a headline of resolution comes in, I would disregard taking shorts at 06 or 07 and expect a "buy the news" event. As shorts cover, squeezing other shorts who are slow on the trigger finger.
I would expect a minimum of a 16 print (because last week's
RTH
only 50% of the weekly range was 1317.25)
Headline of resolution can easily vault prices all the way to Bruce's 23-25.
1325 is weekly
pivot point
(based on last week's
RTH
PA
)
but this kind of volatile
PA
can easily create spikes and reversals