ES Fri 8-19-11
Thursday's trading left a
single print
at 1149.25 which was a place to get short and I mentioned that on the forum and tweeted it at
http://twitter.com/mypivots
however the market got back up to a high point of 1148.25 later around midday but was shy the short trigger price by 1 point. That
single print
still remains valid if the market opens below it for today's (Friday's) trading session. There is also the H bracket
single print
at 1194.75 left from Wednesday but I don't see that coming into play today.
Safe and profitable trading everyone!
Click image for original size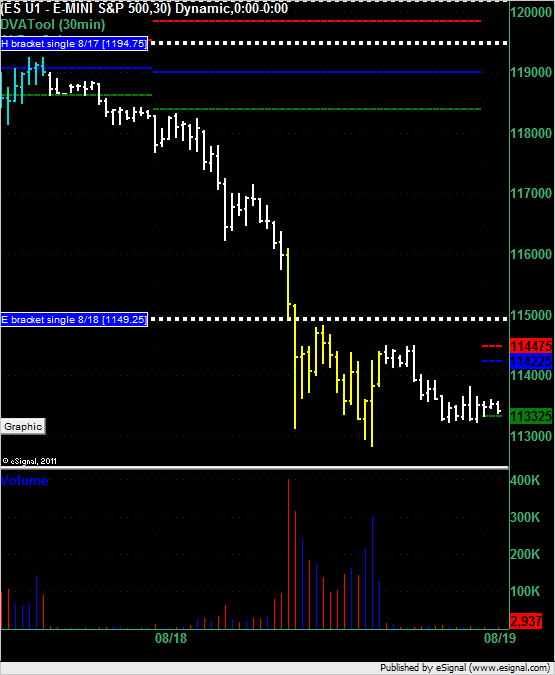 that little spike up 2 points was low vol from last night it went rite though is
High so far today was 1
tick
above the
POC
. This is a stronger market than I was expecting. My next target for a short is the
single print
at 1149.25.
for big mike.
a perfect example of what I wrote in the thread on yesterdays thread to answer your question...we blew right through the
low volume
of yesterday at the 48 - 49 so I am looking for shorts near 52.50 - 54.50 to get short to go back to the 49 area...they run out the stops and then bring it back down to go fill inthe volume node..
having the
air pocket
at 47.25 is just a bonus to help with the
fade
...and pull the market back after running those stops at the
single prints
If we get real lucky now they will go for the high volume at 36 and then the
low volume
at 33 !! This 42.50 area is
low volume
generated from TODAYS data...a break out point up ! a critical point for the bears to overtake
I'm done at 42.50...combining the last two days we get a high volume peak at 1140 and a very big bell curve with 49 at the high extremes and 27.50 at the low extremes.....we are stuck inside the hour range so I'll be standing by to see what happens from here

seems like we may just consolidate ....that 40 number is also the 4pm close from thursday
great trading bruce, and thanks for all the insights...terrific
bruce would the low vol from over night count in that blow though ?I have low vol from 39.0 to 42
this morning ?
good call bruce right back below the open