ES Fri 8-26-11
Interesting market from Thursday's trading. Thursday's breakaway in the E bracket left a
single print
at 1172.25 (short signal if we touch it) and from Tuesday we have the
single print
at 1150.75 (long signal if we touch it). So the
ES
is boxed between those 2 prices and the
VAH
and
VAL
are also boxed inside those prices. Don't treat these as signals in isolation. Combine them with other high probability setups. For more of those see what BruceM has written in these pages.
Click image for original size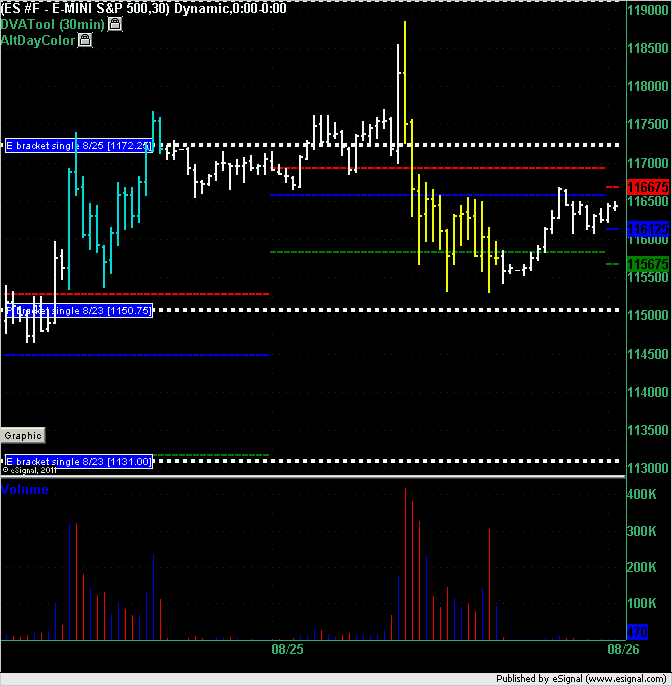 Only two other areas I will trade at if they can push that far is the 68 - 69 area and the 76 - 77 area...both
low volume
areas from yesterdays trade created by sellers
lots of heavy and high
$ticks
......plus 1500..that's huge...watching
NQ
to make sure it stays under yesterdays highs then we will have a chance to trade back into the 57 area again...
low volume
there still!!
ghost town these forums lately....can't talk to myself forever..LOL !!.hopefully somebody is picking up a few tricks or two....
The most common thing u will see with
low volume
is the overshoot...where they bust through the number to run stops and then bring the market back into the
low volume
zone and further...
having fixed stops in those areas will kill ya over time....that is why I use to average in but now I'm evolving a bit more....
good luck all..I hope everyone and their family stays safe and away from IRENE
hopefully some are selling with me above 77.50's...the overshoot!! with a bit of skill they will fill in the 71- 72 area.....ok nuff said....we know the
single print
players wanted that number too!!
Originally posted by BruceM



good luck all..I hope everyone and their family stays safe and away from IRENE

LOL were going to Edisto island sc this weekend think were gonna miss most of it.
stay safe Joe and catch some big fish...i just picked up fishing with my kids...I'll have to get your help with that at another time....I want to catch the big ones...I need advice from a seasoned pro like yourself
couldn't resist this as I wait it out....two day bell curve with all the volume in the middle...very symetric...the one time framers want to try and keep pushing it up and us faders want to get the previous lows retest...which would be the big score at the 67-68 area...lets get the 72's first and worry about that later...
Click image for original size
all three indexes are very close to key zones....the
NQ
is just slightly behind.....we will have our first set of
single prints
now at the 12:30 close!!
Hi Bruce,
What do you look at to determine overshoot range in
low volume
area as you talked about in your post.
I am having trouble in figuring out stop loss in
low volume
areas. I have heard some traders use
Market delta
foot print to get clues into buying pressure vs selling presuure. I do not use it. Thinking about it.
Thanks
I'm now using the footprint too in
market delta
...the increase in volatility has brought me down that path. So I'm not really suggesting any particular overshoot number....I'm just merely pointing out the concept. Like most of my ideas there is an element of discretion that end readers need to fiqure out for themselves.
Sorry I can't give you a specific buy or sell point but I think the zones will serve you well over time.
let me also
add
that you can watch the pure volume for clues in the absence of MD
Destiny, I elaborated a bit more in a private message to you which will really help you understand how these zones interact. It will help you see why that push into 1180 could have been sold too.
I think I have beaten these
low volume
zones to death and interest seems to be dying down on the threads so we'll leave it here.
yes...u will see
low volume
at
single prints
but using the volume histogram will give you better levels in my opinion. You quite often will have
low volume
WITHOUT
single prints
.
Single prints
is based on time which was part of
market profile
and used as a substitute for volume long ago. These days we have great access to real time volume so lets use it to our advantage.
and don't forget about the
low volume
area from the Overnight sessions. That is what the
NQ
bumped up against at todays
NQ
highs !