ES Wed 9-14-11
Yesterday's trading topic mentioned the single pritn of 1151.25 as the long signal from
single prints
if we were to trade down to it:
http://www.mypivots.com/board/topic/6953/-1/es-tue-9-13-11
Well shortly after the open we traded to the low of the day at 1150.50 triggering that long with 0.75 point
draw down
on the trade. The high of the day was 1170.50 so the best possible run-up/profit on that trade was 19.25 points.
The other red dotted line that you see on the chart at 1158.25 was a short signal for
single prints
created on 9/9 but because we opened above it it was untradable and considered filled in.
The other
single prints
that I have on my radar are 1205.75 from 9/1 in L bracket (short) and a long at 1125.25 from 8/23. Neither of which are very close at the moment so unlikely that there will be a
single print
trade today (Wednesday).
Click image for original size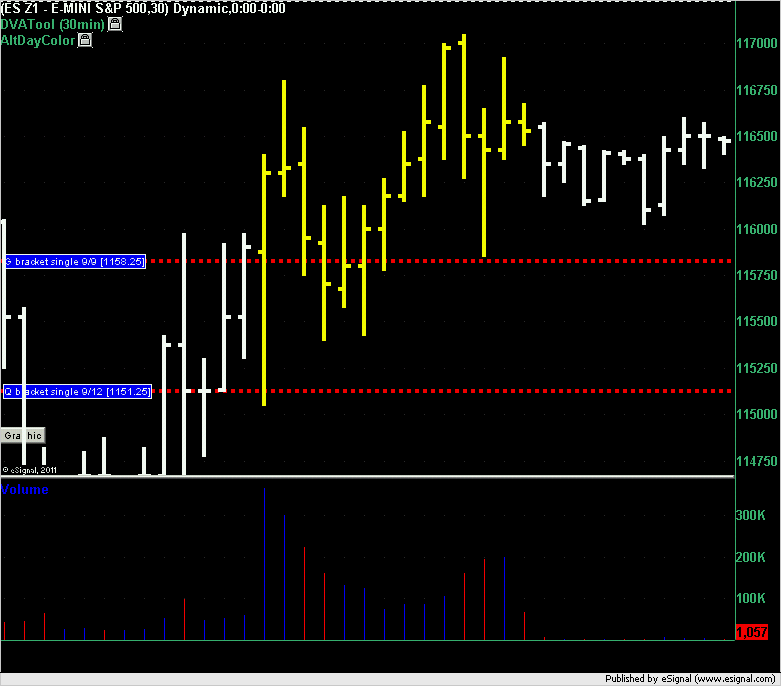 Nice call DT! I like them 0.75 (1.00) protecting stops for a 19+ pts gain -- Can we have more of them plz? :)
In the daily chart, the
ES
is right in between the 50 and 61% ret, from the previous H - L ( 1194.00 H. - 1123.50 L. ) There's a down trend line acting as resistance that will cross tomorrow right about 1180 or so. 1180 is 78% ret from previous daily. H-L. So there's a lot resistance in the 1180 area. Overcoming the resistance will target 1198.00 and possibly 1250. Failure to overcome that resistance will have me looking for a retest of previous swing low at 1072. (daily chart)
The above objectives are most likely to unfold in few trading days.
Now, for tomorrow morning I have the first or initial trade set-up as follows.
Sep. 13/11. ESZ11
close at 1165.25
For Sep. 14, Wed.
Buy above 1168.23
with 1176 / 1181,
as outside objectives.
Sell below 1163.96.
with 1155 / 1151
as downside objectives.
I usually use 1 to 3 point as protecting stop.
Unfortunately I'll be out of the office tomorrow so will not be able to follow up in real time.
Will see. in due time the market will show us the way :cool:
Thanks DT for your daily posts of your analysis. It has been very helpful and insightful in my learning process of
Market Profile
.
Originally posted by sandoxe

Nice call DT! I like them 0.75 (1.00) protecting stops for a 19+ pts gain -- Can we have more of them plz? :)
I wish I could call them like that every day.
What I'm doing is just covering one small corner of
Market Profile
trading which are the
single prints
. For the full picture and to improve probabilities read what others are saying in these topics especially BruceM who is not only a great trader but one of the most generous and giving people I have met. He has spent hundreds of hours explaining his concepts and methodologies on these pages.
There is so much information to look at and watch it helps if each of us contributes a small part from their area of expertise. Together we make a powerful team.
key numbers for me today:
Low volume
O/N
and yesterdays highs 67.50 - 69.50
most interesting number is 61.25...that is
low volume
from YD trade but it became a high volume number in
O/N
trade....GOOD odds we revisit that in the day session and my prefered target assuming we can find shorts
the
O/N
high at 77.50 hit exactly into another key number so that is a critical price for bears to hold back on or retake on any small push above...
Above the
O/N
high I like sells up at the 87 area if they can push that far..
down below is a
low volume
area from
O/N
at 57.50 a..another critical price..
My prefered trades are to short and brief rally up using that 61 as a big magnet this morning....
report in 5 minutes...still pressing on short side
flat at 61.50...that is perfect hit on that
low volume
zone...gotta watch that... I don't expect price to keep running down without some back fill in that area...so look for longs in 59 area to come back up
agressive and small longs at 58.75
added at 57.25 ( key number of 57.50)...covered last runner at 63.50...that was air fill zone....so
low volume
doesn't give up without a fight and that should be the take - a- way from these rantings today...we blew through the 61 only to come back up for the retest from below
gotta run...hope all do well today!!
great trading Bruce. Bravo!

sorry
1180 and 1197.5 corrections to previous post
typing fast not my strong point
have a good night