ES Wed 9-14-11
Yesterday's trading topic mentioned the single pritn of 1151.25 as the long signal from
single prints
if we were to trade down to it:
http://www.mypivots.com/board/topic/6953/-1/es-tue-9-13-11
Well shortly after the open we traded to the low of the day at 1150.50 triggering that long with 0.75 point
draw down
on the trade. The high of the day was 1170.50 so the best possible run-up/profit on that trade was 19.25 points.
The other red dotted line that you see on the chart at 1158.25 was a short signal for
single prints
created on 9/9 but because we opened above it it was untradable and considered filled in.
The other
single prints
that I have on my radar are 1205.75 from 9/1 in L bracket (short) and a long at 1125.25 from 8/23. Neither of which are very close at the moment so unlikely that there will be a
single print
trade today (Wednesday).
Click image for original size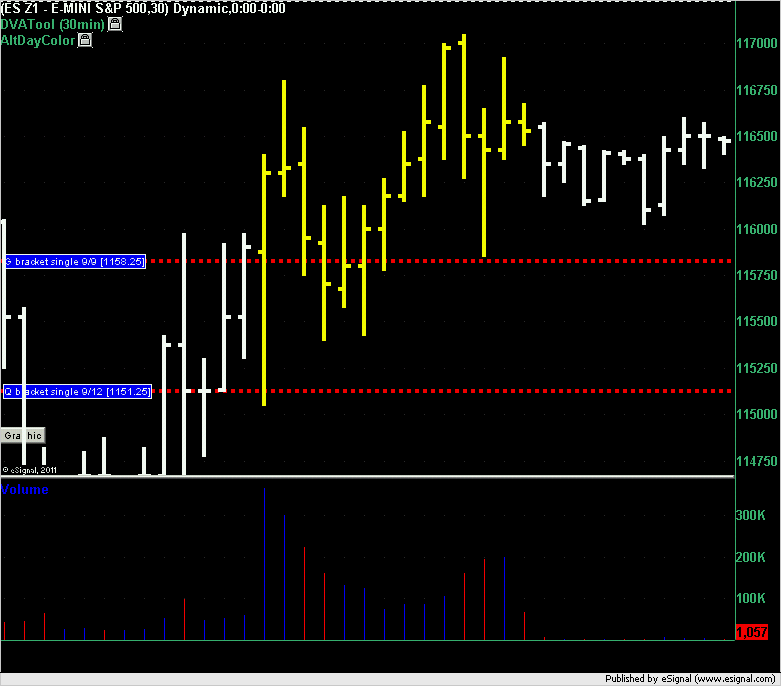 true warning
amending that 1st target to more precise 1193.50 from 95 ballpark figure in earlier note
Originally posted by BruceM

well, well, well...this here is the only resitance i have up here at 86.50 - 87.50 as mentioned in todays early trade....obvious trending and two sets of singles with the closest air at 82.25.....the signal needs to be real good to fade up here


in other words, I'd be real selective about shorting into this...make sure it rocks...otherwise they will try to run out those folks that want to see the 92 - 93 area and soon...

good luck...I'm getting back outside

11408 is the 62% retrace of DJI
11340 the 50% level
11379 the mean
1215 the 50% level for the
ES
1280 the 38%
1297.5 the mean
1193.50 area has to hold
95.5 was the full projection coming from the hourly chart originating from the move from 1123.5 to 1151. So it was almost to the
tick
.
you can generally expect a decent retrace when one of those projections hits and this time was no exception. That together with the last area bruce mentioned today and you have a decent trade entry and target
sorry
1180 and 1197.5 corrections to previous post
typing fast not my strong point
have a good night