ES Tuesday 10-11-11
The following resistance points are created from trade on 9-20 and 9-21.
1193.75
Low volume
1200 key number
1205 - 1206
Low volume
and the best
low volume
number as we move up..assuming we move up
support points are created from Mondays trade at :
1186 - 1188
low volume
1182.50 peak volume - I will not use this area for entry
1180 - 1181
low volume
1175.75 - 1176.50
low volume
71.50 - breakout point from overnight trade
as usual the
low volume
is where the better trades are at.
Honorable mention to the 1214 - 1215 area in case we really get a move up
Hey Bruce,
Am I understanding this correctly? The pocket created from the 9:40 and 9:50 candle (Eastern time)? Or am I missing something?
Originally posted by BruceM

flat at 84 even....that bell curve behaved perfectly!! hopefuly some saw how we created low volume ( air pocket)today right thorugh yesterdays low volume.....a trade u just have to take..

Click image for original size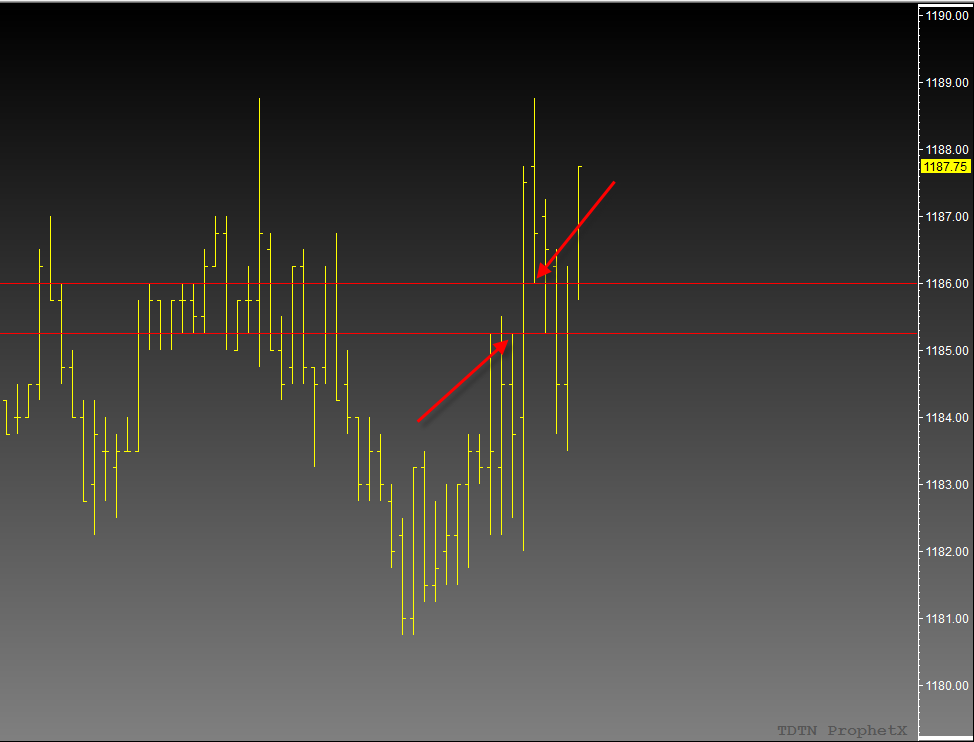 Hi Bruce , nice work........will you keep shorting 86 - 88 area
Originally posted by BruceM



76.....allbest sells will be up at the 86 - 88 area......BUT the concern is that we have a ledge in the overnight right at the 4 pm close of yesterday at 1190.25.......so we need to be careful on fades too early ....these may be false signals so I plan to trade a bit lighter up there


no I wouldn't and didn't because the first test is usually the best and I was a bit paranoid about that 90.25 I mentioned before.....we also already tested the
high volume node
and rejected it ...so that is the main reason
Originally posted by pharlap1959

Hi Bruce , nice work........will you keep shorting 86 - 88 area





Originally posted by BruceM



76.....allbest sells will be up at the 86 - 88 area......BUT the concern is that we have a ledge in the overnight right at the 4 pm close of yesterday at 1190.25.......so we need to be careful on fades too early ....these may be false signals so I plan to trade a bit lighter up there





Yay! I'm getting it. Thanks Bruce! You're a stud! And I don't mean the ones in your shed you're building :)
Ideal next short will come above yesterdays highs into the 94 ...especially if we still have that air below....they may not give us that