ES Monday 10-17-11
Here's what I've got in the way of a MAP for the
ES
coming into Monday's trading and the week. The Red Lines are potential significant
PASR
levels with any Magenta Lines as "semi" significant levels. White Dashed Lines are Wkly Pivots as per mypivots site. The Yellow line above the current market is a significant Fib Cluster fwiw.
The right vertical lighter Blue reflects 20 days of All Trading Hours
Volume Profile
. The Grayed out background is the non-
RTH
price activity. Hope this his helpful for some ... especially when incorporated with shorter term
Volume Profile
of the past 1 to several days ... looking at bell curves and more importantly, the High Volume Areas ... and the
Low Volume
Areas.
Click image for original size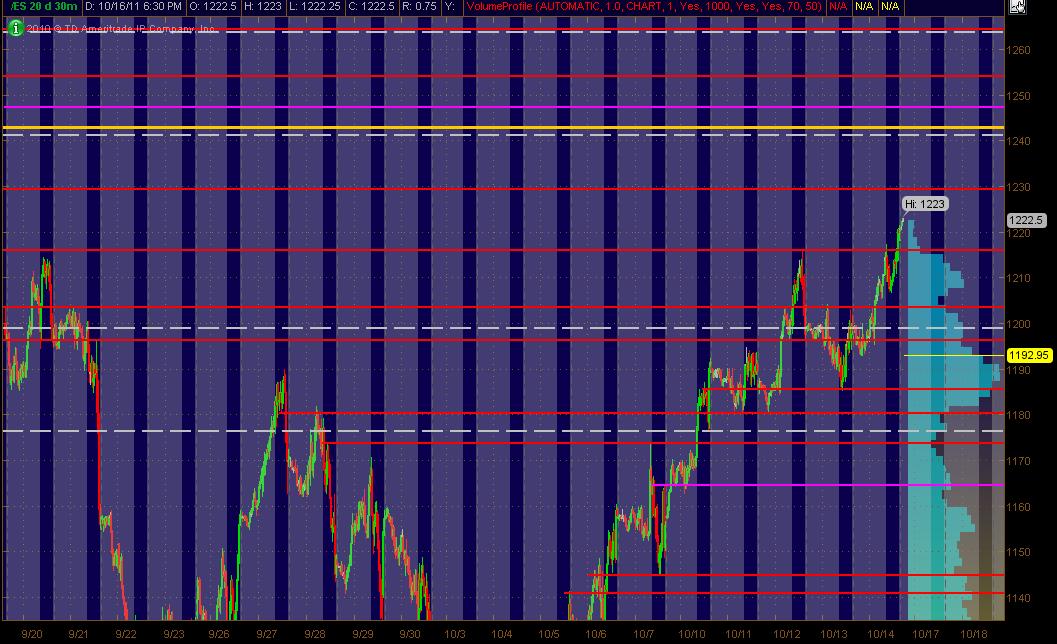 they are doing just what they are suppose to do with the 08.50
low volume
....very best trade would be and hour break down intothe 04- 05 number to look for buys....not sure if LORN is gonna let that happen for us today!!
$ticks
just don't want to go minus 1000 yet...c'mon where is our ultimate buy zone.....lets have it already..
Originally posted by PAUL9

Is this thing going to bounce at a print of 1206.75 (maybe one tick below)?

thanks for all the dentistry advice.

Paule, I hope so. We had a long "measured move" (2 legs) into support and Wednesday's
VPOC
. I would hate to take a "break-down" trade here, though below is a low-volume area (as per my
MP
chart above). I am going to stand down this one
efficient selling..all
air pockets
are filled....we need the big down push and leave some air behind...2 minutes and hour is up....c'mon..push it lower...
any attempt to break the hour lows has the POTENTIAL to leave the second set of singles on the day......not usually good for continued selling IMHO.."your results may vary"
there has not been a turn in the eurusd.
Lisa see any big boys yet??
watching for the retest of that level
it really cool that when we come back down or go up you can go to that day on the forum and look back a see what was going on that day