Monday 10-24-11
I'm hoping to expand on this as the weekend progresses and I have more time. My disclaimer here is that these comments and charts are only focusing on the bell curve ideas. These are not the only numbers I use or trade from. These comments are also made because we don't have volume to work from at the current prices from the current active contract.
One of the nice things about the emini is that even if you don't like this approach or using the cash market or the continuous contract for data then you can just wait until volume comes into the current contract. The emini does so much back and fill that you would rarely have to wait more than half a day to get better volume numbers.
My good buddy Lorn was kind enough to send some charts to me that I requested which in turn inspired me to fire up my old Investor R/t to have a look at some charts that I can post.
Nick asked about further numbers on the upside and I was unable to get to a response to him on Friday. This will cover some of that and some additional questions that were sent to me. Hopefully this won't seem too complex.
Below is a mini bell curve from part of 8-03-11 (day session only )and part of 8-04-11. Time can be used as an approximation to volume when volume is spotty and you are not comfortable with your "read" on a contracts volume.
Normally I would be against using the time factor on it's own but when you have a good visual on the regular bar chart to confirm your time reading then it is a fair proximity. See bar chart down below.
So I have lines snapped at this mini bell curve from 8-03. I put lines at the low time
tpo
extremes but also at 1236 as that begins to define the high volume/time area of that particular bell curve. The BEST bell curves will also have a nice peak volum eline too. Look what happens on the following day - 8-04. We trade into the mini bell curve and reject it and sell off. This tells us that the 8-03 bell curve is still valid! You could then combine the 8-03 and 8-04 trading days into one if you cannot see this. Over time you will probably lose your need to combine the profiles.
Click image for original size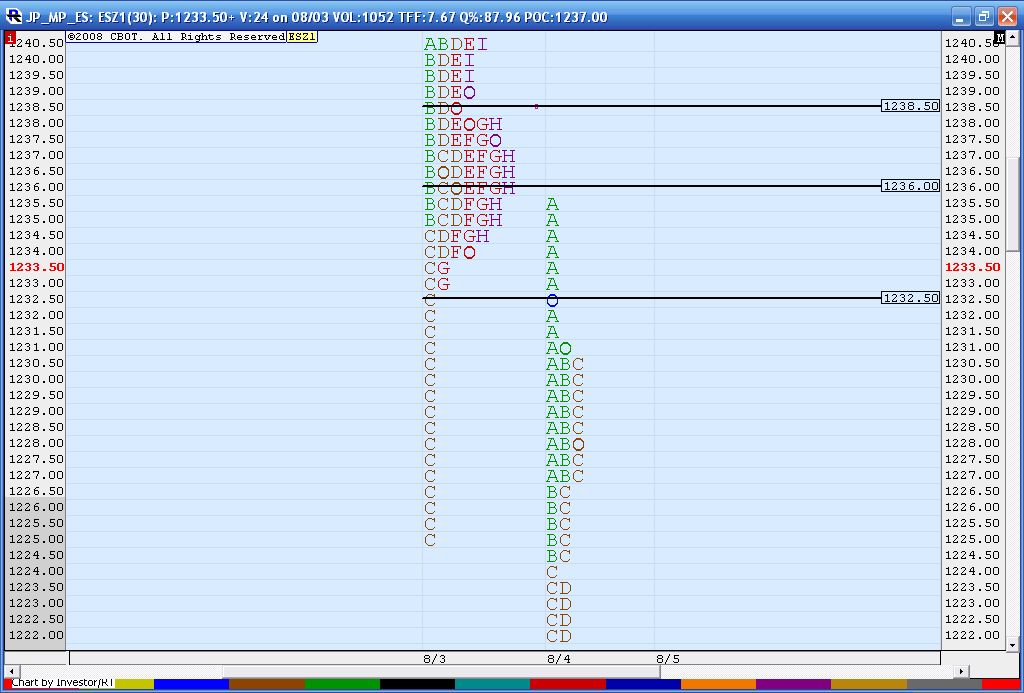 I mentioned above to confirm your time based bell curves (
tpo
charts) with your standard bar chart patterns too. Here is what the bar chart looked like from that day. The reality is that 41.25 actually captures the upper limit of the bell curve much better. The
TPO
chart does not capture the bulk of the volume/trading effectively. See how resistance becomes support at a price of 41.25 ? This happened at 2:30 in the afternoon for reference. This to me encapsules the bulk of trading better.
Click image for original size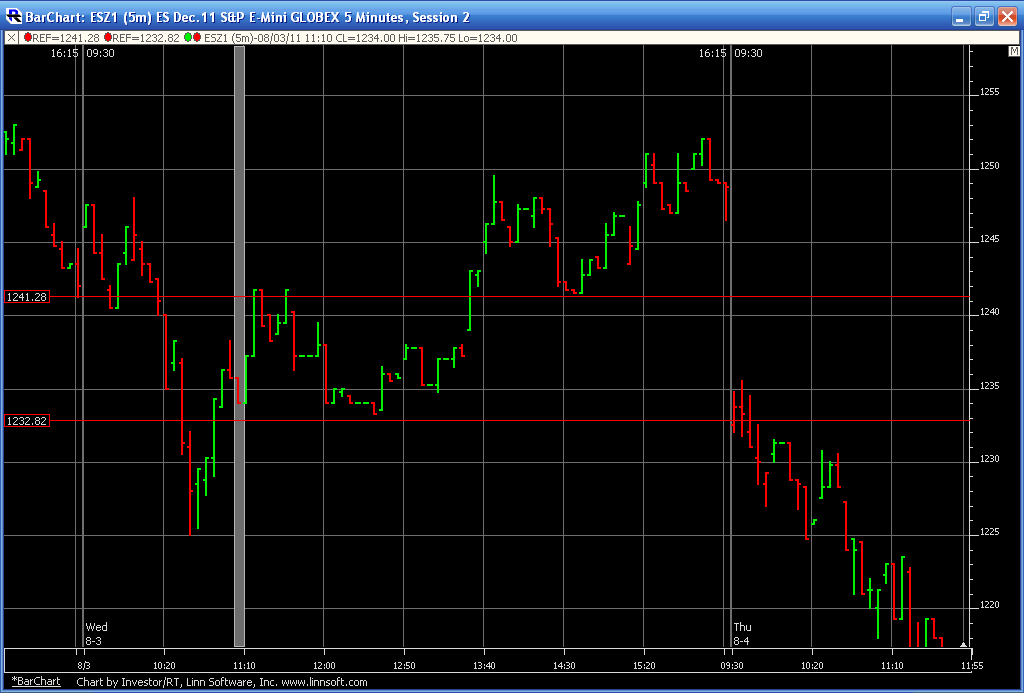 So the upper limit I feel should really be up at 41.25 and not the 38 area. This is a great example because it is something we should look at anyway everyday and not just pretend that the volume bell curves are the holy grail. They fundamentally are really just consolidation points seperated by
low volume
. This upper bell curve will be the key to continuation or a decline on Monday. Can they keep trade above it to ensure a further rally or will they get back below the lower edge and sell off?
So now on this next chart I have taken those lines and put them on Fridays trade bar chart as this was/is the nearest bell curve as we went higher. Now some can see why the hour breakout with an
air pocket
below was a very good trade on Friday. Everything in context!
Click image for original size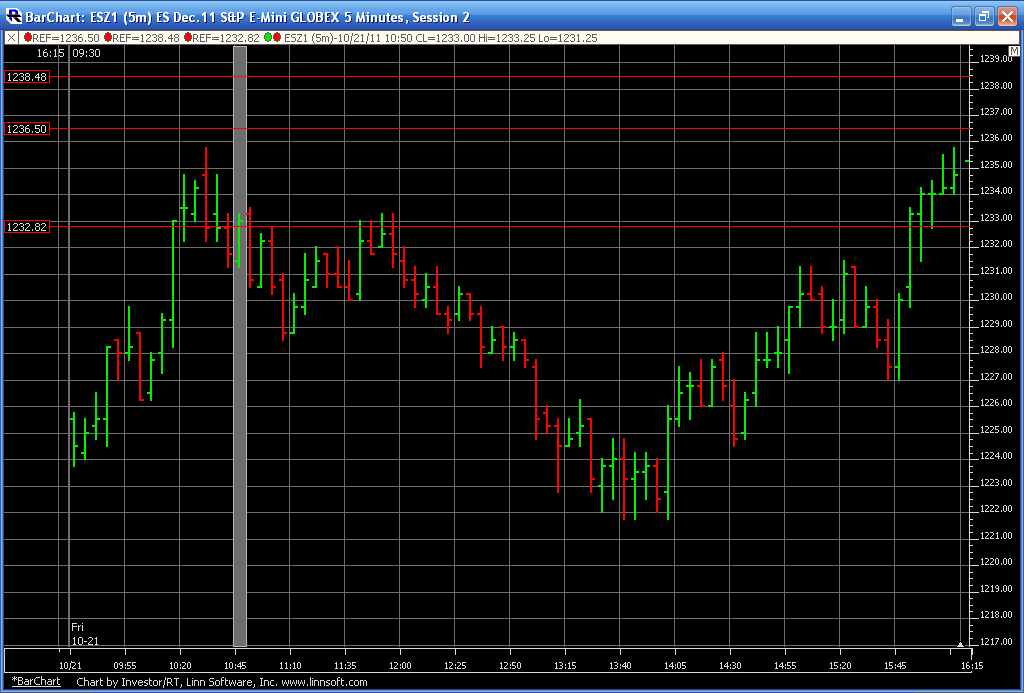 Bruce

This is the watershed of my knowledge of trading. I think your videos and post today going to go as one of the best in the history of this forum . Thanks , thanks, thanks a million
Wow Bruce ... great stuff - seriously!! I'll toss in my MAP of the
ES
showing some things on a 30min chart of all trading hours. The Red Lines are potential significant
PASR
areas with Magenta Lines being potential semi-significant
PASR
areas/zones. The White dashed lines are the Weekly Pivots as per mypivots site. The vertical Light Blue lines on the right side of the chart represent the past 20 days
Volume Profile
. And the gray background across the chart shows "overnight price activity" with
RTH
in the regular Blue background. Hope this is helpful as a MAP coming into Monday's trading for folks!
Click image for original size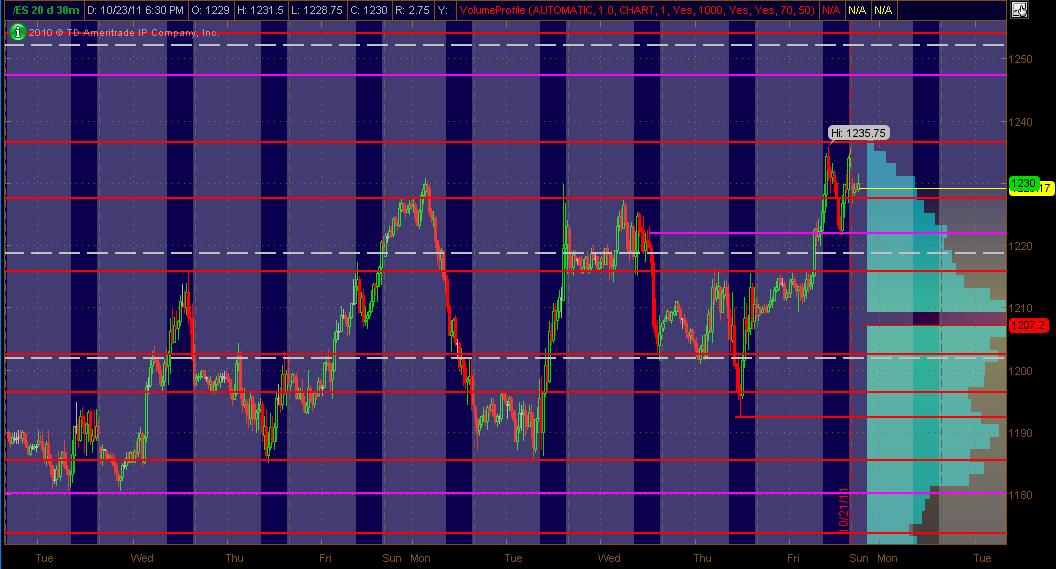 Okay ... Texas Monkey has been watching the Cowboys (cool win woot) and Texas Ranger's game just cranked up ... so a few beers in the mix here. But to complement some levels of my chart posted above, here's what I've got"
1248
PASR
/Daily R1 Pivot
1236
Friday High/
PASR
1222
Friday Low/Demark Daily S1 and Wkly Mid Pivot/Classic Mid Pvt
1216
PASR
/S2 Daily Pivot
1202
Zone
PASR
/Wkly S1 Pvt/1200 "round number fwiw"
Those levels span about 50 points of potential
price action
coming into Monday's trading. Looking at the daily chart, I've got nothing of real substance to offer ... lots of stuff that could be pointed to for a decent strong move up or down. Take these numbers and look at Bruce's and others
Volume Profile
and other analysis to make sense out of things with your own trading strategery. For me, I always simply look at it as a MAP of ZONES ... especially for trading equities intraday.
superb bruce, thanks for all the time taken to post all this info !
Glad some are getting some use out of the ideas. The overnight has respected that 41 area I mentioned in Post one and in video two. I'll need to explain that idea better if/when we move higher in the future.
I'm using the 38 - 41 as initial resistance as this 8:30 report hits. In general I am thinking about the bell curve that exists from 33.25 - 41. My thoughts are that this will be resistance and we will drop back down to the 25 area and lower today. That's a wide area but with the
VA high
from Friday being at 33.25 too then we really want trade to hold below the 33.25 area for any good short idea to work. Longs would really need trade to hold above 38 - 41 to keep moving up to the next zone at 52 - 53. In between those two areas ( The 33.25 and 38 )may be a good battle. Good luck today
air pockets
created today and into the key 41.25 so most know what I am looking to do above that.........SHORT!!
$Ticks
still strong as no zero prints yet!!
I have an old
gap
(Aug 4, red arrow on the left of chart). We have moved into it.
Gap
close is 1248.75 on my charts. ANyone has different number?
Click image for original size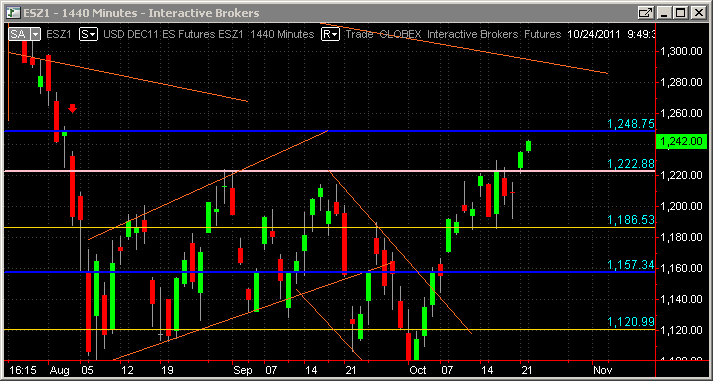 air pockets
richard for me at 38.75 and there is one at 36 area too......ASSuming we have caught the high up here... may be a big assumption
Gotta watch to see if this upper edge from august 2nd is gonna turn into support and have the market keep going up..I only sell at upper edges...I would only have bought that if we opened and traded down into it
bruce im check my numbers for tomoroow
50.75 ,46.75, 42.50,36.75 ,28.25 how do they look to you
LV