ES Monday 1-9-12
Here's what I've got for my
ES
MAP of
PASR
ZONES using a 30min chart of 20 days of data coming into Monday's trading. The Red lines are potential significant levels with Magenta lines as semi-significant. The White dashed lines are the Weekly Pivots. Have one Yellow line for a Fib cluster fwiw. The Light Blue
Volume Profile
of the past "rolling" 20 days is displayed on the right vertical axis. The Gray background shows non-
RTH
price activity. Hope, as always, that this is helpful to some as a "MAP."
Click image for original size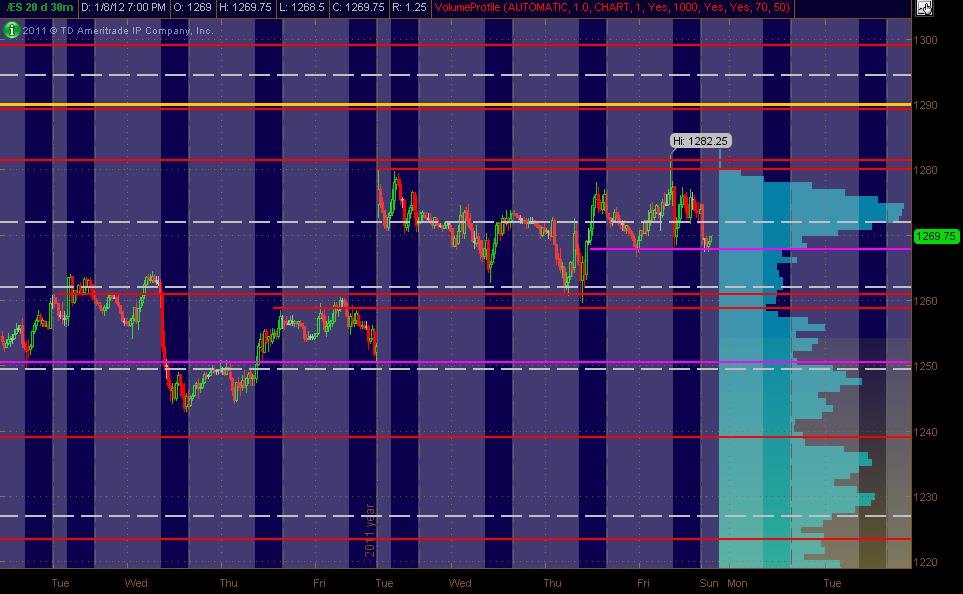 Primary price levels/zones I'm looking at:
1289-90
PASR
level / Daily R2 (
RTH
calcs and others) / Fib cluster
1280-82
PASR
Zone / Daily R1
1274-75
Daily Mid Pvt (all trading hours) / VolProfile
HVN
on 20 day "rolling" and on 1 and 2 day as well
1259-61
PASR
Zone
1250
Minor
PASR
/ Wkly Pvt
Bruce posted a chart showing a well-shaped bell curve (
MP
I think) ... and looking at the daily
ES
chart shows the old fashioned "ascending triangle" (for now). The idea being that a strong push out of this area is likely (up or down), but based on the multi-frame chart patterns and
price action
... for me, tends to favor a break to the upside within a day or few this week. Just my "read" for now.
covered at hour lows ...one runner to try for 74 as that is still magnet price...these quick trades are too fast to post entries effectively....


but I saw all the volume come in above the hour breakdown and then it dried up as it went lower...
no apology needed Lisa...it's all cool with me !!
revising target on final to 72.75...70 print will take this out if wrong
Bruce, do you or did you trade euro futures or crude?
a few weeks ago somebody asked me about stops and I responded with this long rant basically saying that I don't use stops....

That wasn't completely accurate..

while that is true when I enter, I quite often use stops on runner contracts as I prefer not to watch those as agressively...in other words..once I hit an initial target I usually will use stops especially if I only have one or two contracts left working.


no sense turning a good campaign into a bad one.
No..only the emini...it's like a 4th child to me...
sometimes it behaves well and sometimes it gets a bit wild and uncontrollable
Originally posted by vasuki

Bruce, do you or did you trade euro futures or crude?

peak volume from day session sits at 72.75....!!