ES Friday 1-27-12
Here's what I've got for my
ES
MAP of
PASR
ZONES using a 30min chart of 20 days of data coming into Friday's trading. The Red lines are potential significant levels with Magenta lines as semi-significant. The White dashed lines are the Weekly Pivots (kind of a background thing to have on the chart). The Light Blue
Volume Profile
of the past "rolling" 20 days is displayed on the right vertical axis. Btw, price lines that are CLOSE together (within a couple of points), should be taken as an overall ZONE. The Gray background shows non-
RTH
price activity. Hope, as always, that this is helpful to some as a "MAP."
Click image for original size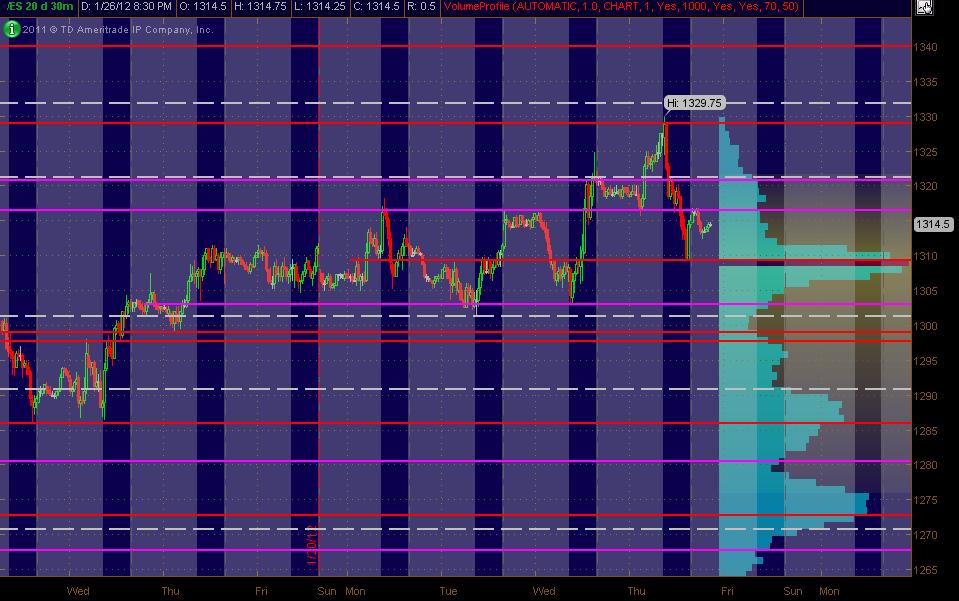 L 07.75...keeping it tight in here....will try longs again if they push new lows but keeping it all small
FITCH TAKES RATING ACTIONS
O/N
SIX EUROZONE SOVEREIGNS
ITALY LT IDR
CUT
TO A- FROM A+ BY FITCH
SPAIN ST IDR DOWNGRADED TO F1 FROM F1+ BY FITCH
IRELAND L-T IDR AFFIRMED BY FITCH; OUTLOOK NEGATIVE
BELGIUM LT IDR
CUT
TO
AA
FROM
AA
+ BY FITCH
CYPRUS LT IDR
CUT
TO BBB- FROM BBB BY FITCH, OUTLOOK NEGATIVE
covering now at 1310 even...just too close but
trips
should run and another test of weekly open
triples
left down at yesterday's lows...we just took out the ones at 12.25 and 12.75....multpile sets here due to the boring range
agree Nick....not trading anymore today...here is a video I made just a few minutes ago...a bit "rough" but it may explain some things to anyone left here on a Friday or at a later date...

not sure if we have much participation anymore but here is something to watch for those interested

great video, thanks bruce
ur welcome Nick..I figured it's one thing to read something but having a visual and some commentary may help some grasp the ideas easier
Thanks Bruce.

These tutorials of your's are great.
Visual is better thanks for taking the time Bruce :)
Oh yeah, ya gotta score it yourself with some sweet guitar acoustic background soundscapes!