ES Wednesday 2-8-12
Here is a look at yesterdays trade with the
vwap
bands and Video. I decided that in many ways video is becoming faster than typing for me...The current Overnight high of 48.25 now has come in right at a
vwap
band so that confirms that band.
other areas....
Overnight
VPOC
at 47.....so 47 - 48.25 becomes key resistance
Time is being spent in the 45 area ...so that is attracting price but I will not use that to initiate from unless some
pitbull
number matches up...would prefer to use that as a target..then we have the evil 42.50 from yesterday which matches the Overnight low and then we have
low volume
beginning at 1340 which goes well with closing
vwap
....
below there I will not buy unless we get below 1336
some charts for reference:
Closing
Vwap
Click image for original size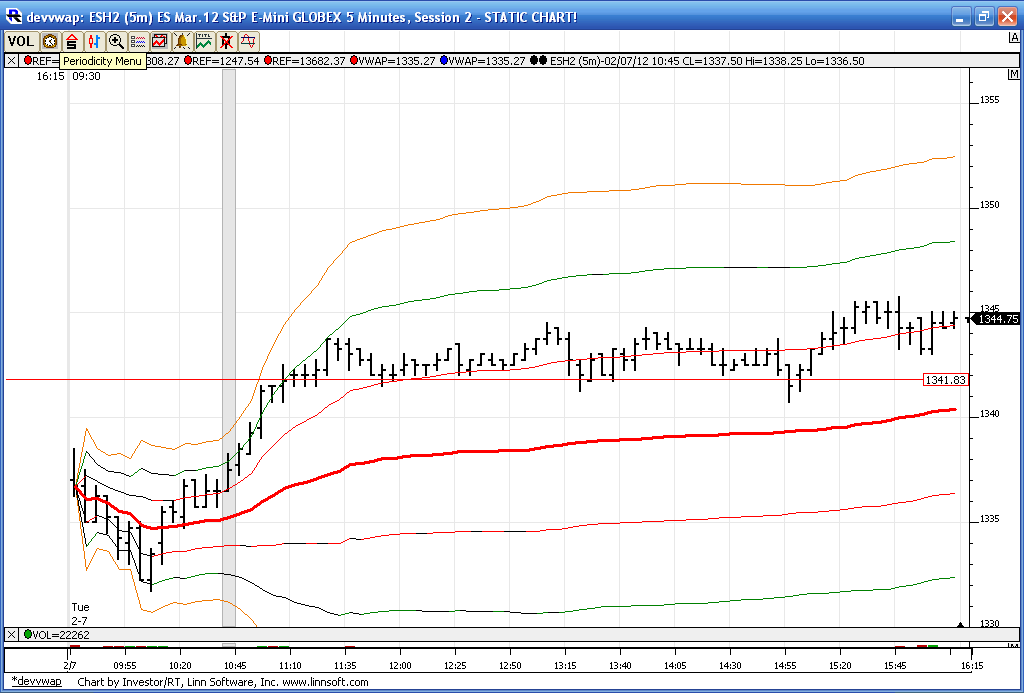 Overnight against yesterdays day session
Click image for original size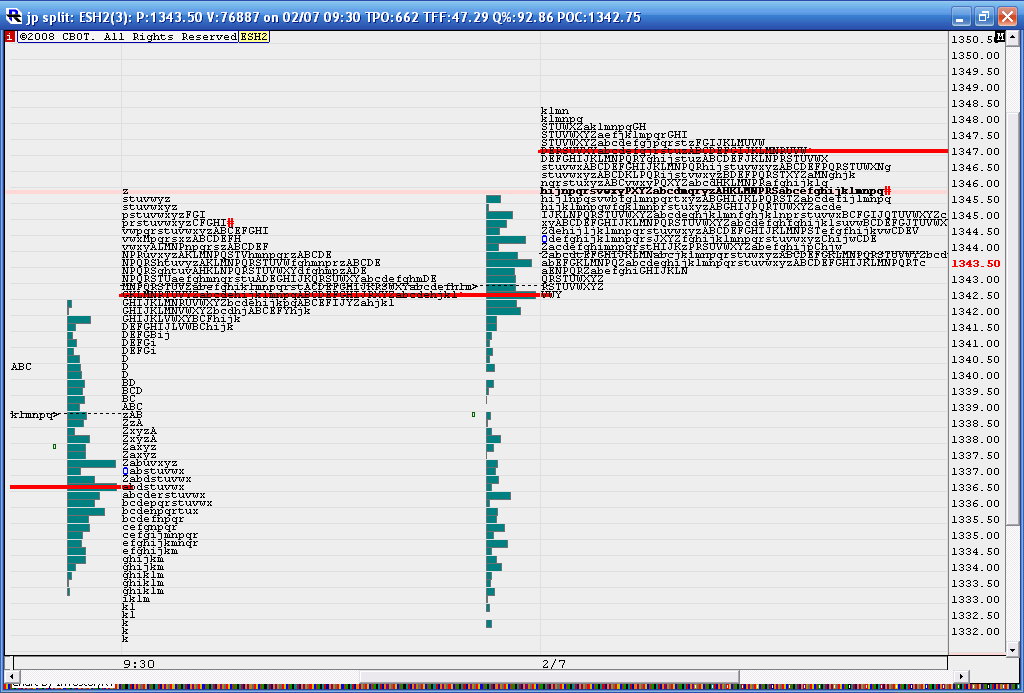 Video explanation:
this is great bruce, thanks
one question, how many days are you using for std dev calculation of the
vwap
?
that is only yesterdays data...the weekly stuff is still experimental and I'm not sure if it gives any edge so I'm not posting that now
RE the video, thanks.
The following comparison is not exact, but it is very similar.
yesterday's
RTH
profiles that you have posted have a similar look to the overnight
volume profile
from Th into Friday 2-3-12 (tried to post it below)
a small bell at lower prices and then a pronounced bell (pointed) at higher prices. I don't know whether comparing an
RTH
to an overnight is of any value, but at least for this configuration (small bell lower, larger bell at higher prices) it speaks volmes of trapped bears (maybe.
Here's what I'm curious about: does this double bell (with a larger bell at the higher prices) form a floor?
In last night's
PA
, the double bell from yesterday's
RTH
sure looks like it defined a floor.
when I looked at the
PA
from Friday's
RTH
(the first session after the overnight double bell with a larger bell at the higher prices, I see that in Friday's
RTH
, price had an
LOD
of 32.75, virtually
AT
the overnight
POC
of Volume, and RE today, the overnight respected yesterday's
RTH
bigger bell.
I was just curious whether anyone who looks at the VP and the
TPO
has ever seen this combo pattern before. Curious if it has predictive power.
here's the picture I took of the overnight thurs into Friday 2-3-12,
the day did not really have any large retracements as during Friday's
RTH
, the first test of the
VPOC
was bought and price meandered higher.
I just wonder whether that same action (buying a test of the larger bell in a two bell session) happens regularly?
Click image for original size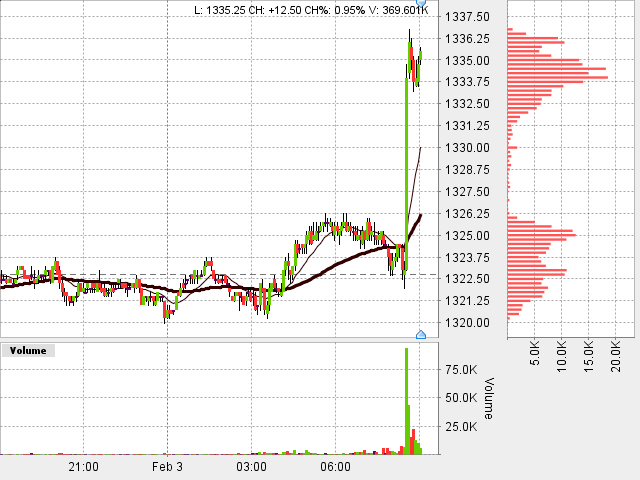 I'm looking to sell above 46.50 or buy below 42.50 ...ideally down near 40...using the 45 as a magnet in general..so the further we can push away from there then the bigger the profit target can be
Originally posted by johnpr2010



Click image for original size



Yesterday's close was 1344.75 wasn't it??
Ill try to show later , probably tomorrow why i think timewise the ideal time for a price peak would likely be next week between the 14th and 16th. Im expecting bullish behavior untill then ,so caution is advised on all short sales