ES Tuesday 9-17-13
Only two areas up top I am interested in and those are 92.50 - 93.50 ( Up against there now in
O/N session
) and 97.50 - 98.50...
1690 is my magnet price so far.......so sells on a push into those zones are my plan so far...
downside numbers remain the same as yesterday...
a slow push under current overnight low into the 86 - 87.50 zone is first buy alert zone if it comes today
I think they are gonna go back for the 93 retest...can't find a way in...selling 95.50...high risk due to yesterday
POC
93.75 is my target...open and drive but inside the
VA
of yesterday still......cautious...hard to play at a
POC
so keeping it small...the better sells are still above if they come
all neg
ticks
being bought up pretty quickly...they should go test that area where we failed yest morning on the retest around 98.5ish
added at 97.25...main campaign for me up here now...first target will be 95.50....
Click image for original size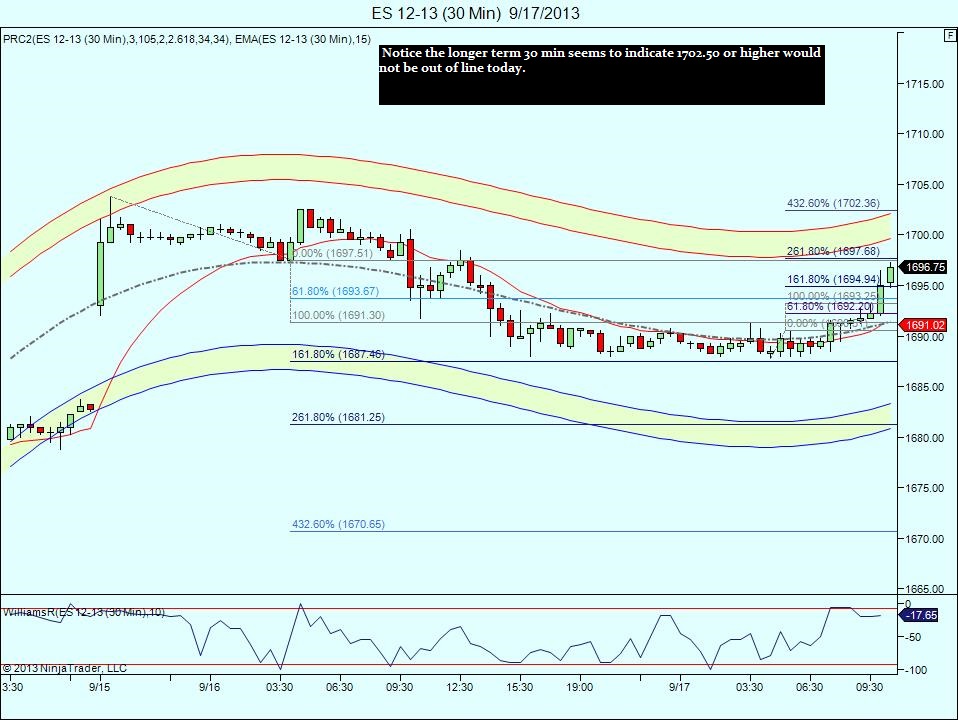 ...dont forgrt the daily notes page and the avg daily range also indicate higher prices to come later!
as i showed this is a good 15 min sale for those lucky enough to have taken advantage of it ....i missed by one
tick
going short....
Originally posted by rburns

lol I missed by 2 ticks. we are too cute

I know...My reasoning was good tho... the 30 min showed more room left as does the daily avg range... so i thought the 1797.68 SHOULD be surpassed by a
tick
or two indicating higher prices later... instead im down for the day and on the sidelines....
giving runners a bit extra breathing room and will sacrifice some profits so stop is up at 98.75...otherwise I will try to hold for 94.50 on them...problem for me is there is a line...part of the zone up at 98 that I'm hoping doesn't print....98 - 98.50 is critical spot if we try for new highs
anything can happen in the last 15-20m of trading...and nothing has logic in that period so they could well take that ledge out