ES Thursday 1-23-14
a static chart for those who want to just quickly see some levels and a video for those who want to know why I am looking at those levels...as usual it all depends on which side of the levels we open at.....opening under 29- 30 has us watching to see if that becomes resistance for example......only unclear level is that 33.....not sure why the
poc
and
vpoc
are currently there except that splits our two key areas right down the middle..........so that may be interesting
Click image for original size
video here
basic plan is to see on what side of the 29 - 30 zone we open.......will we drop down to it and get long to target that 33 first ?...will we open under it and then try sells on a retest from below ?.....since the 33 is in a
LVN
zone from Tuesday and an overnight
POC
we can sell that from below too but for me that would be much lighter..as I am murky on that area......I'd prefer to sell above the 35 - 37 zone and then use the 33 as a target.......
buying at 26 would target the 29 - 30...buying the 24 needs to get out quicker at 26 as we know the only zone below there is down at 21...
Bruce did you see the message I sent you about you back problem
my measly runners will try for 25.50 or else 21.50 takes the stop...either way that will be it for me today....zones played out well.....
no, I will check after this campaign........my email here is linked to a yahoo account so I don't check messages too often....I check it though..
if u look at one minute we have 6 bars with a high at 24...hard to imagine they won't clip those stops up there
well that's me taken out...both campaigns today failed to have runners do what they are supposed to do....and that is
RUN
!! that's the way it goes !
a quick pick of the stops at 24 I mentioned...If I was more motivated I may have tried one last time but hope somebody did...
Click image for original size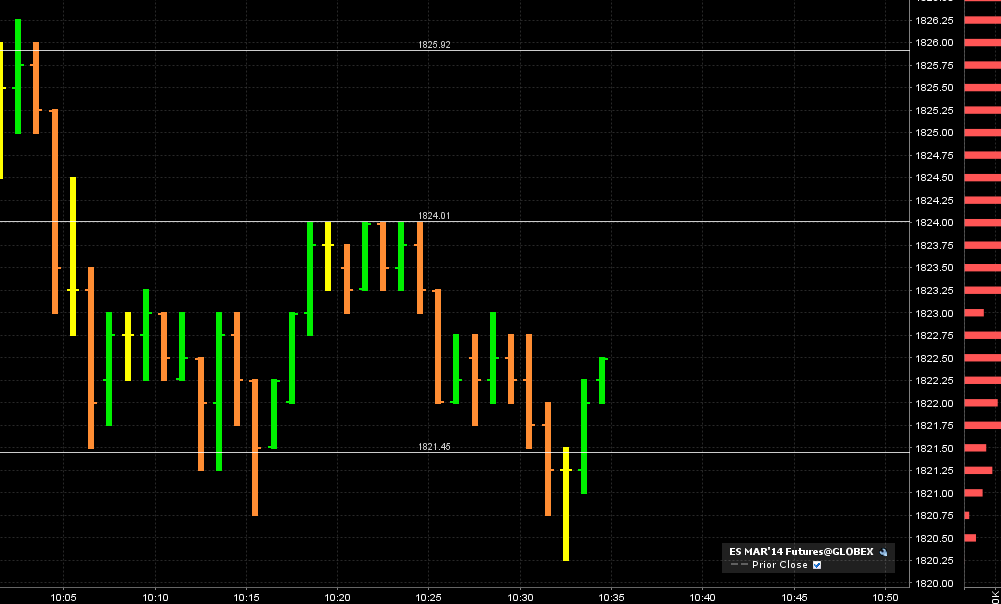 oh damn..trying one last from 22.25....lets see if we can get those 24's after some back fill
gap
in the data at 23.25...tells me we are in
low volume
...added at 21........luckily I trade smaller as the day goes on and we have had two good campaigns so far ...we don't need to screw up and give back much if we have the wrong read here but we also need to keep it wider as this is
low volume
and prone to whipsaws...
well it's 11 a.m so I decided to take the 1.5 point loser
if we can get back over 21.25 then I will take a lunchtime trade as I do like the fact that we have that
gap
in the data and that 24 still...it's just a matter of WHEN will they come back for it.........no sense thinking about it until we can get back over 21.25....IF we even do !! we have 4 lower lows on 30 minute and they will do a bracket high test..I like the buying tail from the 14th as a spot to initiate...so at the 18 area may need to be the
additional
area to try from.
tell me somebody was able to take the 24's out of the market.........nobody here......13 - 15 was a key area........and they took the bracket test from that point........I think I'm on my own and need to join a chat room myself ......ha !!
Originally posted by BruceM

u don't see three 30 minute highs matching in the middle of the range often...so expect 23.25 to be broken....but when ?? c ya