ES Friday 2-21-14
first some context....do they need to fill in the
low volume
spot and round out a bell curve before making
consistent
new highs and keep rallying ? that would imply trade back into the 34 area
next we have the last two days...note
single prints
at 34.50.....we have two distinct bell curves from Thursday
here is just yesterday as per time
finally the overnight against yesterday...note how
POC
/
vpoc
is at YD
VA high
and
O/N
low is right near the singles from yesterday
most overnight traders are long which usually implies some form of correction unless big volume comes in...I want to try and sell that 40 area especially if we open in Value today or buy that 34 and that 32 area....I had volume from Wednesday at 41.50 and 42.75 so the key upper zone runs from 40 - 42.75
here is what that upper part of tuesday looks like
well, I don't want to build up the video ...it;s something that can be used but not always specifically what I use......it sometimes requires multiple tries in a zone and is a function of volatility
I tend to do that sometimes, to over think the trade and it can hinder getting into a trade based on probabilities etc. It's called the need to be right. I think your better off sometimes just taking the trade put on a certain amount of risk and reenter if need be. The reentry can hard to do sometimes. Just my psychology lesson for the day
here is basic video and a pdf that explains it better....you can make all these ideas better by looking at where the volume comes in on your bars, looking at your
Delta
per bar and the actual total volume of the bars.. .a 4 or 5 tic range chart can work too and make sure your can see where the volume
POC
is on the bar...ideal shorts will have the
POC
at the highs and then close the bar on the lows...ideal longs will have all the volume on the lows and close on the highs...this helps you see that some aggressive traders may be trapped and when they cover it helps push market back
traders trick explained -
http://www.trading-naked.com/library/Trading%20Manual_C30_257-266.pdf
I should also
add
that you don't want to take these all over the place....define your spots and trade at those only...otherwise you can drive yourself crazy !!!
setting a
POC
on a 1min bar chart........ that does not look easy on my software?
I also have fin-alg it would take days for me to program 1min
POC
's? I know you must be doing it a easy way?
daddy wolf...my MD/IRT does it automagically !! but even if you look at volume spikes in a lower histogram can help
a very cool trade off our 34.50
low volume
zone......and look at the volume on first push into 34.50...second test down is on lower volume...nuff said.....first test is the best test of an area and this was first test to 34.50 today!
Click image for original size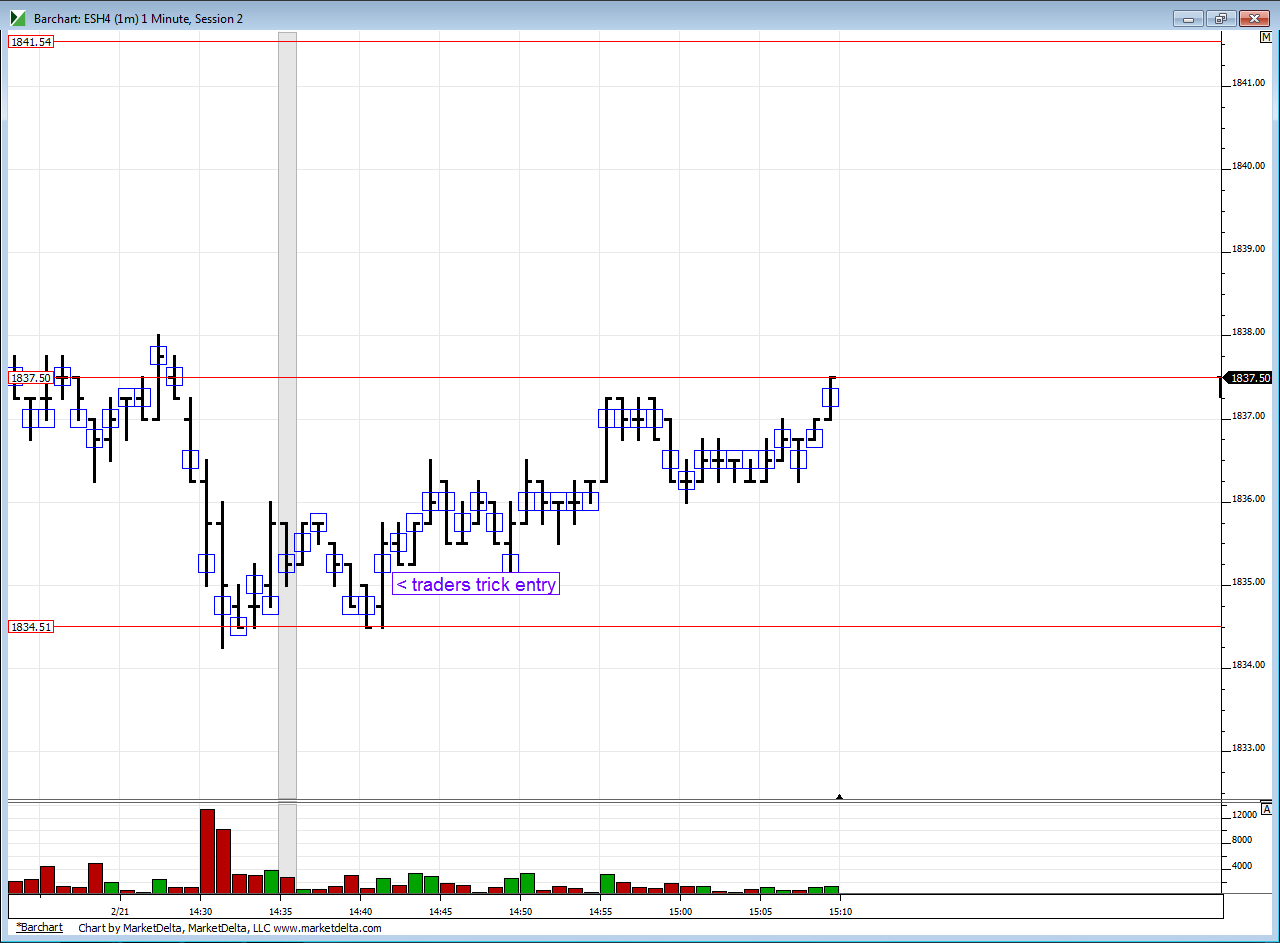 Bruce, thanks for the charts and the explanations. I also have
Market Delta
, so could you show me how to populate the volume
POC
on each bar? a snapshot of the settings window would be great if you have a chance.
Thanks in advance
APK
go to indicators and choose " Volume price statistics" then in statistic pick "Volume
POC
"...let me know if that works for you..
Click image for original size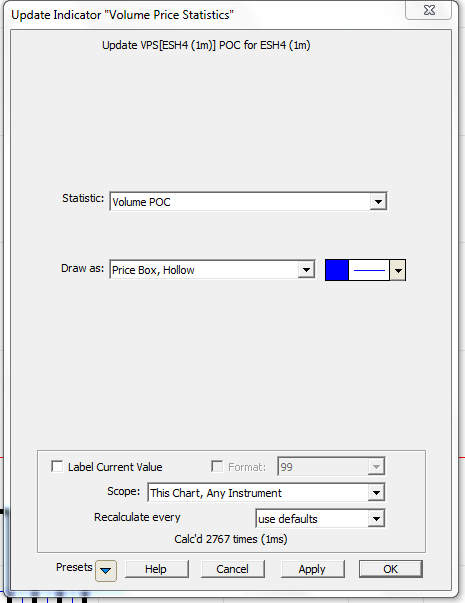 great...and experiment with it...you may like range charts or 3 minute etc....
never a good thing if we start getting double or
triple
tpo
prints in
LVN
's...u want to see rejection that never looks back....seems like they may want to eventually fill in that 34.50 from first chart today......nice how the bigger time frame confirmed the chart from yesterdays day session...that first chart today was a 30 minute composite that started way back in October of 2013......just time !!! cool stuff
Originally posted by apk781

Got it. Thanks !