ES Wednesday 6-25-14
how I see it...I'm hoping to buy into support which really would be the following areas...1940, 1937 and the bigger one at 33.50....keep in mind that weekly S1 is at 1932 also..not mentioned on the video

a too long video on 30 minute ideas and some follow up with overnight....getting too late and I am a bit behind so sorry for the rush job today...basically it is important to watch if we can close above or below standard
single prints
and where the volume comes in on those bars....for today for example you wouldn't want to see a 30 minute close under the
single prints
from 6-18 at 1937.....but also keep in mind that they can close under but reverse and close back above that line to signal long trade ideas....
also since yesterday afternoon was trending I would expect it would be a better day to sell rallies and buy the breaks early on....unless we open and drive up quickly above 1050 then we can expect time to build at lower prices and bring the current developing weekly
value area
down...
my areas are in agreement with yours Bruce. Below the onl i have 33.5-35.5 and then 29-31...above 42.75-45 and then 47.5-50 with 52-54 above that...i think we can get a nice two sided market with buyers below and sellers above....hopefully we get to buy first into taht 33.5-35.5 area...good luck
we are set to open way out of value so watch the OR closely for clues....I'm hoping for an open and drive down that firms up near one of our key lines....to buy
the only trade for me was to buy the OR high..I kept it small and came all out at 42.25....volume from 30 minute vpocs.....nothing working now...and let me
add
that I thought it was a very aggressive trade because the buy was happening right at yesterdays
RTH
low...a dangerous place to put a trade on...hence my reason to go small
I'm not planning to trade until we take out an overnight high or low...I can see no reason from here and I don't like selling or buying the centers of bell curves when the close is right near it too....
here is how the first part of today is against the last 3 bars from yesterday......I came out when we hit the LOWEST of the vpocs shown.....notice also how price stopped at
vpoc
and missed the closing price by one tic on that first drive up...as long as we can hold above YD low then the close
gap
will still fill in
Click image for original size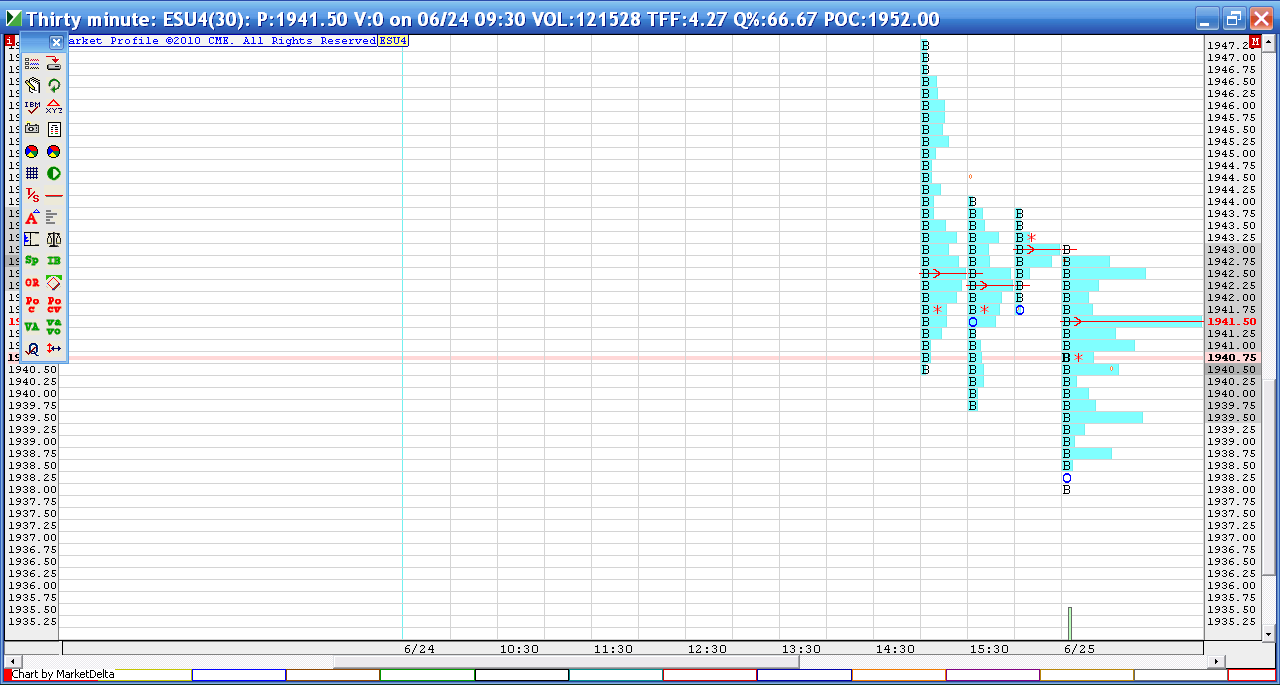 I believe this rally is all a fake....volume is all building lower than YD...so I expect price to come back to 41.50 at some point...only problem is I have no entry point and may be messed up by that probability idea of an overnight high or low...
well I am starting to hunt shorts above the
O/N
high...still keeping it small as we are in open and drive...even if i think it's a fake out...the only thing that will make me more cautious on short ideas is if we start closing and showing volume above 47.25...those singles..so the 10 am close is important to me
I think this battle will be between 1944 and 1947.25.....I want this to close under 1944 ...
One thing I feel a need to say...
Yesterday, we had a probe lower in the overnight (coming into Tuesday market) and then there sort of was a retest of that level, BUT, the swing low on the retest was not an undercut of the primary overnight low...
The low was 47.00, the retest low was 47.25... Back in the days when all I did was look at time charts (one minute 5 minute 10 minute and 30 minute) I would call action like that a 1
tick
fake out (as opposed to a one
tick
takeout (undercutting the prior swing low or high by one
tick
...price can rise and squeeze the late shorts.
QUite often, at some time later, a revisit to the lows unfolds (the lows of the one
tick
fake-out...not necessarilly the same day.
Well, as per the market right now... I would have to think that 47.00 area remains critical...now a potential resistance battle line.
Today, the overnight Low had a takeout (the swing Low was undercut).
coming out heavy at 46.25 print......you guys with the correct data helped me see that...a big thanks !!.....sellers need to get a close back below those single of 47.25 and the
IB
high to have any good chance of further selling.....just because value is building lower doesn't mean we will get a huge sell off but it does help with context and your ability to sell rallies etc.....so the 11:30 close is important !