ES Tuesday 1-20-15
Since the cash market was not open On Monday you would be using the same
Vix
values to calculate the bands from Fridays session .....although weekly Pivot numbers will be valid it is always a gray area to me whether one should look at the daily pivot numbers generated from Mondays session. I tend to look at it almost like an overnight session. There was no Overnight midpoint retest on Friday so I think better odds for a retest on Tuesday even though they did one in Mondays shortened session.
The big question for me is " Was Friday real buying or just a reaction to
options expiration
and people covering shorts ?".we only had elongation in part of the last 45 minutes or so and the rest of the day had loads of back and fill to it......look at your one minute charts.......I think the distribution from 1-12 will hold the key as we go forward so watch that day closely for a stopping point or a go/no go level ....
I have taken some creative liberties here and combined the inside bars on the 30 minute from Friday...see pic ....I left monday's session on the chart and you can also see the final 45 minute from Friday and how it created the "P" pattern......you can see the bells clearer and it also shows the back and forth trade I am talking about....the video goes over all the other key levels I'm watching....I still think we need to resolve some areas on the downside but will formulate a better plan once I see what happens in Monday overnight session
I may not have mentioned it on the video but below that big bell at 95 I'd also watch 89.50 - 91 if they can push that far in the next day or two
Click image for original size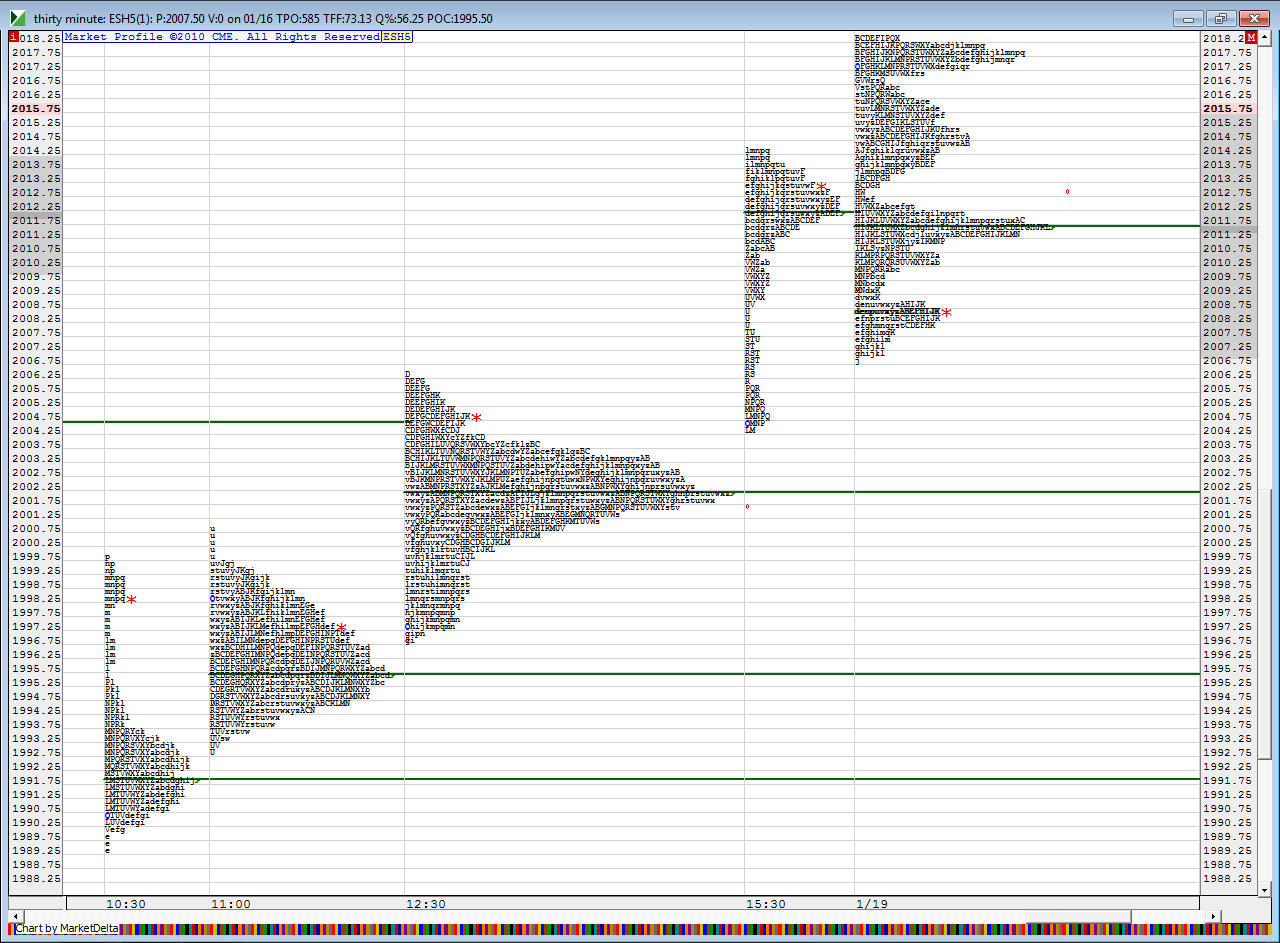 Yeah, I am planning on having the same bands and zones as I had planned today. So no new pictures from me today. I was all excited to trade today and then realized it was a holiday. Talk about a downer. Lol.
.I'm using 17.50 as first magnet price but have a greenie from friday at 2013.75 ....so that goes well with your weekly pivot and fridays highs.....so 14 - 17.50 will be a key zone for me...I like sells in the 23 - 25.50 zone...pushing over 2029 will be a caution flag for me and any shorts in the 29 - 31 area will try to use 25.25 as a retest magnet.....only greenies on my chart are still way up at 47...then we have 17.50 ( from monday if that counts)and 13.75 from Friday........they like greenies...the question is...."which ones do they want to go get today ???"
so trying small sells in
O/N
NOW
......I'm probably a bit early
revising first target on any shorts to Monday highs ..so 19 is a better first target
cool...look where midpoint is....high odds of getting that too
good trade Bruce. due to my resolve of staying out of
O/N
i did not take the trade but that was a good one to take. i hope they push up at the open and we can go short again but let us see how it plays out..
i pulled the trigger too early. lets see what happens...
gotta come out faster on this short due to double top but maybe we will get lucky.....still expecting 17.50 and lower but not sure when