ES Tuesday 1-20-15
Since the cash market was not open On Monday you would be using the same
Vix
values to calculate the bands from Fridays session .....although weekly Pivot numbers will be valid it is always a gray area to me whether one should look at the daily pivot numbers generated from Mondays session. I tend to look at it almost like an overnight session. There was no Overnight midpoint retest on Friday so I think better odds for a retest on Tuesday even though they did one in Mondays shortened session.
The big question for me is " Was Friday real buying or just a reaction to
options expiration
and people covering shorts ?".we only had elongation in part of the last 45 minutes or so and the rest of the day had loads of back and fill to it......look at your one minute charts.......I think the distribution from 1-12 will hold the key as we go forward so watch that day closely for a stopping point or a go/no go level ....
I have taken some creative liberties here and combined the inside bars on the 30 minute from Friday...see pic ....I left monday's session on the chart and you can also see the final 45 minute from Friday and how it created the "P" pattern......you can see the bells clearer and it also shows the back and forth trade I am talking about....the video goes over all the other key levels I'm watching....I still think we need to resolve some areas on the downside but will formulate a better plan once I see what happens in Monday overnight session
I may not have mentioned it on the video but below that big bell at 95 I'd also watch 89.50 - 91 if they can push that far in the next day or two
Click image for original size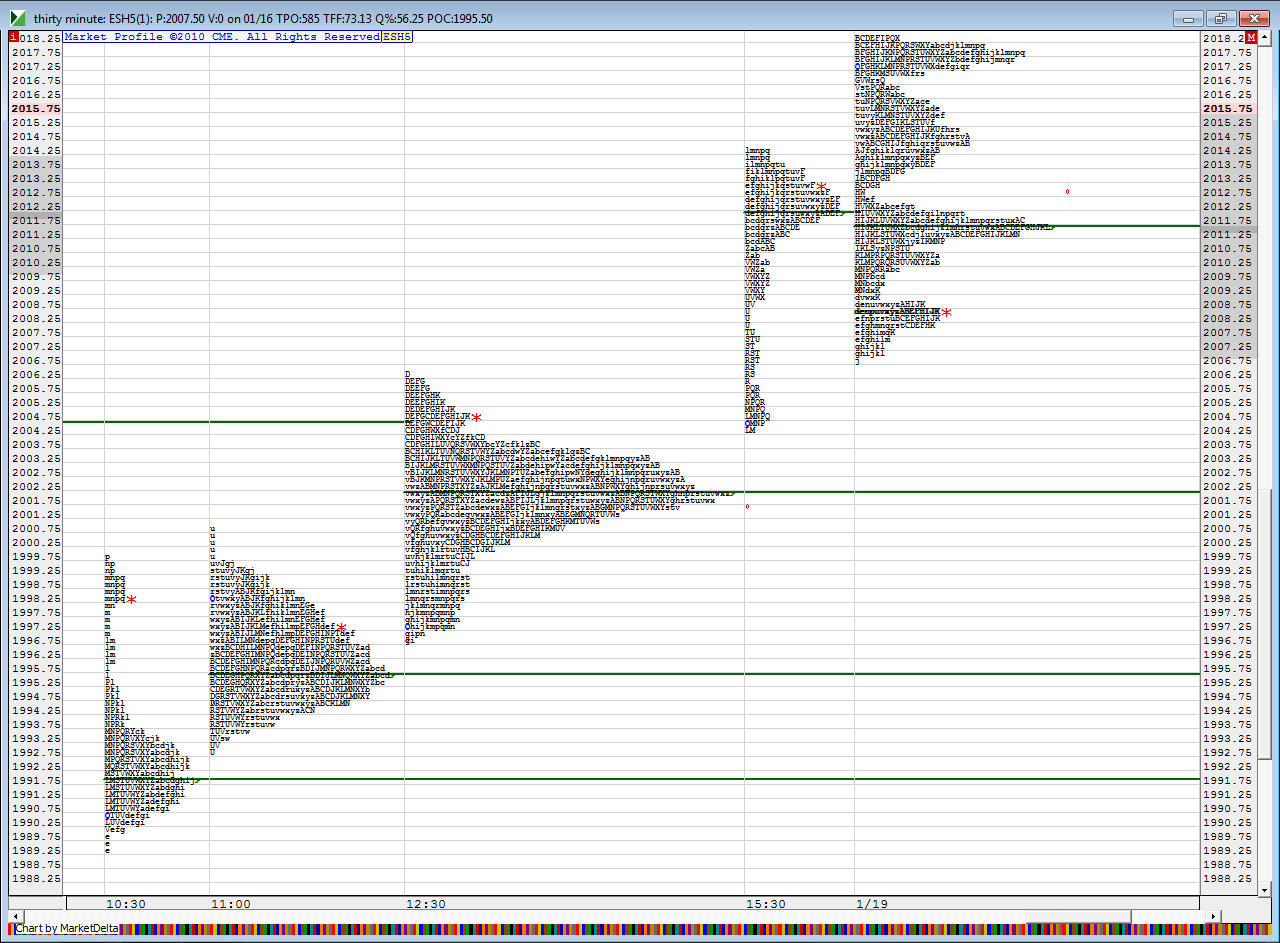 i really hate the
price action
from Friday and am glad to be out of the market now......today all the one minute bars are at 2014 so that mimicks your
vpoc
flip.....interesting...I'm expecting 2002- 2003 still but not in the trade....they blew right through fridays buying spike...not a great sign for the bulls I would think
yeah i think we might go below that low sometime this week, just not sure when. i too am out with a measly profit, but profit nonetheless.

the larger number of contracts had me a little trigger happy but at least i am glad that the concepts are playing out and now it is a matter of calming my nerves
VPOC
just shifted to 6.5. definitely a downwards trend here. would be interesting if they got below 2000 soon
today is not a day i am looking to go long. i wish i had done better at the open but better to be satisfied than take some crazy risk. if i see a good probability trade later in the day i will take it with smaller size but thats about it
a cool look at how we bumped up against that combined 30 minute
POC
from video....I also had a greenie at 2003.25
Click image for original size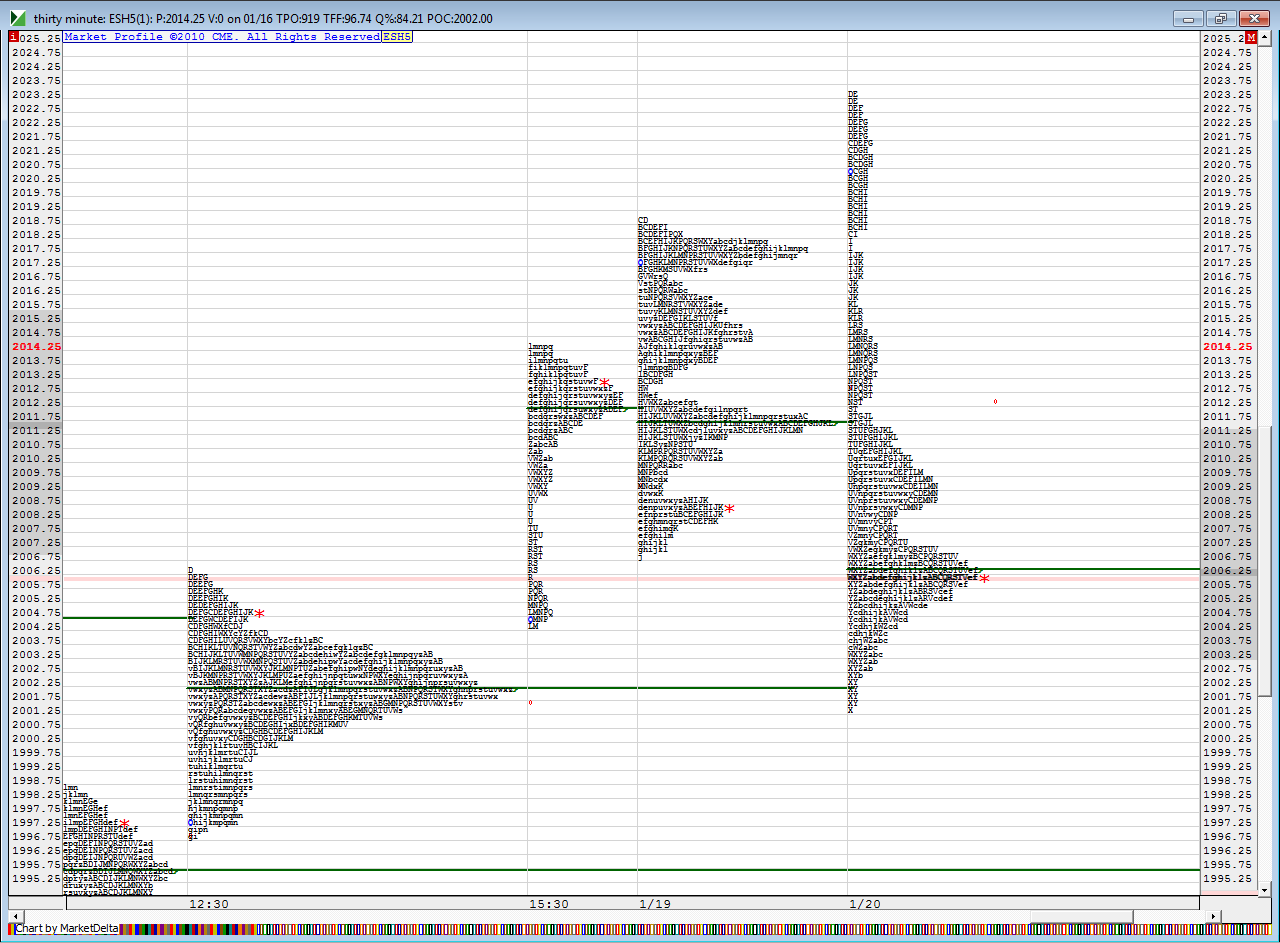 other greenie from Friday is at 96.50,,,,real close to next combined 30 minute on chart at 95.75
they have bad highs at 6.75 and 11.75 so will be interesting to see if they take those out or form new lows and go below 2000. due to that uncertainity, i am on the sidelines.
they have now tested the greenie at 02 and
PP
at 2.75 multiple times. so if that gives way, then down we go....
below i have greenies at 98 and 95
your 98 greenies rocked the house today ...seems like 2011.50 and 2005.50 - 2007 are the points to watch separating the two main distributions today
Originally posted by NewKid

below i have greenies at 98 and 95

yeah, the bulls defended it quite vigorously.... it was definitely an interesting day today
Originally posted by BruceM

your 98 greenies rocked the house today ...seems like 2011.50 and 2005.50 - 2007 are the points to watch separating the two main distributions today

Originally posted by NewKid

below i have greenies at 98 and 95