ES Thursday 2-19-15
Once again I'm going to try and use 92.75 - 94.75 as a target this morning....Pivot is there and a low Time spot on Current week.....picture below....On High respected R1 level today and S1 sits at our old friend the 88.75 - 90 area...weekly
vpoc
/
poc
is here now too....so that is best place to try longs.......what we don't want to see is a high volume and very low
$Tick
push down....that may imply that we have had enough consolidating this week and they are ready to seek value at lower levels...
I am using 88 - 90 as my key level today on downside.....Greenie from Yd sits at 92.75 so that would need to be the first target if you find the long...yesterday was an
inside day
too.....so we are consolidating.....On midpoint sits Above my Greenie !!
if this first zone fails then I will try another buy at 83 - 84.75 but probably not lower...s2 is down here too
so gonna start small longs at 88.50 now in
O/N
...This is previous all time highs...a dangerous inflection point
Click image for original size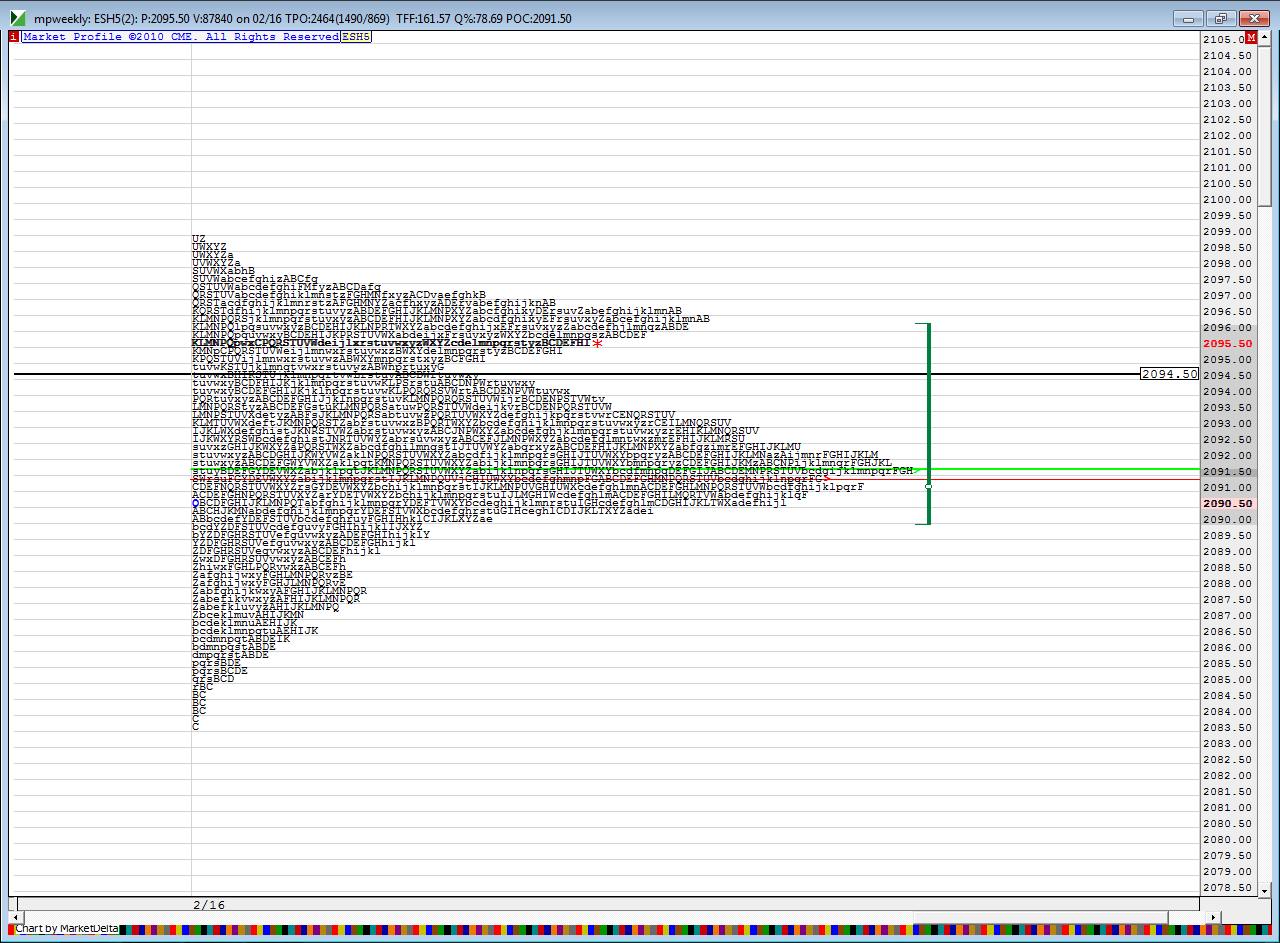 The overnight spike bothers me. it's just such a prominent formation, and so close to the big round 00 (even though the cash has already done it).ugh
how true paul...with current weeks high up there and today's r1 then perhaps those holding this above yd
va high
will try to target that.....also no
O/N
range has been run yet...no clue and glad it's 11 a.m
gonna try small trades below low of high bar to target LTn at 96.75...will try up to 2101 but not above....watching Tuesdays highs closely...these are small trades for me up here
when u talk abt these low of high bars, are u talking abt the highest one min bar of the day (high of 99.5)? or the more recent one (given the aprox time of your post) with a high of 99? trying to understand in this case if u are waiting for a lower high to develop and then taking the break of the low of that high bar or simply took the break of 98.25, which is the low of the highest 1m bar today...personally i took 98.5 (w/ stop above 99.5) after we went from 99.5 to 97.5 and had a mini bounce...97 is a scale or me...ibh/current
vpoc
is the next one and hopefully 91-93ish is final...
u can use both...one gets u in on the highest bar of the day...as per one minute..... the other entry gets you a jump start on a 1-2-3 entry....I think it's called the traders trick as per joe ross from way back
go here and it should give u a heads up on what I look at
http://www.trading-naked.com/library/Traders_Trick_Entry.pdf
man,...that pdf really goes on.....u r basically just trying to get in ahead of those using a #2 point .....that pdf is fro long trades so u need to reverse for shorts
final for me is 95.75 print...I just don't like the 4 pm close and the fact that peak time today sits at 94.75...yd
va high
is there too...so they may bounce it around in here
yep, i got that ibh scale as well (was watching ibh/
vpoc
area)...next is 93.5, confluence of mid and
vwap
...below that and really 91ish comes into play pretty much
Originally posted by BruceM

final for me is 95.75 print...I just don't like the 4 pm close and the fact that peak time today sits at 94.75...yd va high is there too...so they may bounce it around in here

this is always fascinating to me how we can all come up with our reasons.........for me that battle was due to the 4 pm close at 96.25 ( when the cash market goes unchanged) .....for me the Overnight really only confirms levels derived from day session data..... for you it was the base of the spike from Overnight.......and both of us are right........!!!.
I'm only making a point about how diverse the markets and the people who trade them are.........it's all so cool to me....couldn't see doing anything else !!
.
Originally posted by apk781

yep...look how first they battled a bit a thte base of the spike around 96 or so and once bulls won tht fight they took it to the other edge of the spike...which of course had very nice confluence with the rth ath level till taht point at 98.5...so that 98.5-99.5 was a nice little zone for bears to try to attempt a decent pb...