ES Thursday 2-19-15
Once again I'm going to try and use 92.75 - 94.75 as a target this morning....Pivot is there and a low Time spot on Current week.....picture below....On High respected R1 level today and S1 sits at our old friend the 88.75 - 90 area...weekly
vpoc
/
poc
is here now too....so that is best place to try longs.......what we don't want to see is a high volume and very low
$Tick
push down....that may imply that we have had enough consolidating this week and they are ready to seek value at lower levels...
I am using 88 - 90 as my key level today on downside.....Greenie from Yd sits at 92.75 so that would need to be the first target if you find the long...yesterday was an
inside day
too.....so we are consolidating.....On midpoint sits Above my Greenie !!
if this first zone fails then I will try another buy at 83 - 84.75 but probably not lower...s2 is down here too
so gonna start small longs at 88.50 now in
O/N
...This is previous all time highs...a dangerous inflection point
Click image for original size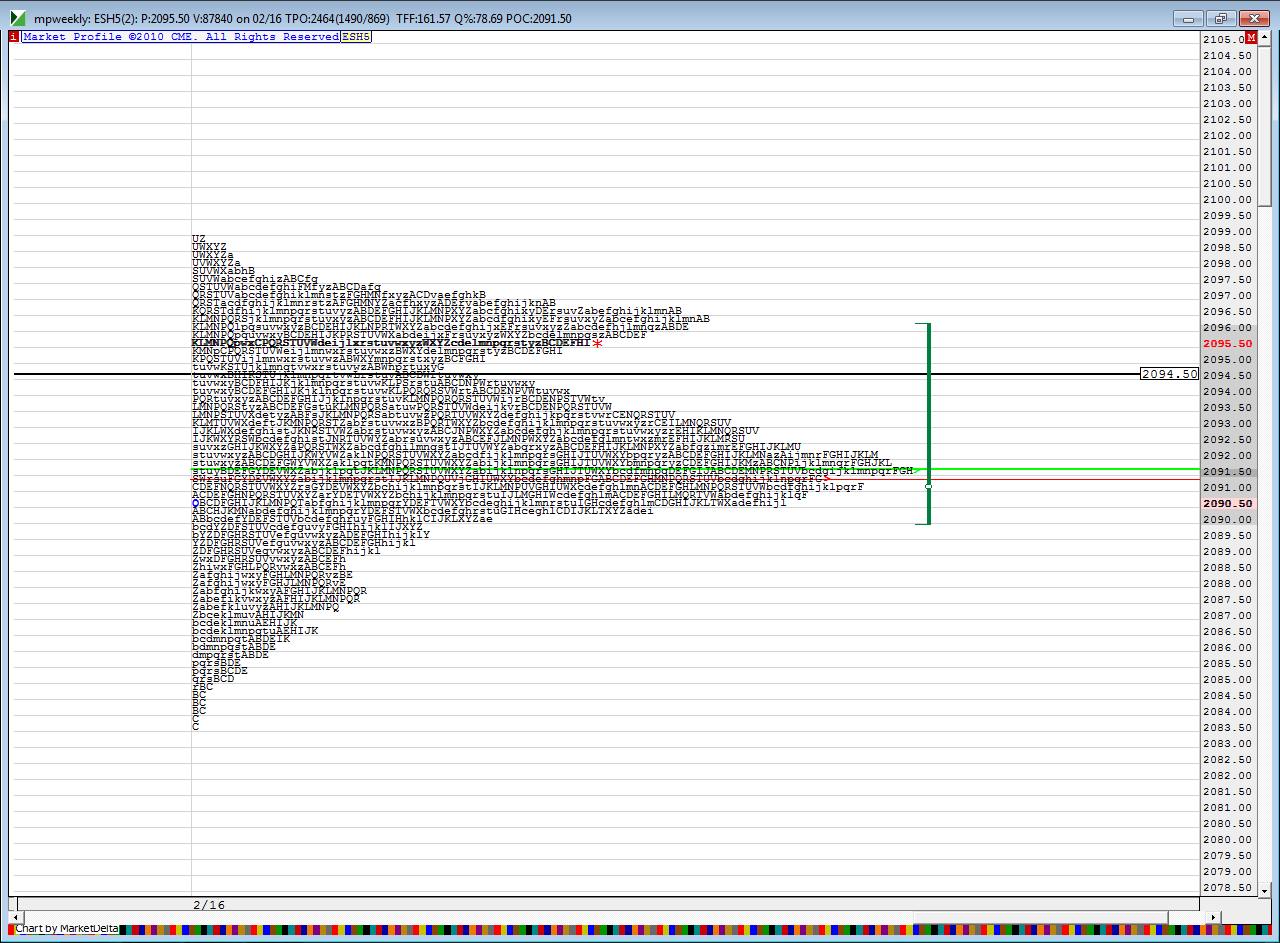 trying to use 91.25 as a first target as that is slightly below this weeks
POC
...see chart........
i have been a sick puppy so been out of it for a while. hope to be back with you folks soon..
feel better..i was wondering where u were....thought u might be taking an overdue break......
Originally posted by NewKid

i have been a sick puppy so been out of it for a while. hope to be back with you folks soon..

came out on all but one at 92.50...that was one tic ahead of my key target,,,getting close to midpoint....watch this area...we may chop back and forth building time around weekly
poc
/
vpoc
level
that's me gone at 93.50...hope all have a good day....nothing much to do here in consolidation mode except wait for the extremes.....last weeks high and that
LVN
on weekly is just above.....don't trust the entire middle of this weekly bell curve ( or what looks like a sloppy bell curve so far)
perhaps I am wrong but I automatically ASSume that most know where the Overnight midpoint is each day before
RTH
gets fired up...
the only thing I see is that they are trying to leave
single prints
on 30 minute high...so if you can find a low risk sort then try to take it back to the 91 area....that is also the weekly
POC
and I think they will need to revisit that again...YD
va high
is 94.50 and that LTN on the weekly is 94 area too....so perhaps a few small tries on trades below the low of the high bar may do the trick up here above that
VA
/LTN
nice trading bruce...did u hold your origianl 88.5 long or tried gain once we broke below it to 87.5 ? we still holding that 86.25-88.75 supp zone of mine from yest, so for me that dip to test the onl was a good long try...91 is the composite
vpoc
of the recent balance area, as is reflected in your weekly chart so that along with yest
val
was a good first target as any...
o/n
mid point and yest
vpoc
were extras...and if u wanted to hold for the other side of yest's value at 94.5-95.25, then u jsut got it (not me)...but last week's high at 94.5 also matched that area...so pretty interesting
there has been no trade below the low of the high bar yet...and it seems when it comes it will happen at the 94.50
VA high
area...be careful if u take those shorts...many will be trying to see if they can hold above that
VA high
...so u may need to take a few small stabs if u dare
I did hold and was hoping to
add
and take a better long near the On low...but it never came down that far
this is always fascinating to me how we can all come up with our reasons.........for me that battle was due to the 4 pm close at 96.25 ( when the cash market goes unchanged) .....for me the Overnight really only confirms levels derived from day session data..... for you it was the base of the spike from Overnight.......and both of us are right........!!!.
I'm only making a point about how diverse the markets and the people who trade them are.........it's all so cool to me....couldn't see doing anything else !!
.
Originally posted by apk781

yep...look how first they battled a bit a thte base of the spike around 96 or so and once bulls won tht fight they took it to the other edge of the spike...which of course had very nice confluence with the rth ath level till taht point at 98.5...so that 98.5-99.5 was a nice little zone for bears to try to attempt a decent pb...