ES Wednesday 7-29-15
Hello to all. Today seemed like that long awaited short covering rally that most people expected. As can be seen in the chart below we rallied today prior to the Wednesday
Fed day
announcement. We seem to be still balancing in the 2035 to 2125 area. With weaker handed day time frame and some short time frame traders playing that will likely not change for the near future at least but it is something that should definitely be on our radar as we approach any of the extremities.
The previous rally to the all time highs had a very sudden demise. The market did not even attempt to consolidate there and liquidation followed right away. So I am not sure if this means that the bulls are losing control or not but it is definitely something to be aware of and kept in mind as we move forward.
Greenies: Today the greenies worked wonderfully well providing nice turning points for the day. Next greenies up are at 2092.75, 2097/97.5 and 2108.25. On the downside we have them at 2066.75 and 2050.5
Click image for original size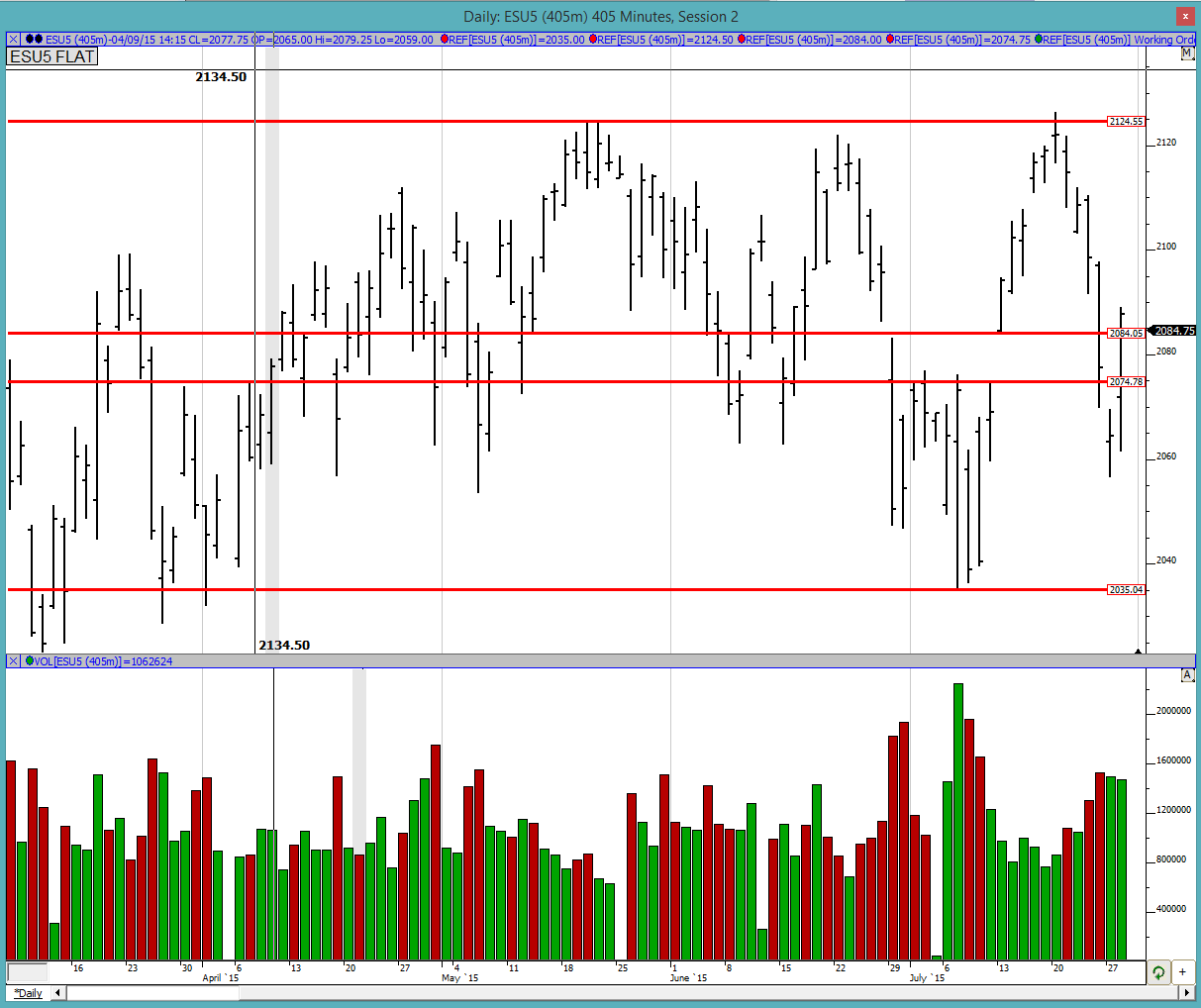 Profile:
Today was again a not very pretty looking profile. It looked like a short squeeze after all that selling over the past 5 days prior to the
Fed day
announcement. An awful lot of
single prints
left behind and depending on how you look at it, at least 3 or 4 distributions. It almost has a P shape to it, which is associated with a short squeeze. As can be seen by the horizontal lines (green is
POC
and red is
VPOC
) the low of the day was right at Monday's
POC
/
VPOC
area. This tends to happen quite often where the buyers come in at that point because that is the point where the last defense had come in. Classic move. The high of the day was also close to another greenie.
Click image for original size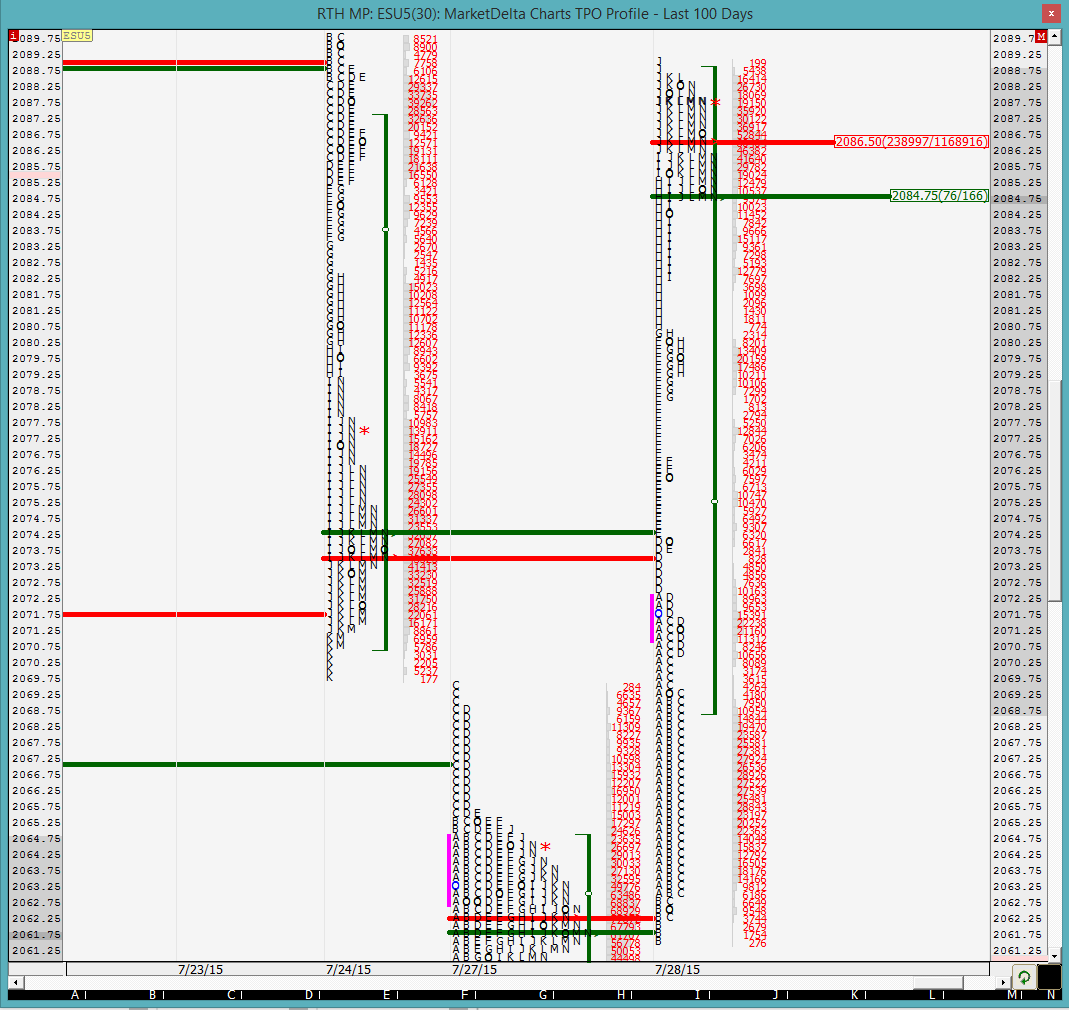 On the
split
profile seen below we can see that the
POC
for Tuesday has formed the ledge at 2084.75. That was the only real pullback once the short covering rally started so I will have an eye on that tomorrow. The market started
one time framing
up in the B period and did not really stop till the L period and even then it was close to the end of the day and it just died out there.
Click image for original size
The current week's
VPOC
is at 2062.25 and last week's
VPOC
is at 2106. So if the market rallies tomorrow, that is a likely point for it to pause.
Wednesday is
Fed day
so I do not expect a whole lot of excitement until the announcement at 2pm EST but I also do not like to trade at or after the announcement because things get way too unpredictable for me. So I will see how the
O/N
plays out and try getting a trade or 2 off in the morning and hopefully call it a day.
that is very cool DT. thanks for it. interesting to see how the trend has been down for so long (except for a lower high)
we opened just inside YD's range, failed to stay in it and moved out of it. that was setup as a long trade on a silver platter. we came back in the B period to make sure that indeed there was nothing to be seen inside YD's range and gave an ideal opportunity to buy on the pullback. Unfortunately I was blinded by a preconceived notion and that cost me today. Lesson learned again.
Click image for original size