ES Wednesday 8-26-15
Good morning to all. Looking at the daily chart we see that YD was an
inside day
(not too shockingly) and therefore we are in a 2-day balance area, bracketed by the high and low of Friday. Balance rules apply here: a trade is to look outside of balance and go, or look outside balance and reject falling back into balance. 1950.75 and 1831.75 are the extremities to look at. As of right now it looks like the balance area high will be tested first but depends on how the
RTH
session opens up.
Greenies: 1831, 1933, 1995. As we can see the greenies are really far apart so we need to look for other references for possible turning points. There is a
gap
from 1968 to 1950.75 so look out for that.
Click image for original size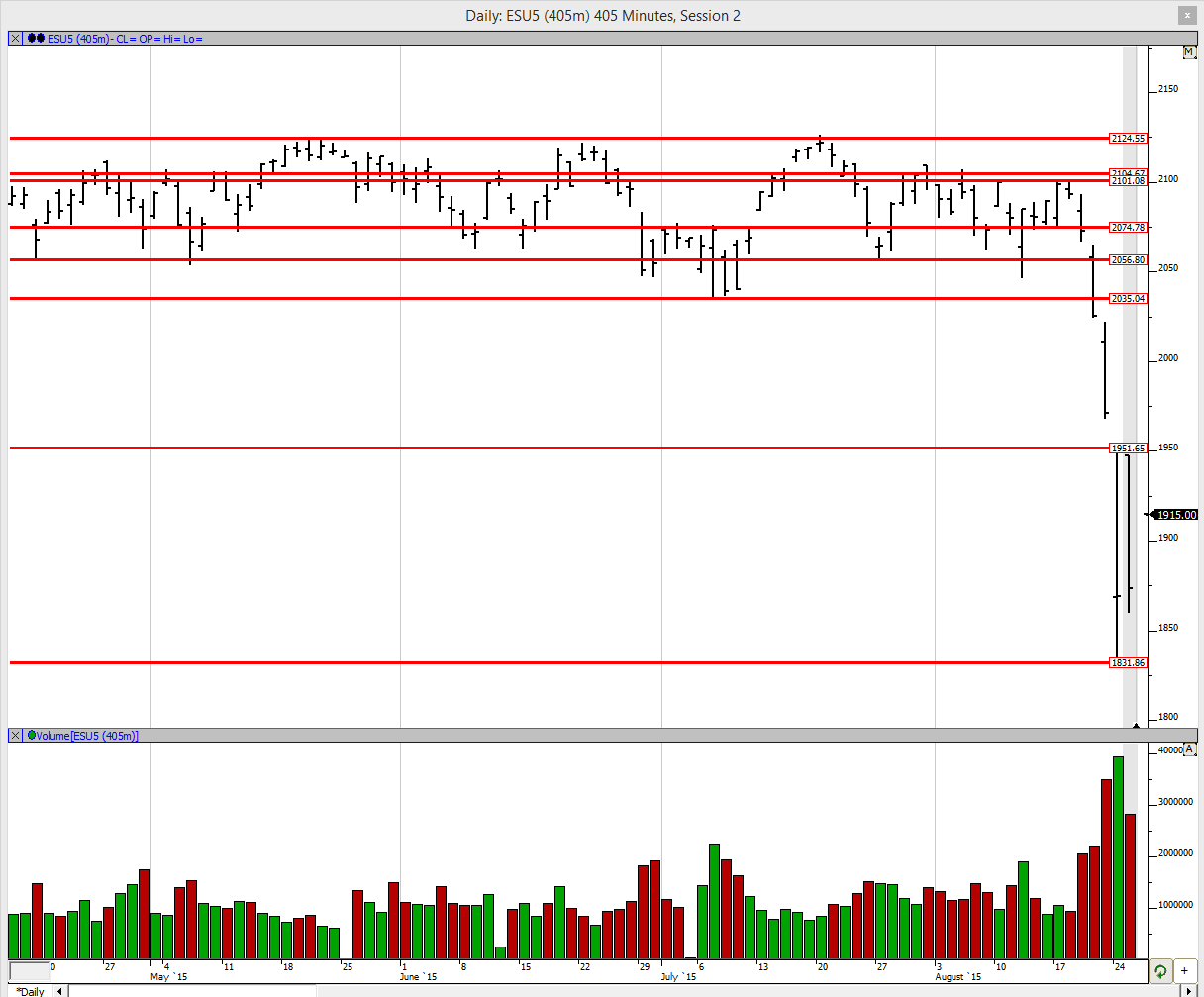 Profile:
Another day with a stretched profile. I did my best to make it fit but there is still a bunch of
single prints
down below. As we can see that 1933 was the
VPOC
, which is the greenie mentioned earlier and 1930 was the time based
POC
. This also shows the profile at near the high of the balance area. We can also see that even though the price closed near the lows, the value was entirely in the top half of the profile i.e. above the mid-pt. This is something that needs to be carried forward because the prices could have fallen due to liquidation by the longs. In YD's posts I had mentioned that if the buyers were not able to take out the high of the day soon, we could see some liquidation. That is precisely what happened. But that left a disconnect with value. Always look out for that.
Click image for original size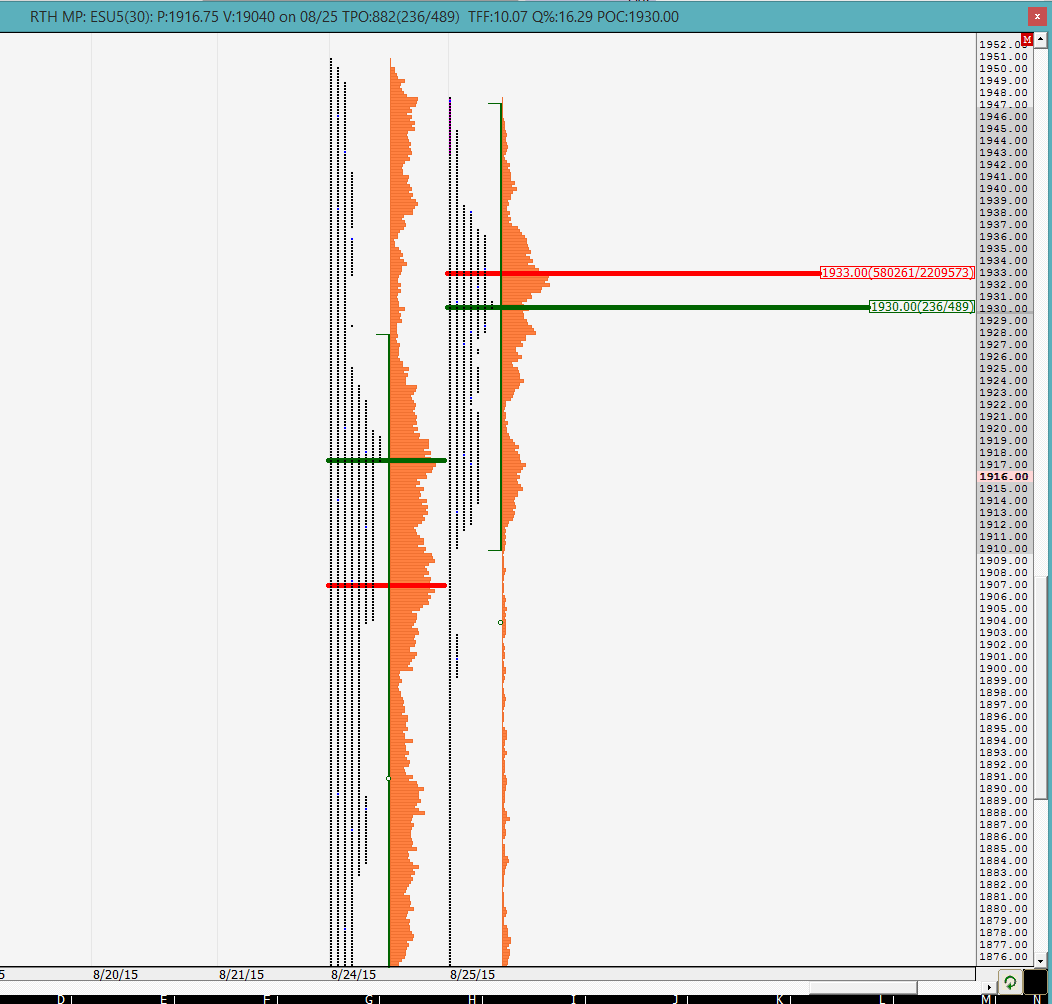 Looking at the
split
profile, a possible pausing point could be the area of the D period low (1928), K period high (1926.5) and H period high (1931.25). That is where the sentiment changed YD so look out for that area. The buyers are going to need to be stronger today to break out of YD's high and the balance area high to fill up that
gap
. If we fail up here then the balance area low will be targeted and then things can get uglier with the market targeting 1800 and beyond.
Click image for original size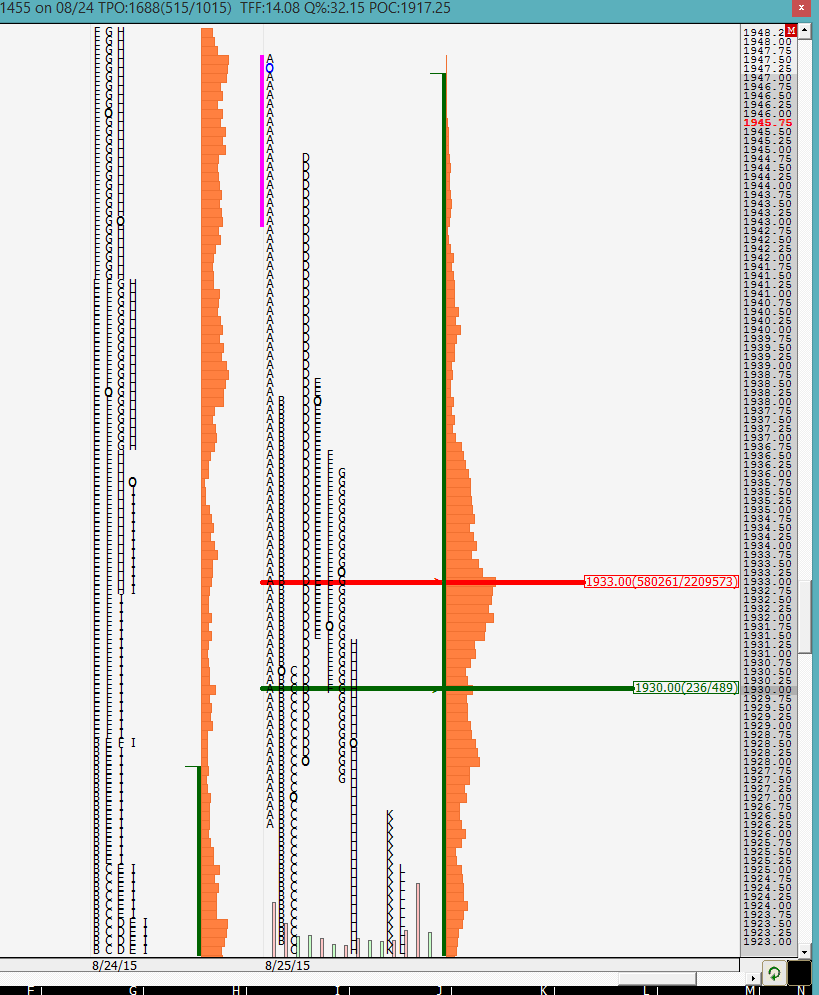 The
O/N
inventory is long but definitely not 100% as we saw quite a bit of action below YD's close of 1873.75.
Good luck to all
For those not familiar, you should also read this everyday. It is an excellent read. I try to get my thoughts together before reading it so any similarity is usually coincidental.
http://shadowtrader.net/blog/
again so many
single prints
on the opening 30-min bar. 1905 is the current 30-min
VPOC
. Looks like we have 2 bells being created on volume with the big nodes being at 1905 and the other at 1900
we are in the
single prints
from YD. they end at 1874.75. the buyers are having heck of a time trying to get anywhere
volatility is still high so be careful out there
I must admit that I am doing a lot of watching and no trading.
you are not the only one. i am reading on other forums how even some very experienced traders are sitting this out. there is certainly no shame in being cautious and saving yourself a whole lot of stress. you can make bundles of money for sure but can also lose a bundle..
Originally posted by radyk

I must admit that I am doing a lot of watching and no trading.

I trade
NQ
because I can read the volume profiles much better. Those are still working even with this volatility but I have too much fear so I know I will just lose money as a result.
it is good that you recognize your fear and are able to stay away from it. that is definitely commendable
Exactly right NewKid.

What most scalpers look for is consistent repeatable patterns to make trades. The current market environment can't be considered normal in any way, thus stand to the side. Save you powder until things resemble the rhythm that works in your favor.

Good luck to all.