ES Wednesday 8-26-15
Good morning to all. Looking at the daily chart we see that YD was an
inside day
(not too shockingly) and therefore we are in a 2-day balance area, bracketed by the high and low of Friday. Balance rules apply here: a trade is to look outside of balance and go, or look outside balance and reject falling back into balance. 1950.75 and 1831.75 are the extremities to look at. As of right now it looks like the balance area high will be tested first but depends on how the
RTH
session opens up.
Greenies: 1831, 1933, 1995. As we can see the greenies are really far apart so we need to look for other references for possible turning points. There is a
gap
from 1968 to 1950.75 so look out for that.
Click image for original size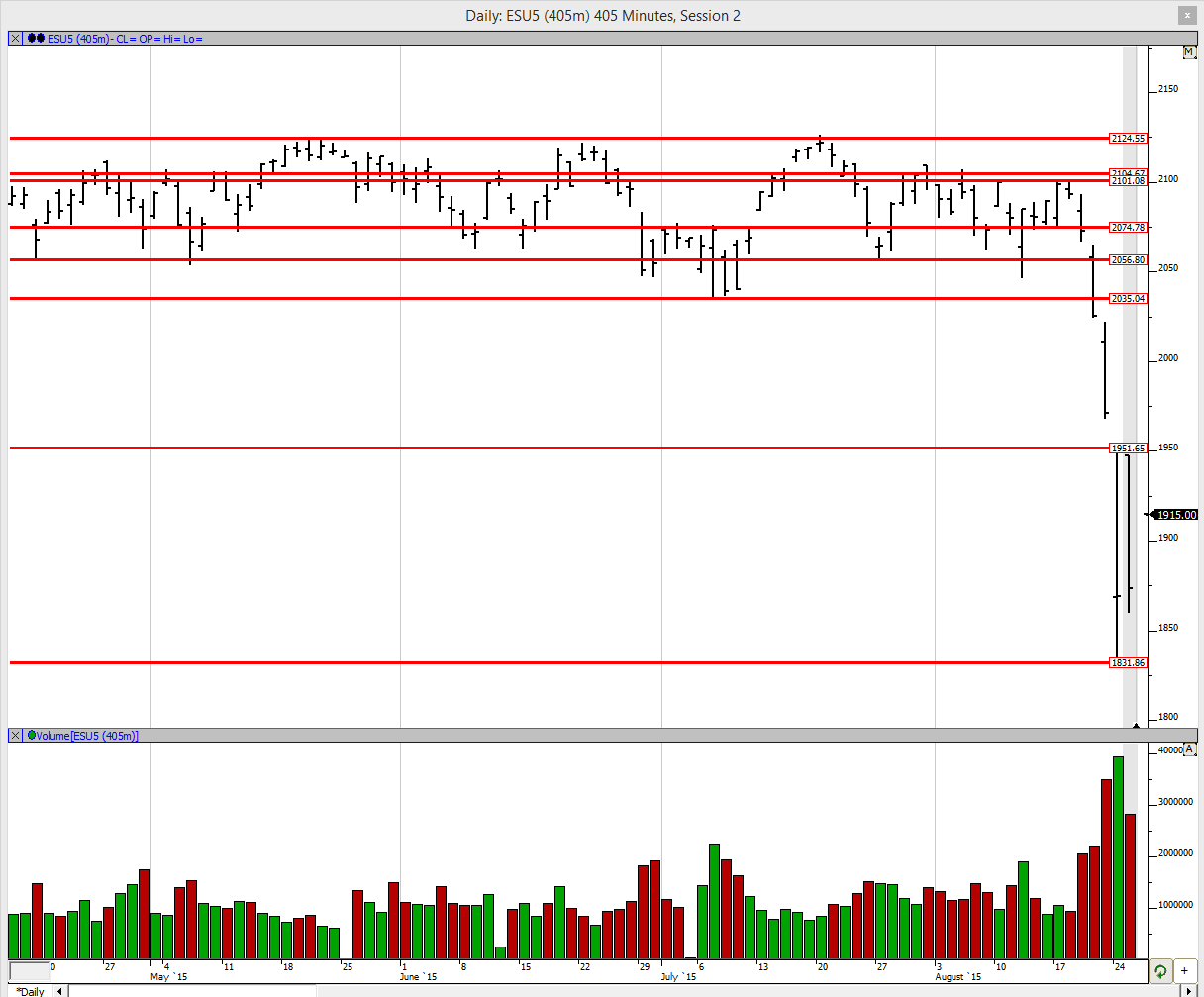 Profile:
Another day with a stretched profile. I did my best to make it fit but there is still a bunch of
single prints
down below. As we can see that 1933 was the
VPOC
, which is the greenie mentioned earlier and 1930 was the time based
POC
. This also shows the profile at near the high of the balance area. We can also see that even though the price closed near the lows, the value was entirely in the top half of the profile i.e. above the mid-pt. This is something that needs to be carried forward because the prices could have fallen due to liquidation by the longs. In YD's posts I had mentioned that if the buyers were not able to take out the high of the day soon, we could see some liquidation. That is precisely what happened. But that left a disconnect with value. Always look out for that.
Click image for original size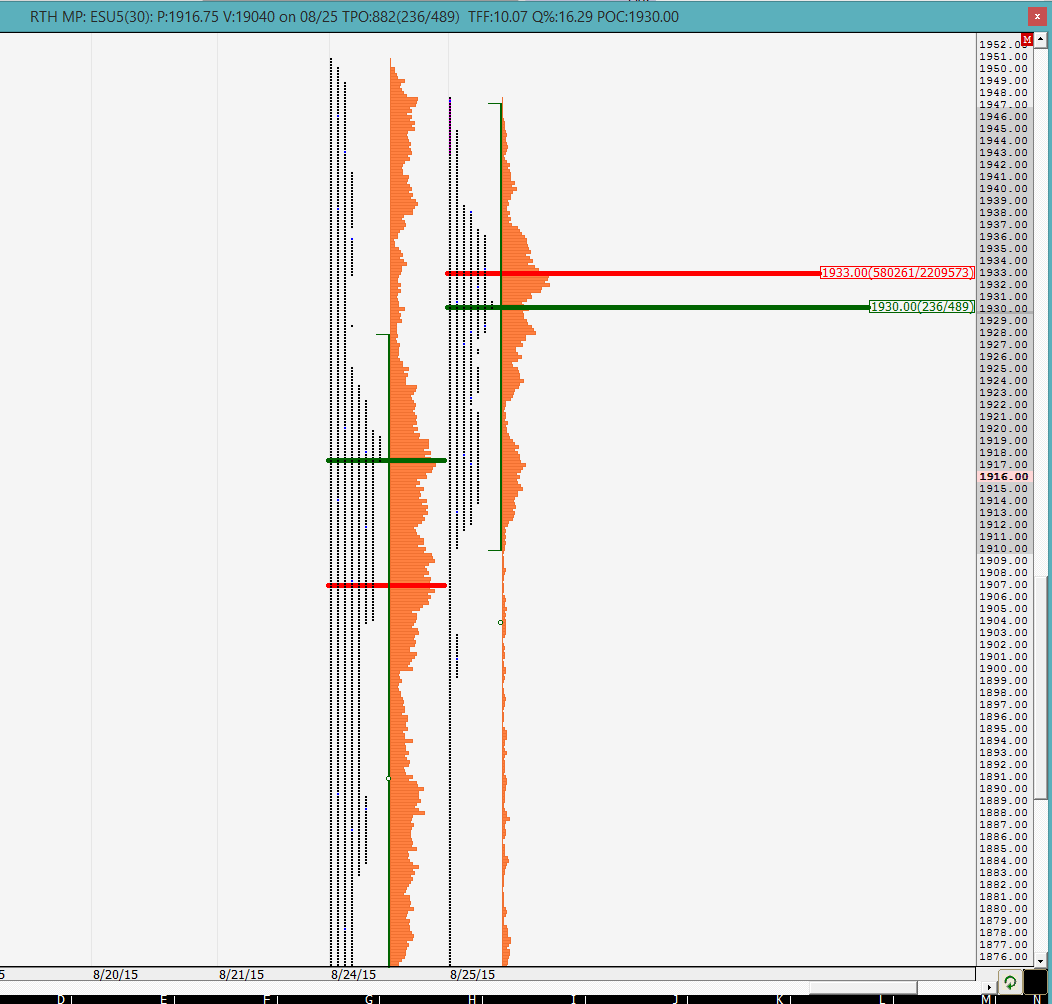 Looking at the
split
profile, a possible pausing point could be the area of the D period low (1928), K period high (1926.5) and H period high (1931.25). That is where the sentiment changed YD so look out for that area. The buyers are going to need to be stronger today to break out of YD's high and the balance area high to fill up that
gap
. If we fail up here then the balance area low will be targeted and then things can get uglier with the market targeting 1800 and beyond.
Click image for original size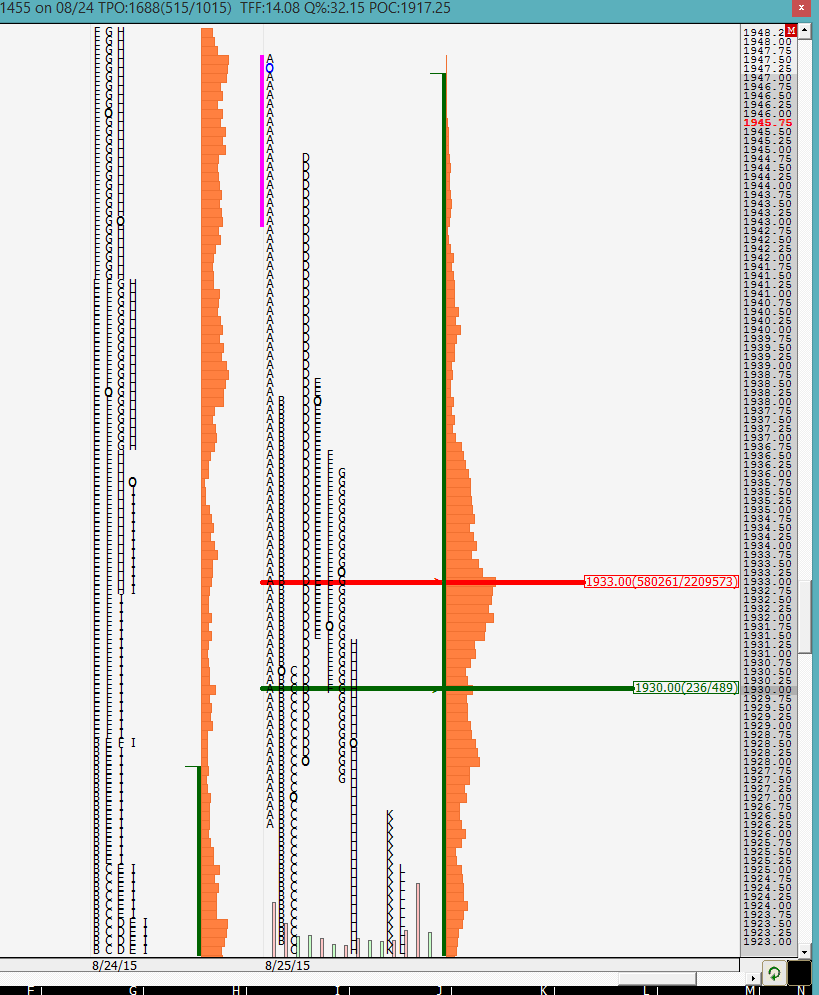 The
O/N
inventory is long but definitely not 100% as we saw quite a bit of action below YD's close of 1873.75.
Good luck to all
the best advice i got was from shadow trader..dont fear it embrace it. to me this feels like the late 90s again..anyone around when greenspan cut rates during the day when the market was open?
it is ok to embrace it as long as you adjust yourself for it by either widening your stops or trading a smaller size or are simply quick. my point was that it is prudent to be careful. if you think you can handle it, then most certainly go for it because these are definitely very real opportunities to make some serious money. but not everyone can and it is ok to know your limitations and stand back when you need to as well.
its prudent to be careful all the time..put the 22
ema
and 50
ema
on the 1 min chart..you can see nice down trend market starting at around 945am... in that trend there is many spots you could short with less than 3 point stop. like in the last 10 min there was one or two times to short it at 87.75 oh
rat
number lol love those
rat
# ..now to set the record. i have only been able to make 2200. newkid all i am trying to do is return the help..
absolutely duck. i certainly appreciate it. you have made 2200 more than me so thats great! :)
it is always good to get a different perspective and i have seen how the emas' show the trend like you have said in the past. and the
rats
too. a good system for trading for sure
from a bigger picture point of view, the more time we spend in this area, the more the market is accepting these prices. this does not bode well for the bulls
buyers are making another attempt. we shall see if the current high of the day can be taken out. if so, then the 1933 greenie, YD's high and Monday's high would be the next possible pausing points
IMO
today's close is going to be important. for the buyers to attract others, they would need to close near the highs or at least in the top half of the distribution. if the gains are given back like YD then they are toast.
strong finish to the day but today was again an
inside day
compared to YD. we are coiling and now will be in a 3-day balance as we enter tomorrow