ES 9-30-16
there is
gap
at 42.25 on the down side and on the up side at 66.50..both are over night
gap
..these are the lines i got my chart..
Click image for original size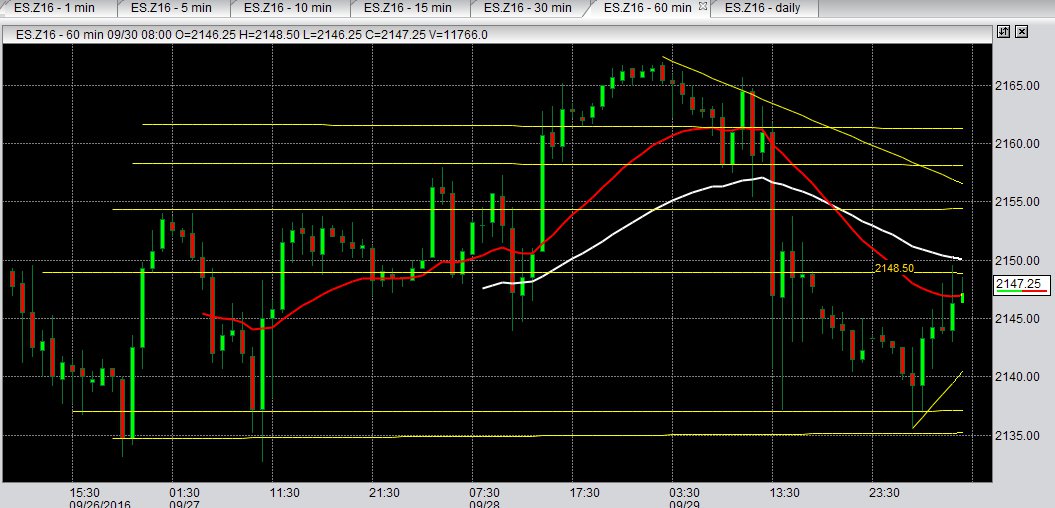 We had 2 clear bells as can be seen in the graph below. The
O/N
was all spent in the bottom bell with the market testing just outside YD's lows and then going thru the bell. Center of the bottom bell is 46 and the top is around 53. 53 also lines up with weekly
PP
and 0.5
SD
band. I will be looking for an opportunity to short around there if given the chance to get back to the 46 area. As of right now, the
O/N
inventory is ~98% net short so there could be little relief rally to start off with. Also the
O/N
mid is below too.
Click image for original size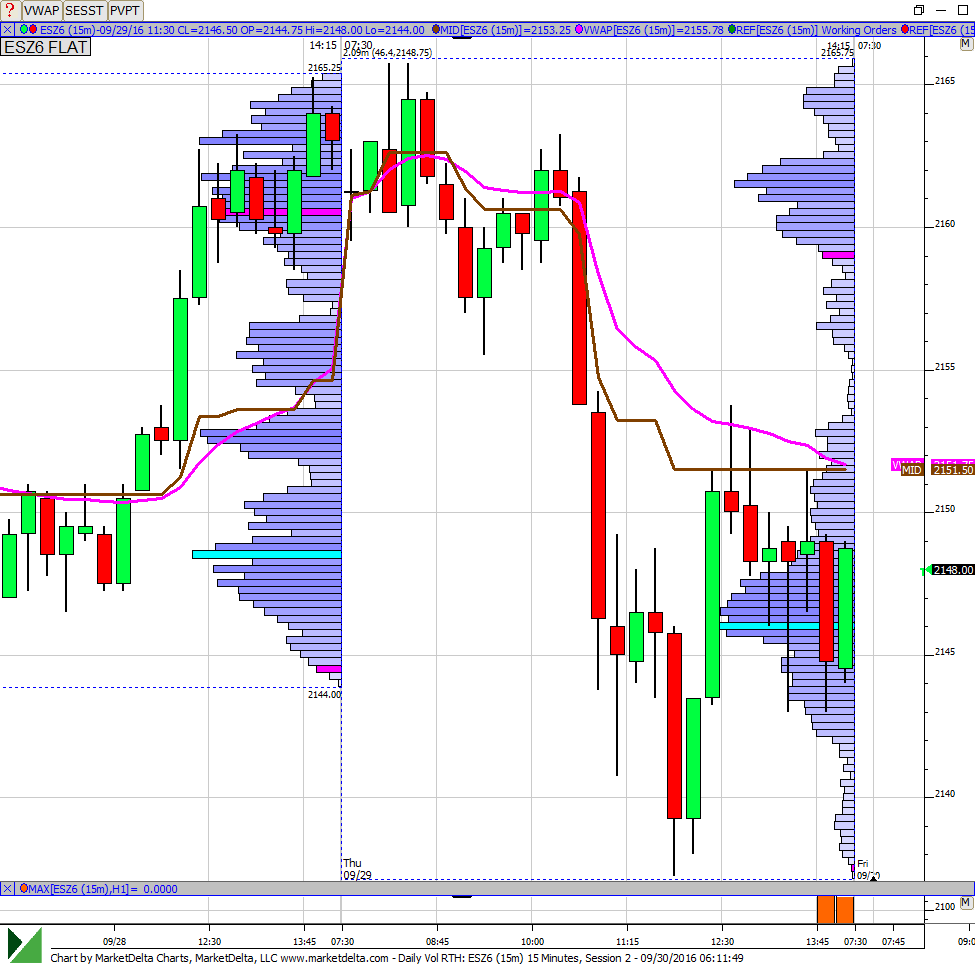 I have key upper resistance at 53 - 54 and magnets - high time prices at 46 - 47 and 61.25 from YD's trade....
TOS
data has a
gap
way down at 36.25 post 3 a.m data too ..I plan on trading for the 46 - 47 test and will use pivot near 50 and the 53 - 54 as key areas to initiate from....weekly data shows 46.50 as the high time price for this week.....so that area is a good bull / bear line today......still an inside week
Thanks for the reminder to look at the weekly chart Bruce. This week's
VPOC
is at 47. Looks like we have the same plan for the day. Need that pop up to 53 to get in now. Hopefully it gets there before the open.
Click image for original size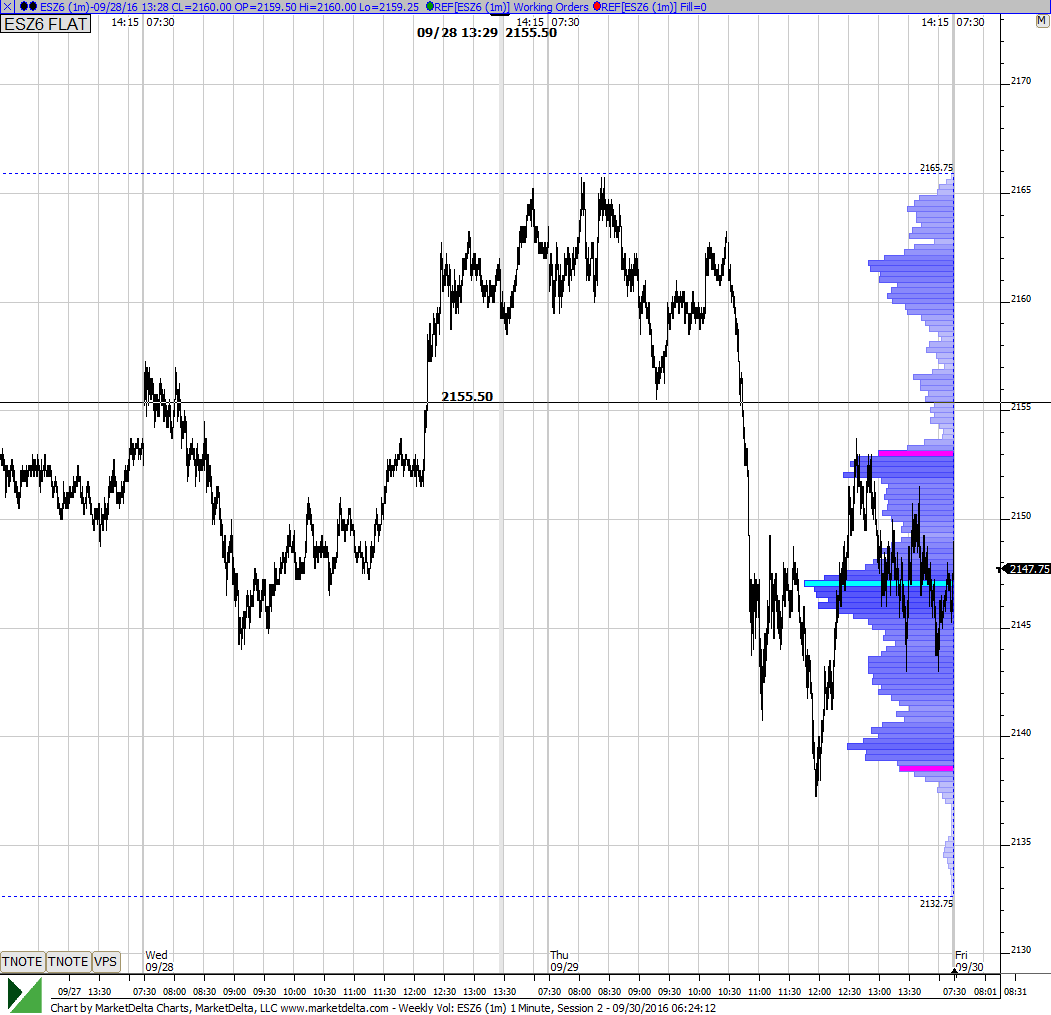 sorry. i got a double post in there somehow...
51.5 was YD's
RTH
mid as well as ending
VWAP
for the day. Could be a speed breaker on the way to 53. Worth a shot at the short here for me.
I'm on the 51.25 short trying for 47.75........probably early like many of my overnight trades....that was the push out above the pivot......they will probably revisit pivot in
RTH
so I don't think I caught a good swing high here
just for reference the swing lows from yesterday afternoon at 43 have confluence with the
split
of the Pivot number and s1 today....
there is
single prints
at 54-56 area..if that correct i think it trading up to there and then back down to fill the
gap
at 42.25
took loser at 54.50 which is a big loss on my overnight initiations...starting shorts at 56.75 in
rth
...this spilts r1 and pivot too and we blew through the 53 - 54 so I expect a retest
see, I told ya....ha....just couldn't resist....look at that late day retest of 58.75.....I wasn't here...I made NOTHING ...LOL!
Originally posted by BruceM

yeah, that's a good example........gaps in data from the overnight are my least favorite reference points......FYI - on second almost touch of the pivot I brought stop on last runner to 56.50 and got stopped out.....always hard to hold the last...I really thought we would see the 47 but they went for the time node at 61.50 instead...


as another example......look how they went through the 61.25 almost as if it wasn't there, hit the R1 and then came back to the 61.25....very common to see those types of things when references don't stop price immediately...I mentioned this yesterday or last night or somewhere recently ...LOL....and have written about it for years but today was a good example......just pointing it out......R1 and pivot is inspiring traders....tells us that big money doesn't seem to be in here again.........have a great weekend all

this day is building as a double distribution day with the low time node at 58.75 dividing the two distributions....It wouldn't surprise me to see price return back down to that number ...62.50 and 55.25 are the two peak time prices I see...good luck