ES Monday 10-3-16
New month prep and numbers I'm watching .... a few statistics too....





oh yeah..and just for the record I lost 4.25 pts per contract on that pop up on the open on Fridays trade....this was more than I stated on Fridays thread.........and was also part of an overnight initiation....just wanted to clear that up and mention it because it was a big loss and unusual for me .... it happened too quick....I mention it to point out the danger of these overnight trades and also trading on the open in general.....
Monthly Profile shows 52 as the
VPOC
and 43 as the
TPO
based
POC
. Not great highs or lows. September stopped the 1 time framing higher by breaking out the August lows but market failed to close below those lows.
Click image for original size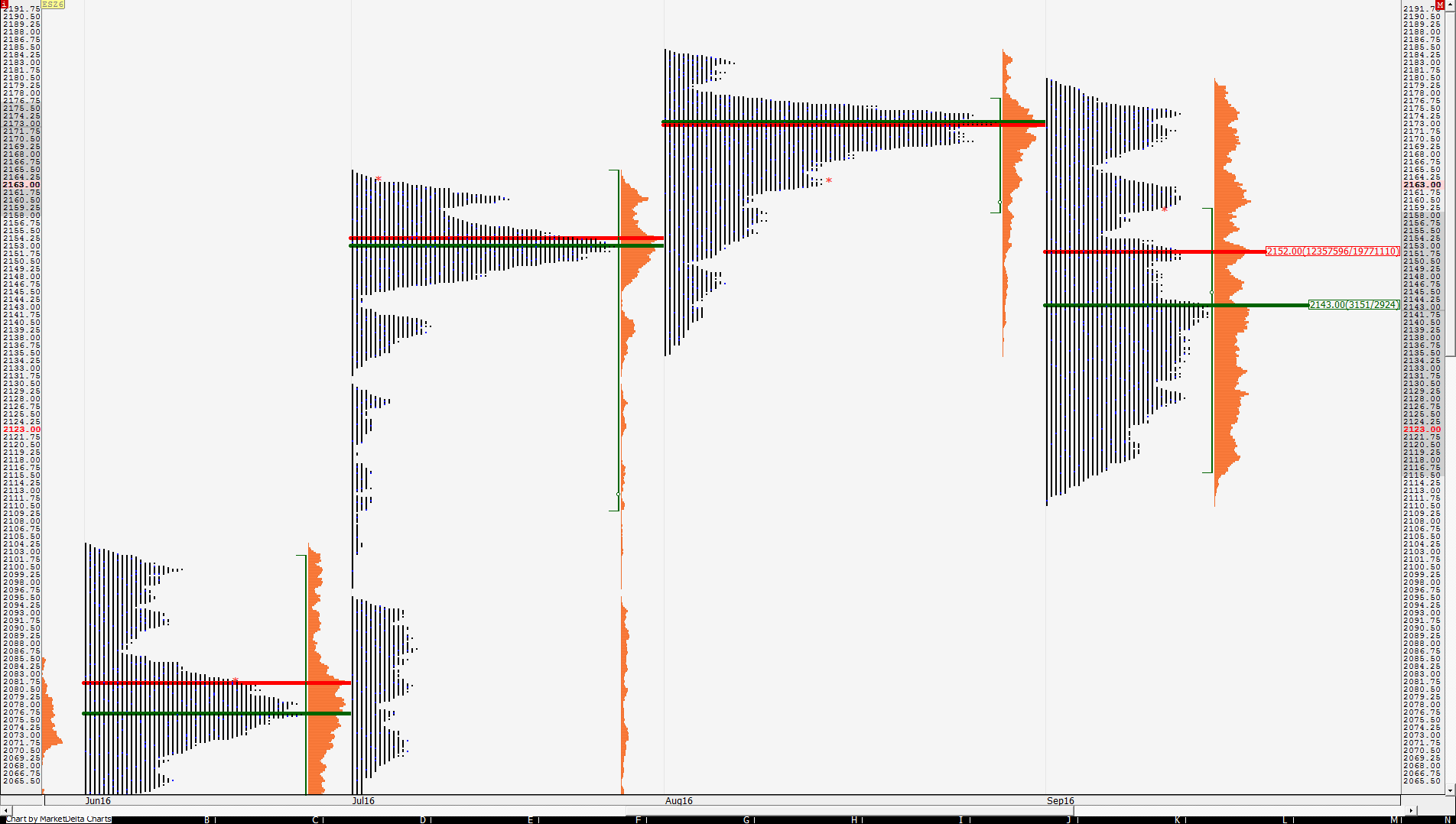 Weekly Profile shows 58 is the key
LVN
and as can be seen, last week's
VPOC
was at 47 and the time based
POC
was at 47.75. Good tapering on the lows but not so much on the highs. It was an inside week which Bruce has pointed out is not very common. Look out for breaks in either direction.
Click image for original size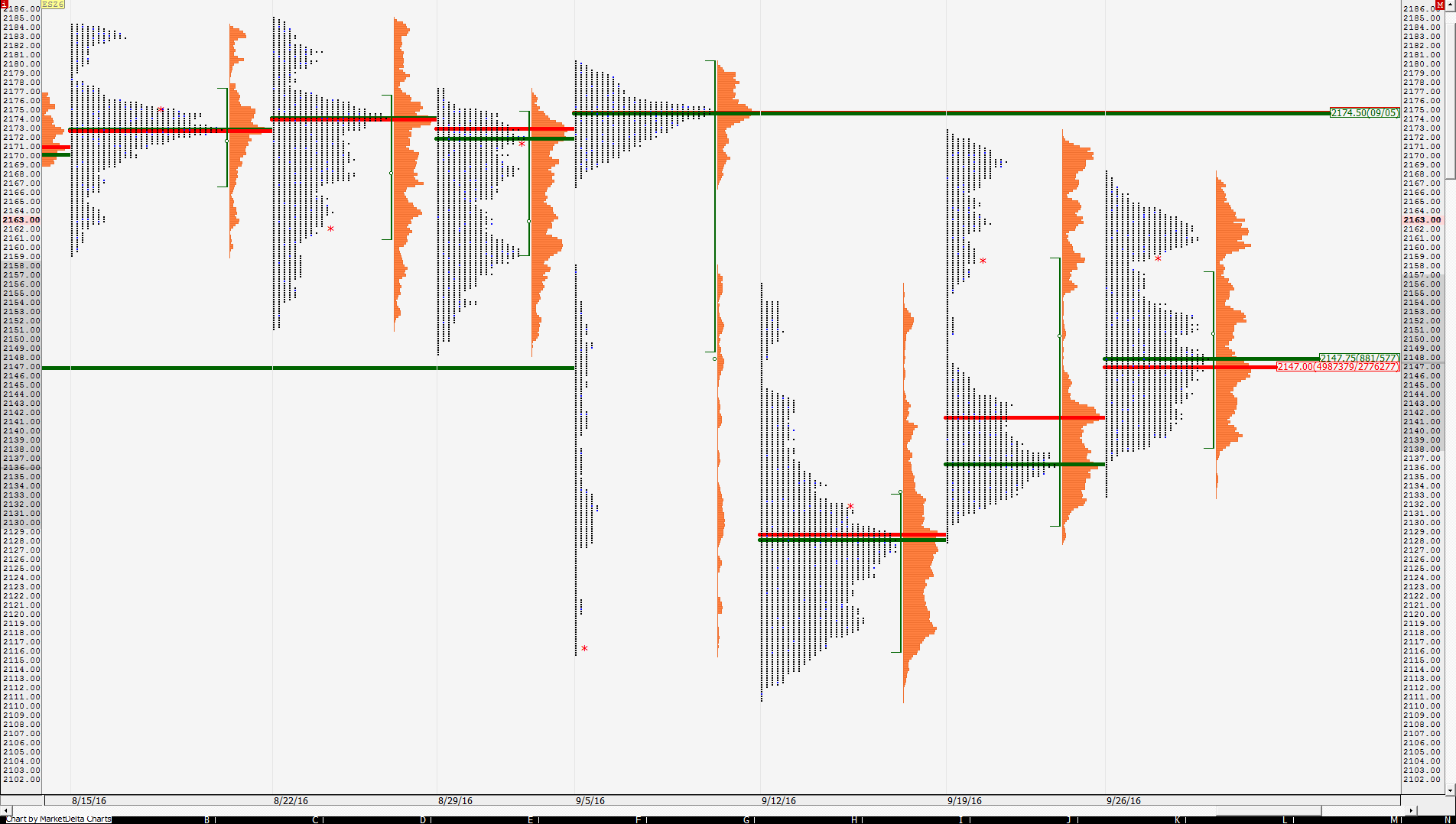 Daily and weekly pivots and
SD
bands
Click image for original size

I'm trying to buy 55 - 56 anticipating a 59 retest...if wrong then the 52 number is the loss...volume in the overnight is building at 60 area so that confirms the
pivot point
and low time spot.....these are the lines I will be working from as long as w stay in this area
52
55.25 -56
59
62
so almost all are three points apart....would prefer to see them all at 4 points apart but can only trade what is given...remember that Monday's are the worst days for midpoint test but we also failed on Friday...so two days in a row is rare but as most know, it happens...
due to lower prices I am revising my plan a bit for
rth
....I am buying now at 53 with the plan to
add
under the overnight low and into the S1 if needed...Target is now revised to 55 ...out of all the probabilities I follow the midpoint is the least .....it is only at 82 % where the floor trader numbers or
O/N
high or low is 95 % or higher
too close to open on last post....was filled and exited at the 55 print...starting new longs under overnight lows at 51.50 and will
add
at 50 even...ON low is first target then new highs
need to get over that lower bell curve center ( 55 and quick) or else the flip will happen and down to S1 we go...planning to be nimble and try to get on short if I see that happen..
flipped for me to short at 52.5 and will go long again if we go back to OR low
the best probability we have now is this....will it be S1 or pivot that prints? u can use the OR to try for those
coming out heavy at 50.25........those probabilities are higher then midpoint probs.......
we need to retake the overnight low now and firm up.....then we can try for that 55 again and then the midpoint.....but till then there is nothing much to do and that
might not even happen...my runners art trying for 47.75 if lucky and we get the selloff
runners stop going to 52.50 which is entry but also high time today so good chance I will be taken out
took
gap
and runner got 55 line again...If I had more on I would still be trying for the midpoint but this was a
gap
in data trade and higher risk.......wait...getting "yelled at here" ...my wife got the
gap
and runner....damn......she caught me trying to steal her thunder...I'm in the dog house now ...LOL