ES Tuesday 10-4-16
before I shut down my trading platform here are key numbers coming into Tuesday
R2 goes well with
POC
from Friday - 62.50
r1 goes well with low time from Friday- 58 - 59
pivot goes well with the
POC
from Mondays trade -52.50
S1 goes well with the swing low at 1 pm and 2 pm on Monday
s2 goes well with a ledge from last thursday at the 42 - 43 area
Only one Floor trader number printed on Monday so we can expect at least two on Tuesday

Monday was second day in a row with no overnight midpoint test
R3 ( not shown ) goes well with a high from two Thursdays ago at 72.25
Last weeks low goes well with S3 ( not shown) at 32.25
Here is a basic chart with the Pivots and the profiles I think are relevant for Tuesday
Click image for original size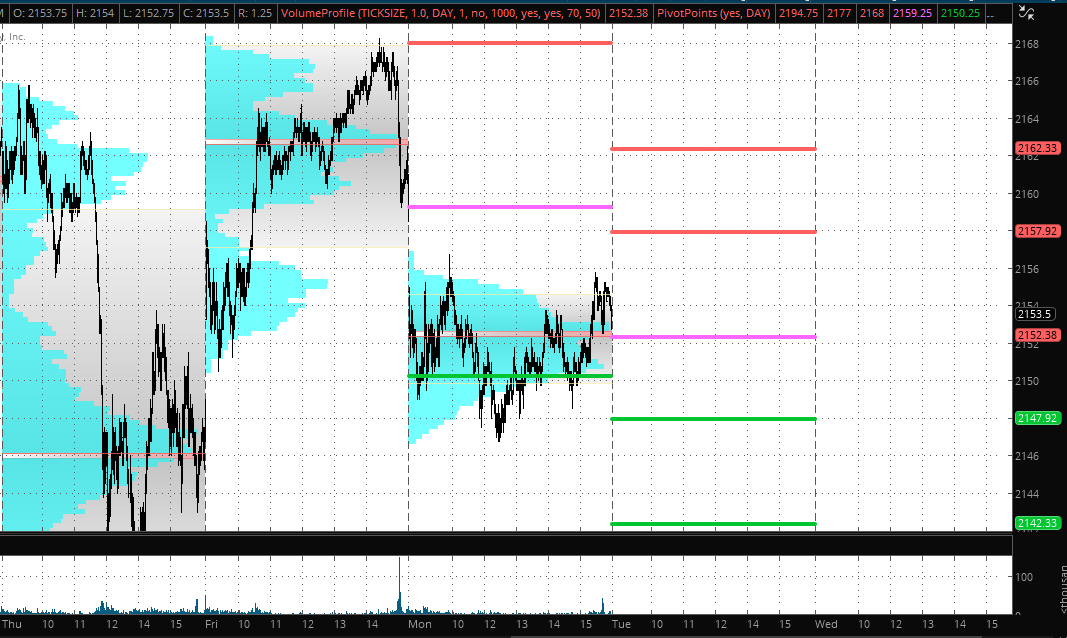 early plan is to use 52.25 to try and get
gap
in overnight data at 55.50 ......and will also use 48 - 48.50........I will not just average in and will take a few very small stabs at each area as overnight has not been kind to me lately....these are the two zones I will work from and I am thinking that we won't see 3 days in a row without a midpoint test....the problem trading this early is we just don't know where the midpoint will end up and we have 50 minutes of overnight trade left
covering all ( and it's small) at 55.25 print ..not gonna be tortured and will wait for day session now
so the overnight highs and lows go well with the floor trader numbers and both of those show no impulse...My plan is try a small sell at 57.5 with a proper signal and also try at overnight high as long as we haven't tested 52 first...otherwise I will try to buy under overnight low and that 48 - 49 before a 58 test comes...
We have not yet hit any of the weekly
SD
band numbers. With YD's range being only 10 points wide, the daily floor numbers are all relatively close. We are opening close to YD's highs and LVNs. Also the
O/N
inventory is net long so there could be some balancing up front. Like Bruce said, no
O/N
mid print the last 2 days.
Click image for original size

well there is one floor number...now u need to decide if u think it will be the 62 or the 52 that gets tagged next...
secondary targets are 54 and 52.50...if lucky....this will probably call it a day for me..once again it's all us small frys battling each other
runners stopped...ad line kinda mellow...will look once more up here and then THIS will be it
low volume
new highs and ad line didn't follow..I hope this is a better high now....trying for OR lows first as didn't get a great fill
we could be in for another mellow day like YD
this ad line concept implies that they will come back up to tag the S2 level in the
ES
...so I would expect 42.25 to print again since we are now under it