ES Tuesday 10-4-16
before I shut down my trading platform here are key numbers coming into Tuesday
R2 goes well with
POC
from Friday - 62.50
r1 goes well with low time from Friday- 58 - 59
pivot goes well with the
POC
from Mondays trade -52.50
S1 goes well with the swing low at 1 pm and 2 pm on Monday
s2 goes well with a ledge from last thursday at the 42 - 43 area
Only one Floor trader number printed on Monday so we can expect at least two on Tuesday

Monday was second day in a row with no overnight midpoint test
R3 ( not shown ) goes well with a high from two Thursdays ago at 72.25
Last weeks low goes well with S3 ( not shown) at 32.25
Here is a basic chart with the Pivots and the profiles I think are relevant for Tuesday
Click image for original size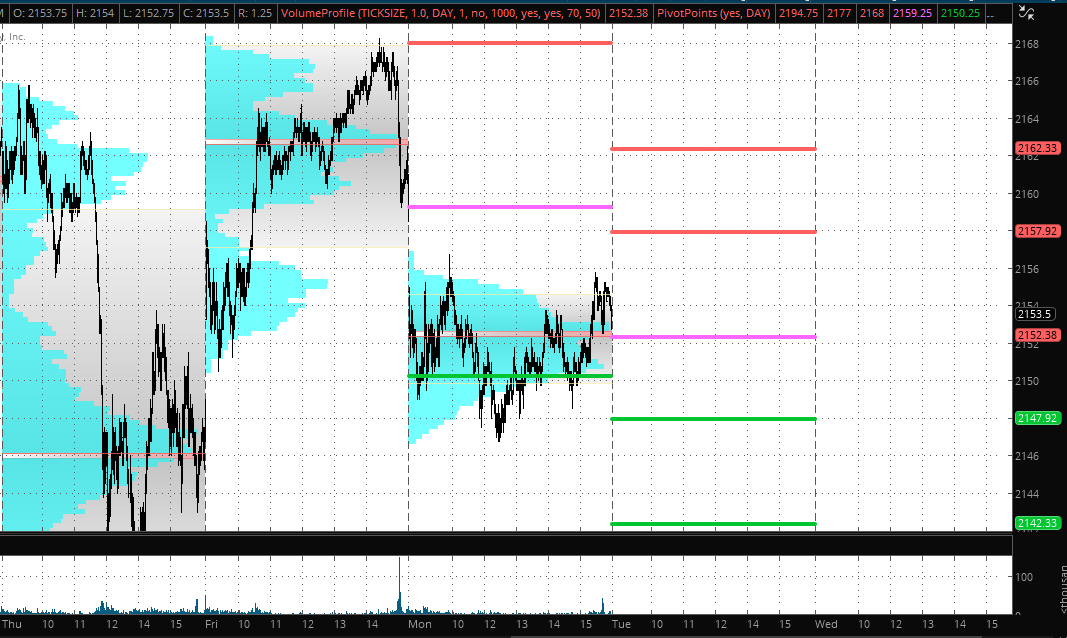 looks like someone from the Fed opened their mouths, lol
whew...that
gap
in data and poor high really messed with my short bias but it happens....a good day but could have been better....
gap
master ( my wife ) will be trying longs under Overnight low at 48 and 47 and will use ( hopefully) the 52.25 as a target...good luck from here...we hit three sets of floor numbers so far today...not surprising after low range of yesterday...I goofed up my core short.....
yeah, pure luck but another reason to be real careful about taking trades based on JUST
gaps
in the data...I gotta run....see ya tomorrow
Originally posted by NewKid

good call on bailing on that long!

this day was surely not mellow and we are not even to lunch time. hope all traded well and got out without too many bruises
Mrs M. broke the bank today......
gap
filled and went one tic higher and then plummeted...I just finished reading another forum and unfortunately these folks have been buying and getting creamed all day...naturally they aren't talking too much about the actual losses.......but the point is that they are trading over lunch and at times that I feel nobody should actually be trading..........there is an addictive quality to these markets....believe me I know ..especially on days when you are not doing well....one of the hardest things is to close down the platform while you are net negative on the day....but usually that is the right move......when you are off or the probabilities aren't playing out the way you think then get out.........come back tomorrow and trade more contracts (if you really feel like you have to "make up " for a losing day.)...but the truth is that it is probably better to remain consistent in size each day and not revenge trade ...just realize that the losing days are all part of the business...
and just as an FYI...my
spy
216.5 calls that expire next week are losing 30 bucks per contract so far.....2142 - 2141 is next area where folks will try and play...not me and hopefully not YOU who may be reading this......and most know I'm a big fan of sticking to a time frame and consider that your work hours ( 90 minutes)....if you must partake outside of your time then please do so with minimum contract size....I just came back in for lunch as I am putting on some new siding on my house where a window had rotted out....point is...FIND SOMETHING ELSE TO
DO
THAT KEEPS YOU MOVING....so this post is preachy and not meant to be a slam to another forum or the posters there...lots of good ideas can be found in many places......just be selective of WHEN you use those ideas
NewKid - I like the idea of distinct days only because it makes them easy to find and having one big
ES
thread would make me have to scroll back to see what I missed and find the days....but I'm flexible......I'm not sure how many follow here but I'll go with the crowd..
anyone want to help out on this piece of research...this is the ad line with pivots calculated.....just something I'm messing with ...and also looking at previous closes of ad ...the ad line is currently hitting it's S2 level and blew through S1 as if it wasn't there...my guess is that they will have to come back up in the ad line and retag the minus 900 level...so that would mean some buying to enter...we'll see
any ideas or if anyone wants to follow to see if this has any value...I can always use more sets of eyes
Click image for original size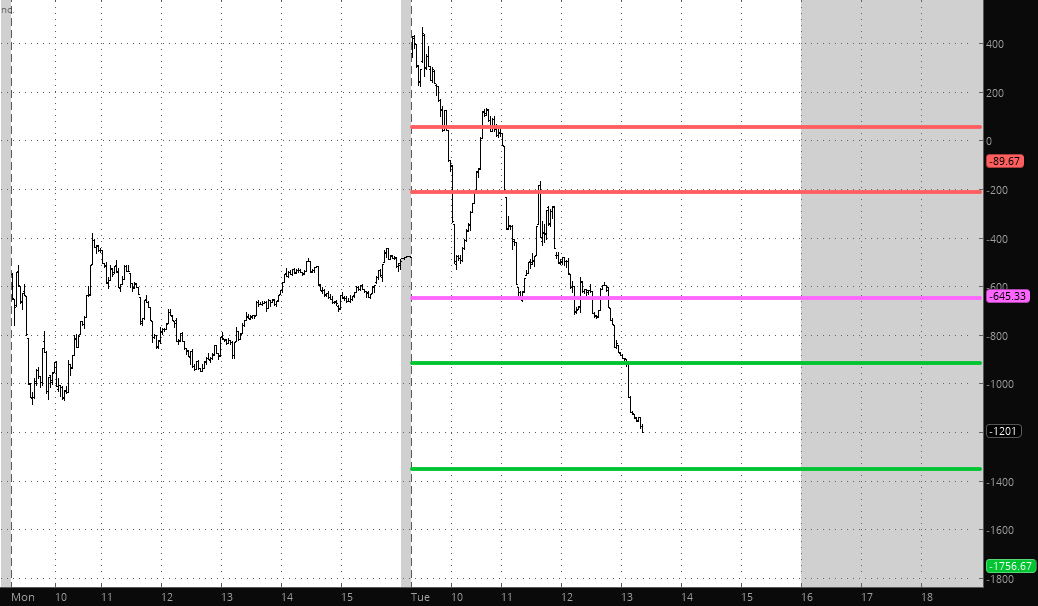 this ad line concept implies that they will come back up to tag the S2 level in the
ES
...so I would expect 42.25 to print again since we are now under it