ES Thursday 8-31-17
I'm going to refine once we see overnight trade but for now lets start with the weekly....Two weeks ago we had a weekly
POC
at 2563.75 so that goes well with our 1/2 sd band and the R1
Click image for original size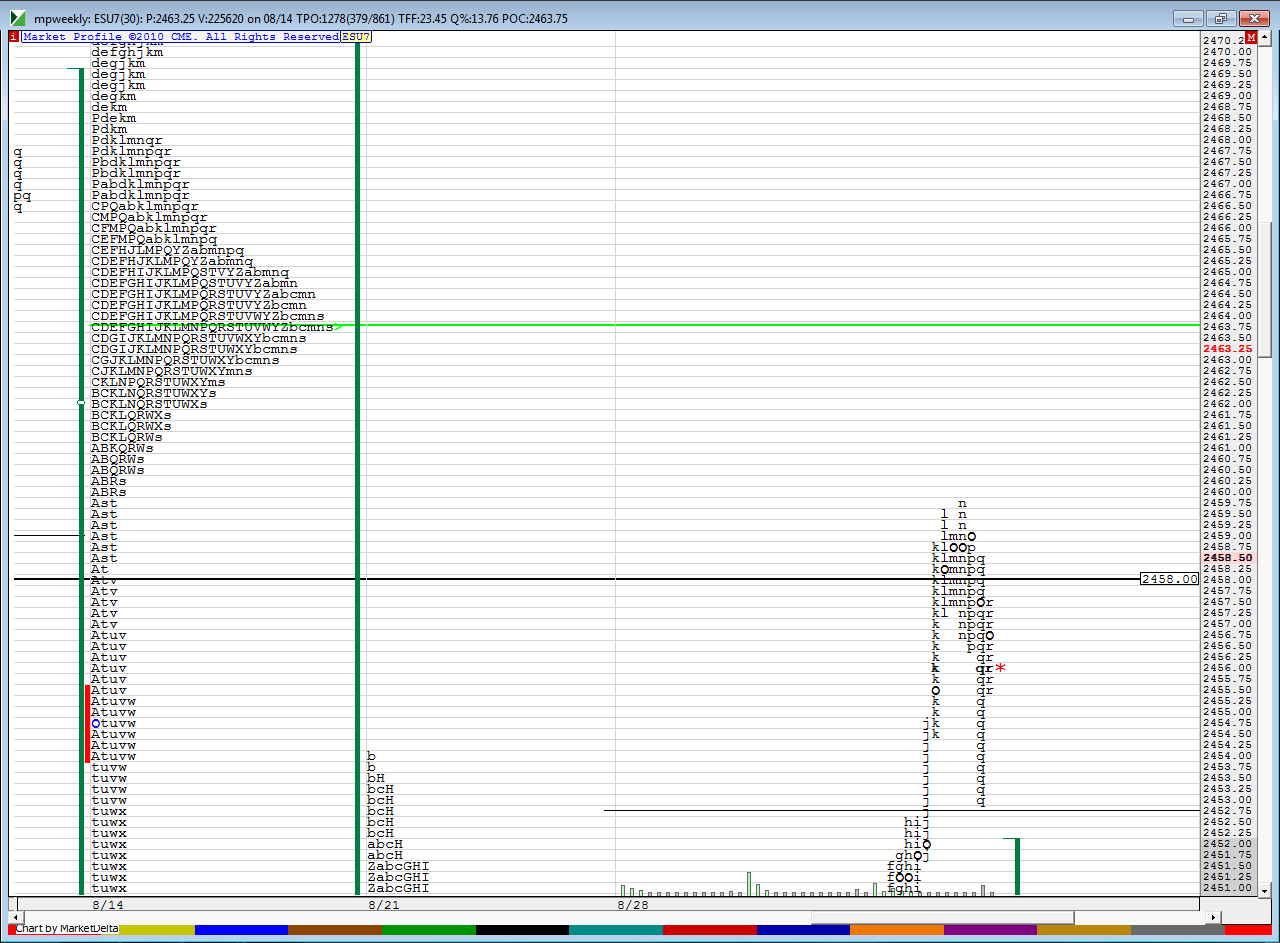 Next lets go to the daily
Mp
chart...Note the selling tail from 8-17 trade that broke down the lows from 8-15 and look where Wednesdays high is....also note that I have the high of that day marked and also the breakdown point from the 16th of August...so lines are snapped at 62.50 and the 64...right in between is our 63.75 !!!
Click image for original size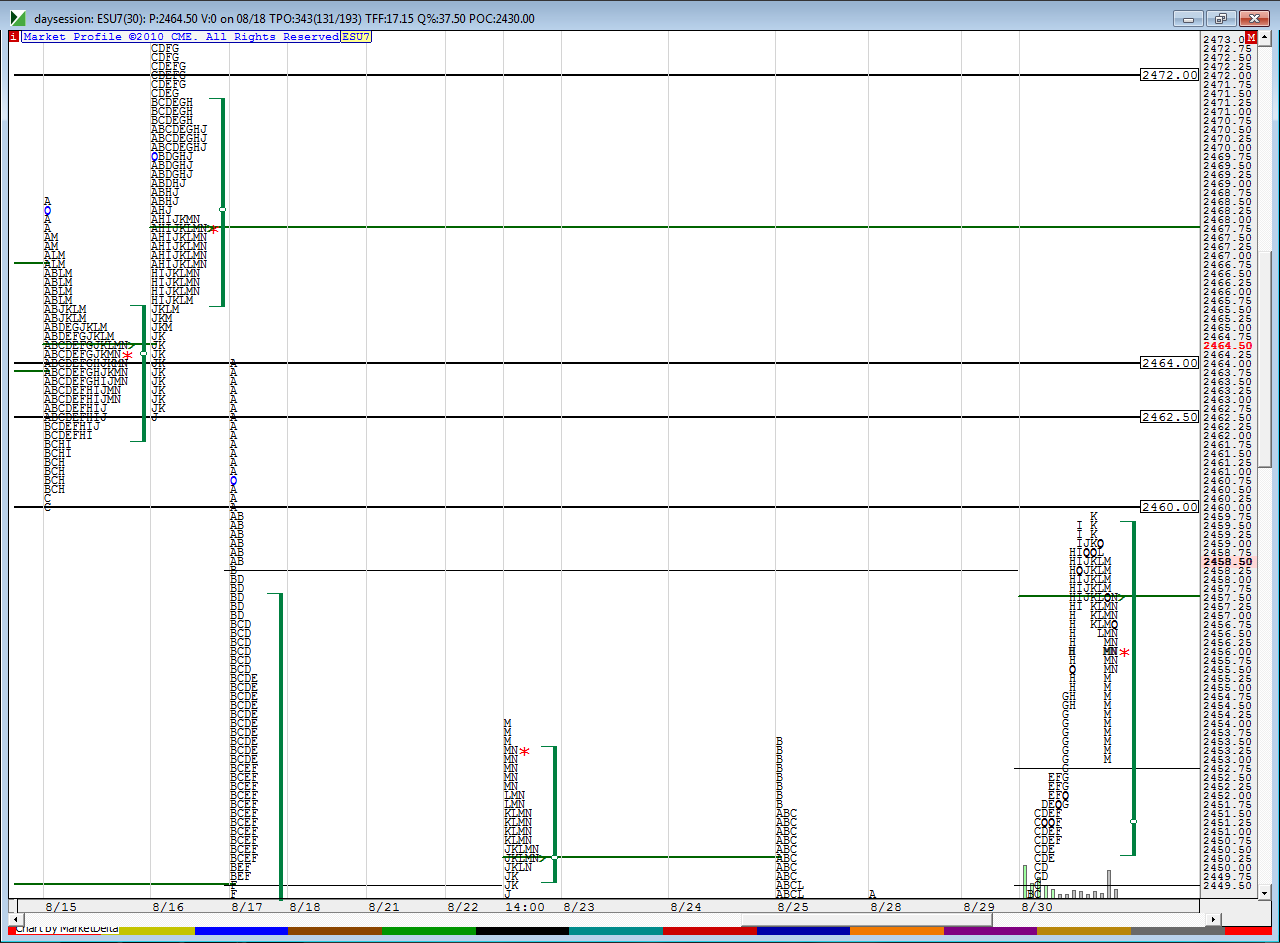 and last but not least is my favorite chart that breaks apart Wednesdays session with most of the high and low time areas marked
Click image for original size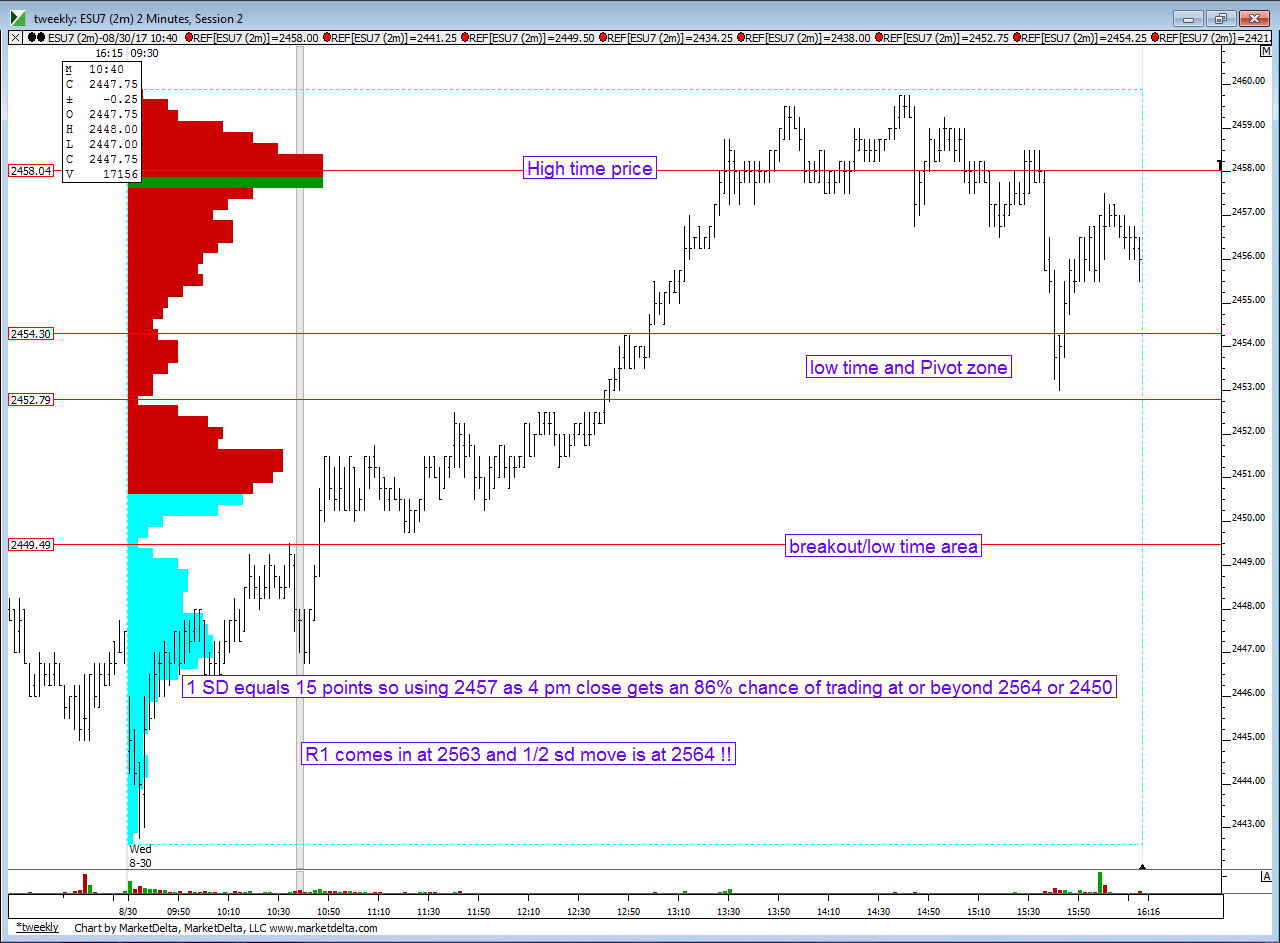 above the 62 - 64 will be the
POC
from 8-16 at 2567.75 and a low time spot just above at 2568.25
creating a zone from 62 - 65 to take sells against and target 59.75.....so first sells going on slightly higher than 62
if we apply the same logic -( see somewhere in yesterdays thread and the pdf file I linked in) then we have an 86 % chance of printing 2480 or 2435 between now and the close of next Friday......my plan today is to attempt to roll my calls sold that are
in the money
for a credit out to next week.....harder to do when you do credit spreads but we shall see....I will wait until the end of the day to do this and see what today brings........lots of numbers up top......outside of the overnight high we still have the 67.75 - 68.25.........volume was higher yesterday so that in theory isn't great for a bearish case and we approach a bullish seasonal with the holiday on Monday
I'm trading a bit heavier today but not enough to create fear or excess stupidity !! Bad day yesterday and I'm taking a break tomorrow
lost of numbers to look at today...here's why

they blew right through that weekly
poc
at 63.75....let see if the sellers can push it back for the retest...Ideally from the 66 - 68.25
Great analysis this morning Bruce...Good Luck trading
a great example of why I get out in front of main areas today......On second short campaign now from the new highs...this is higher risk to me because they tested that 63.75 which was also the OR high
agree but I'm more concerned with the 66 - 68.25 right now and keeping this smaller than first campaign.....67.75 is averge in right now
Originally posted by Aladdin

O/N inventory was long and the market did not care: an initial sign of strength?


thanks gang...for a moment or two I thought they were gonna get me two days in a row....that would suck normally but going into a long weekend and a day off ( tomorrow) would have made that really sting !