Looking for longs...
In this 1445 area......we have weekly pivot up above.....concern is 9/11 anniversary which may be factored in at these low levels..should at least test 1450 today..and hopefully soon...

Trade with passion!

Bruce
I'm not sure DT..perhaps that happened when I took the screen shot..
I'll find out..
That was a cool trade...not bragging here...just glad I didn't have to
add
-on and try and manage that..best fill to cover was 49.75...with current low at 49.50
key point:
Value area high
provide by this site is 1553.25 which provided additional resistance on the upside..here is day session chart..you can see the
triples
( horizontal lines) marked from yesterdays chat
Click image for original size
So cool! I didn't get this long trade but here is a screen shot showing the
triples
from yesterday and how the market came back up to trade to them to the tic....I think they will actually trade
through
them as
triples
now exist on todays chart at 54.50..so higher prices coming from this 1552 area soon I think...anyway gotta get back to painting...
Click image for original size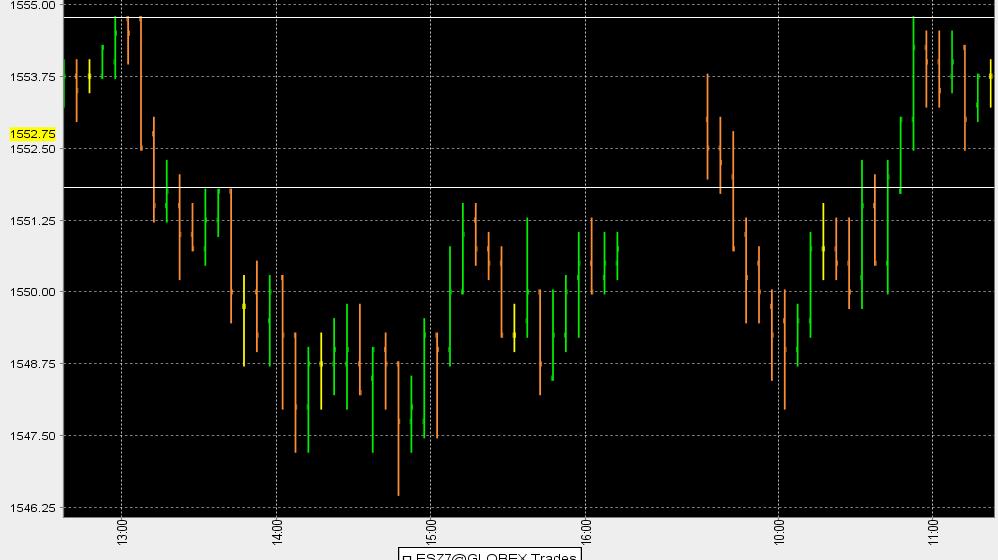 The Blue bar on that chart has no significance only that it gets highlighted in my
IB
account when I attempt to put in a horizontal line on a chart wherever my cursor is
I'm taking on longs at the 47.00 area..I think we will trade to the 60 area soon....but will look to
tighten up if we can trade into 51.25..will look to
add
on 5 points below todays current low if needed
Best fill on runners was 52.25 as
triples
formed underneath the prices at 50.50 and no need to weather that
drawdown
...I don't fight against those
trying small package at 39.50..targeting 42.50......going real light as this may be trying
to catch a falling knife..
The 1-2-3 pattern that sent me in long.....note the volume on that retest down.....best fill on exit was 43.25 and have one left for 45.25 but will probably get stopped out and be done
Click image for original size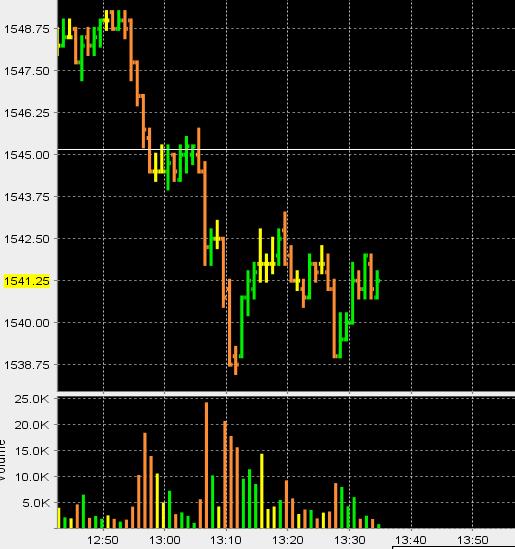 got stopped out at 40.25...analysis was only partially correct as market traded down to the 1534 area
we might need to open a new topic here... "looking for a trading range" .... how many times are we going to run into 1470.50 today ?