Wednesday 01-02-08
starting longs at 1469..1474 is first target...will be watching hour break down if needed to
add
gio, when you have time could you explain why you were looking to buy or sell 6.5 points above or below the open.....is that a number you have verified to
fade
? Perhaps after market hours would be a good time or a lull in the action...added at 67.75 ...revising first target to 73.50...then will try and hold
big
air pocket
between 72.75 and 76 should get tested so long side is prefered..weekly pivot up at 90
10,000V chart for the
ES
so far this morning and the 2,000V chart in the
NQ
.
Click image for original size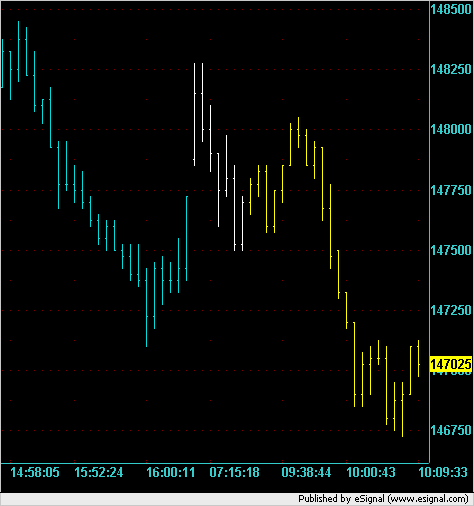 Click image for original size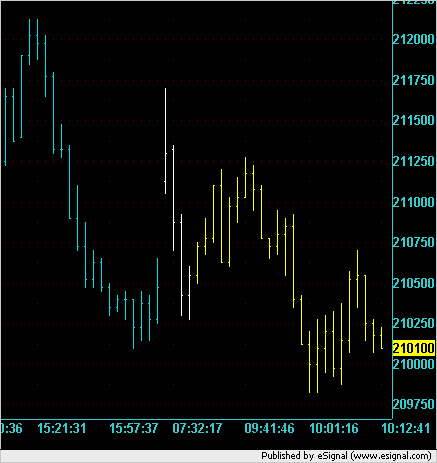 soon question comes into play...Which way will they run out the hour range?..I beleive a run out of the low is a key opportunity to buy...folks trying to front run the break out now....stopped on runners at 69.25..going in again at 67.50 and will buy a breakout of hour low if it happens...rusty at typing today
quote:

---

Originally posted by BruceM

gio, when you have time could you explain why you were looking to buy or sell 6.5 points above or below the open.....is that a number you have verified to fade?


---
I look at the daily average range
Like today, im looking for buy sigs in 1465 area
cool..weekly pivot number down there too...
quote:

---

Originally posted by gio5959



quote:

---

Originally posted by BruceM

gio, when you have time could you explain why you were looking to buy or sell 6.5 points above or below the open.....is that a number you have verified to fade?


---


I look at the daily average range

Like today, im looking for buy sigs in 1465 area

---
still expecting that
air pocket
to get tested but will cover some ahead of that.....4 minutes left so hour range concept is a concern...would prefer not to
add
on but will follow the plan..63.50 will be
add
on price if needed
let me revise this for clarity...weekly S2 is at 1462.50
quote:

---

Originally posted by BruceM

cool..weekly pivot number down there too...

quote:

---

Originally posted by gio5959



quote:

---

Originally posted by BruceM

gio, when you have time could you explain why you were looking to buy or sell 6.5 points above or below the open.....is that a number you have verified to fade?


---



I look at the daily average range

Like today, im looking for buy sigs in 1465 area

---




---