Friday 01-04-08
Bruce,
Thanks so much for responding! I just read every post since my innitial comment. I was up overnight trading and was too tired to hang on for the rest of the day.I will read that link that you posted.I understand your method a little bit; I do not have a method that is solid, been trading the
ES
since last feb. Started out with a similar "fading" method and switched to a different method for the last 2 months. I have a whole lot to learn!!! Trading is extremelly hard but I enjoy learning and trading!! Hope you a had a profitable day, and thanks again for your help!
On 12-22-2007 I posted "If nothing else, it'll be fun to watch how close we get to the Dragon succeeding or failing."
The first chart is of the Dragon then (12-22-2007)
The second chart is of the Dragon now. (01-04-2008)
Had you heeded the Dragon you would of enjoyed approx $4,700 per contract on the
ES
[file]Has_half_of_the_Dragon_taken_shape_already.jpg,126,,0[/file]
[file]Has_half_of_the_Dragon_taken_shape_alreadypic2.jpg,126,,0[/file]
c ya the bell my friends !
Market action in
ES
on 5 min chart. Short at
Single Print
seemed to work.
Click image for original size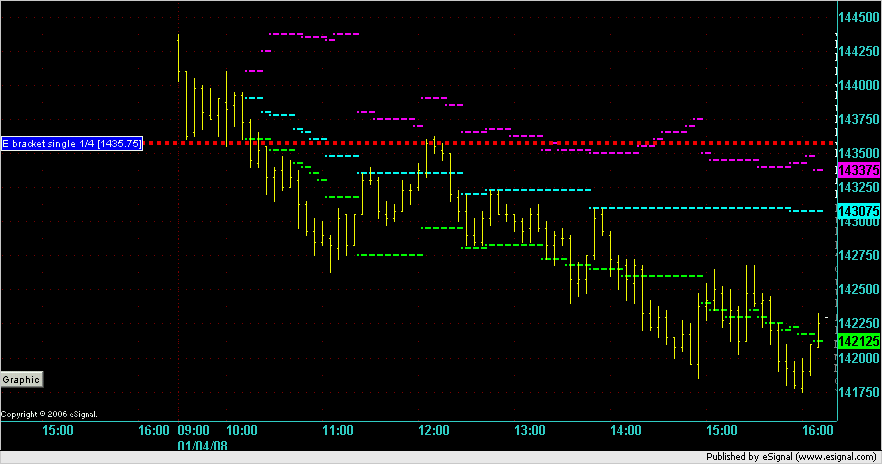 I prefer to think that we are all here learning from each other...I must admit I still question the value of doing this as the market unfolds.....I think it would be easier to post things in an "after the fact manner" and over time those interested can find common patterns and ideas....
Trading gets a bit repetitious and I'm not sure how often I could ramble on about hour highs and lows, 30 minute breaks, overnight ranges,
single prints
, Dow and Es divergences, the plus and minus 2.5 and 4 stuff , the
triples
..etc....
Seems that the same could be accomplished after the market is over as already posted in various threads.....perhaps recapping the day and how strategies where or could have been applied would be of greater use...
quote:

---

Originally posted by gio5959

Bruce - let me make myself clear

I'm learning from 'you'

You have a great weekend too and c ya at the bell on Monday

---
I got plus 10 on each of 3 contracts and then got stopped out on 3 runners slightly above 23....in again at 1412.25 here on Monday...with same initial 10 point target..for first 3 contracts and then will try and hold to get up into the 1440 area for final ...will have three contracts to work with once/ if initil target is hit i.....
quote:

---

Originally posted by BruceM

took position trade at 1421...more later


---
ok..got filled at 25.75 on 3 contracts as I was able to watch this...so this is very cool..hoping they can keep it going ..only have three left ....I have next target up at 37 area....perhaps tomorrow...
Reason:
I was looking at very high
Trin
close and today they tried to bring in selling pressure from a
gap
higher open . They brought the market right in between the key number of 1400 and 1425 so I was making an assumption that somebody will be protecting the 1400 number at some point....this was/is a position trade so bigger target for me in general...
The fact that the weekly pivot sits above up in the 1440 area and we didn't trade back to it will keep my bias to longside...
too lazy to start a monday thread.....forgot to
add
this:
Look where the hour lows where taken out....do you want to sell those after a huge down day on Friday? Not me...that's a classic
fade
for me...
obviously the 3 point zone between the
point of control
and
VAH
is a concern to get through on upside..banging on it now
would have prefered to see
DOW
making new highs at or near same time as
S&P
...although
S&P
can lead out more often om it's own then dow can lead out
took one more off at 30.25..concern that this is happening too early in the day and that zone.....stop at 20.50 on last two
Update on that prediction...I keep getting stopped out at 1
tick
profit and back in....but now new low of 1391..ok...any much lower got me thinking....this week the hardest for me in a long time, in terms of direction..I thought we would me up much up by now given last week, but 71 pts down for it to go up same had to go lower..but how much lower is the question.
Yes, its going to turn up a good 40-55 pts but at what price...today should tell I think. So yes I still at lower price of 1393.50 and both at 1
tick
profit..1393.75.
If I get stopped out will try again....but depends on price and time