ES 8-18-08
PH
looks like it'll hold as buying support after this 2 point pullback. I'm targeting a technical double top at the run's high, a managable pullback, and then a run for 1320. The 13 period
ATR
is 22.79, the extreme of which at the upside from the base is 1316.79.
Unreal..
Look at this and see if you can spot the exact point where the bull should have ended:
Click image for original size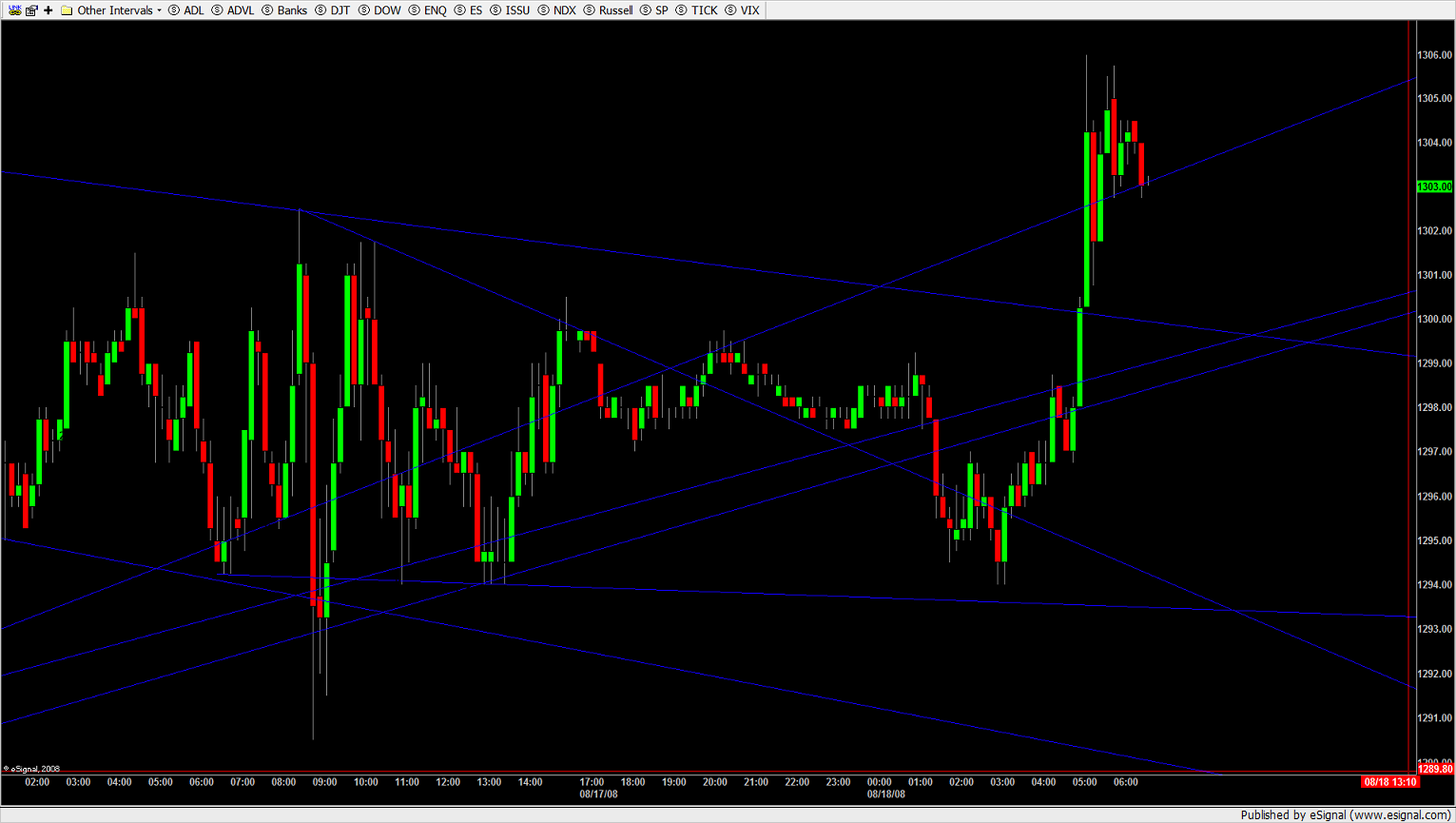 Interesting, pagetrader has today as a [Admin Edit - text removed]. But be advised that when i had a subscription about two years ago i found them to be off quite often. However their support/ resistance levels were quite good as i remember.
dam! Imissed putting in my buy scalp at 1303....Illshut up for awhile and see what develops here.
I'll bail at R2 and reverse.
PH
is won for the time being as is R1 as far as I'm concerned. I'm not looking for a
gap
fill today. There are far too many channels Quants escaped from to go there again. Unfinished business correcting 1441. It's long all day once 1305 is won again. I'm a handle and a quarter deep trapped, though, and I'm risking to 1302.50 from 05.50 in what has to be the worst fill in the history of mankind. Perma-bulls wont let their masters down at the bell. Watch.
hmmmm.. Pagetrader is watching [Admin Edit - text removed], something i never liked about them.
hang in there Spqr your trades are usually excellant, its just real hard to trade that first half hour while the locals try to set the daily trend.
5min. now oversold 1min. also and hourly is close. sell signals abound . ihave no projection yet, but im outting in abuy scalp at 1293.75. 1 es only stop at 1292.5
In this topic you'll see a few "[Admin Edit - text removed]" where I've removed some proprietary PageTrader information that koolblue posted. I'd like to remind everyone that you can't re-post proprietary information from subscription services unless they explicitly give you permission to do so. It's against the law and we follow the law on this forum. If you want to do that then please make sure that you have their explicit written permission first and contact me with the details of that permission before you do so.

If you have any questions about what is or is not allowed then drop me a line before you post it and I'll make a decision on it.

As always, continue to send me an email if you see something on the forum that you don't think should be here. Thanks for understanding and helping to keep this forum high quality and legal.