ES 8-18-08
PH
looks like it'll hold as buying support after this 2 point pullback. I'm targeting a technical double top at the run's high, a managable pullback, and then a run for 1320. The 13 period
ATR
is 22.79, the extreme of which at the upside from the base is 1316.79.
Unreal..
Look at this and see if you can spot the exact point where the bull should have ended:
Click image for original size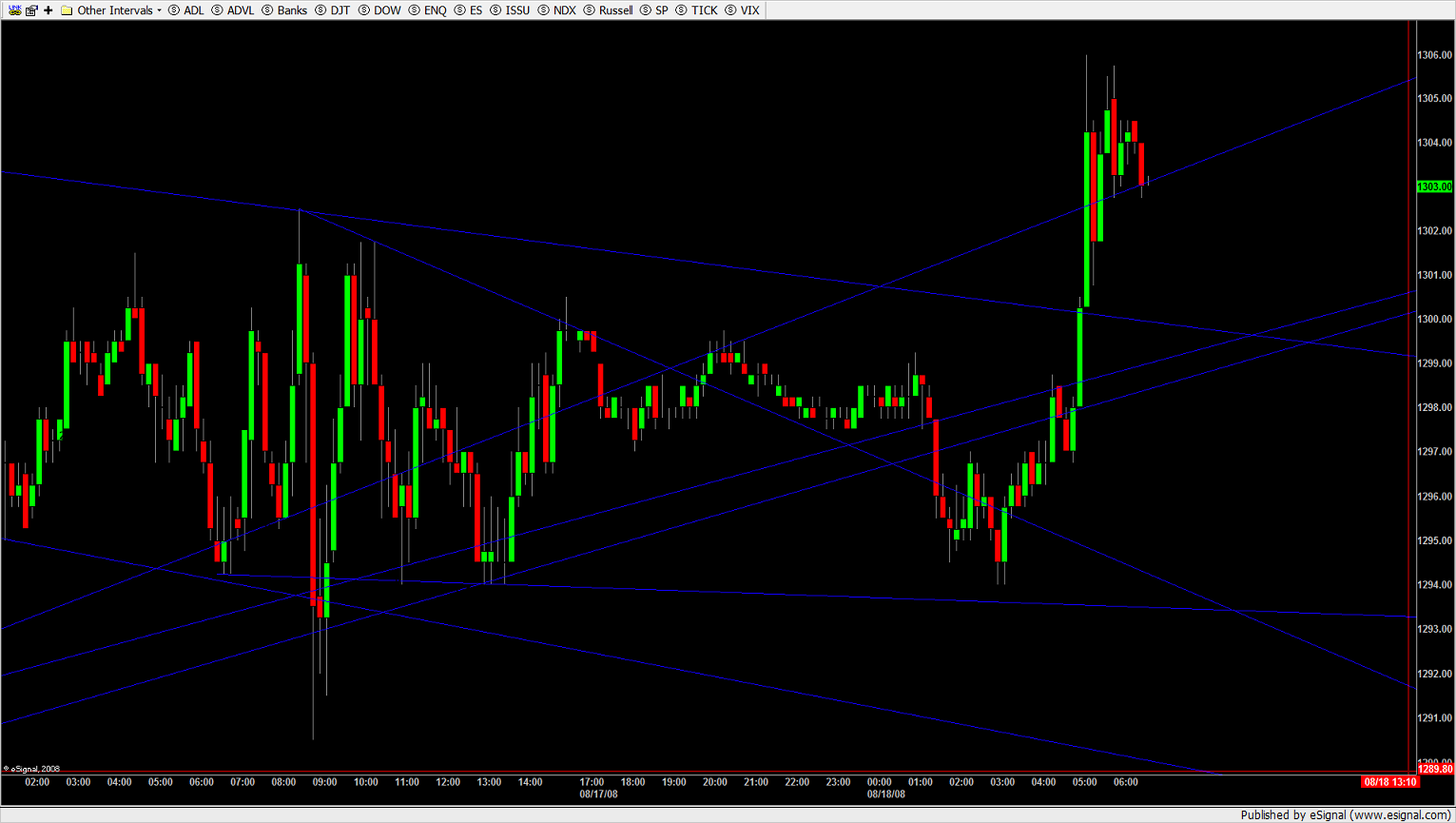 quote:

---

Originally posted by CharterJoe

Hey SPRQ,

Nice trend day huh?? ;)


---
Joe,
That was some show. I wouldn't mind learning how you knew if you care to divulge. Could you explain the differences in the
MP
forum please? I'm almost certain you didn't read about that in any book and was a matter of your own research. I can certainly understand if you choose to keep that sacred, but some direction to keep from reinventing the
MP
wheel would certainly be appreciated. I can with confidence say I don't only speak for myself either.
Either way, thanks for considering it. And jolly impressive call! ;)
There's no way in hell with the A/D ratio at three stocks falling for every one rising this long stop bounce will fair the fourth wave when the overnight session begins. There's price satisfaction at 74.50 yes, but sellers hadn't exhausted 1) and 2) sellers will test the trendline. There's continuation short
divergence
from two different peaks; buyers are hung up at 82 on the leg they've overextended volume on, &c., &c.
GTC long-boaters will bail, though they're a thick bunch, but when they do, they'll
add
momentum to the downside and before you know it, we'll struggle at the open or premarket to regain ground for a buy day, or something.
Take your profits. They're prime.
In this topic you'll see a few "[Admin Edit - text removed]" where I've removed some proprietary PageTrader information that koolblue posted. I'd like to remind everyone that you can't re-post proprietary information from subscription services unless they explicitly give you permission to do so. It's against the law and we follow the law on this forum. If you want to do that then please make sure that you have their explicit written permission first and contact me with the details of that permission before you do so.

If you have any questions about what is or is not allowed then drop me a line before you post it and I'll make a decision on it.

As always, continue to send me an email if you see something on the forum that you don't think should be here. Thanks for understanding and helping to keep this forum high quality and legal.