ES-08-29-08
I'd have to say
MP
(
VA
) is more important as I think more pro's will look at it.....
gaps
are nice and so are closes but the average retail trader is on to that....I was also watching 8 points below the opening print.....and of course volume.....to make that LUCKY exit
quote:

---

Originally posted by redsixspeed

Bruce;

MP vs. GAP which do you find to be a stronger s/r


---
Click image for original size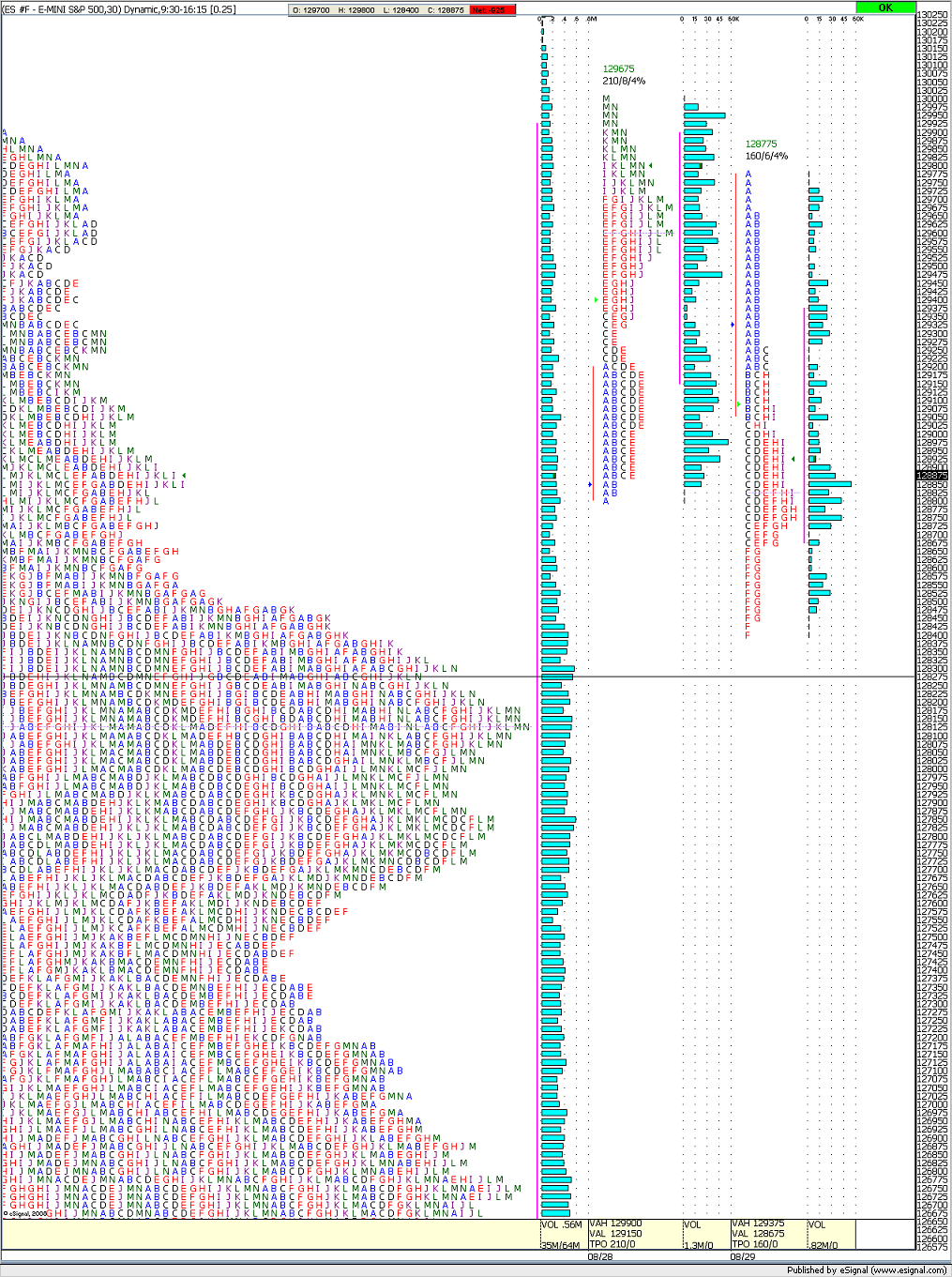 This large
MP
on the left is a graphic of the entire
ES
U8 contract life. Notice the markets yesterday traded out of value 3
ticks
then rejected it and sold off 16 points, a very nice short in which we participated in. At the same time markets were on a monthly basis above value and a weekly basis. another note; the market has been for the last month spending most of its time in the upper end of the contract life
VAH
and retreating only about 20-30% back through the
value area
. So looks like the market is wanting to move highier.
No problem...glad to help when I can.....it's always good to have explainations for trades etc...
So if we miss something then please point it out and I'll do the same...I hope all enjoy the long weekend...and a big hand once again to Joe for taking the time to post those great
MP
charts..........I have lots of learning to do on longer term
MP
......great stuff......If I could roll it up, I'd smoke it........lol...Ok maybe back in the 70's I may have tried that one.....
quote:

---

Originally posted by redsixspeed

Bruce / Joe

Thank you sirs


---
based just on your longer term chart alone Joe, I would say they want to fill in that
low volume
area between the 67 and 81 area.....good long term points of reference....especially for next week...
Will you explain why you took this trade? Yes you will.... hopefully.........besides the retest of the
Value area low
of course...perhaps that was it....
applied knowledge is power....knowledge alone is not enough!!!
quote:

---

Originally posted by SPQR

Did I fade 90.50? Why yes I did. Is 81 still my target? Why yes it is.


---