Square of nine's
871
886
901
916
931
946
961
977*
993
1009*
1025
1041
1057
1089
1106
1123*
1140
1157
1174
1191
1208
1225
1243
1261
1279*
1297*
1315
1333
1351
1369
1388
1407
1426
1445


*=these carry more weight since they are also primes.
CJ asked a few days ago if there were other things to look for...i asked myself if there was anything meaningful to say to another student of gann based on the way gann thought...three thoughts i use from gann on a daily basis are 1recent price activity is the best key to future activity 2 each stock has its own personality and it is our job as traders to know it3 time is the key when enough time has passed price must lead.. in the
SPY
chart, is todays example of the counting from swings so that you have the coming together at a low bar of gan numbers that are also prime...on another chart it was the personality that the .618 was going to be hit over and over... and on any trend day... it is imperative to watch the .382 retraces of a previous swing...just thing i do in my day to day trading...i.e if i was trading CJ's
divergence
parabolic method, these are pivots i would look for trades to launch off of.
Click image for original size
Click image for original size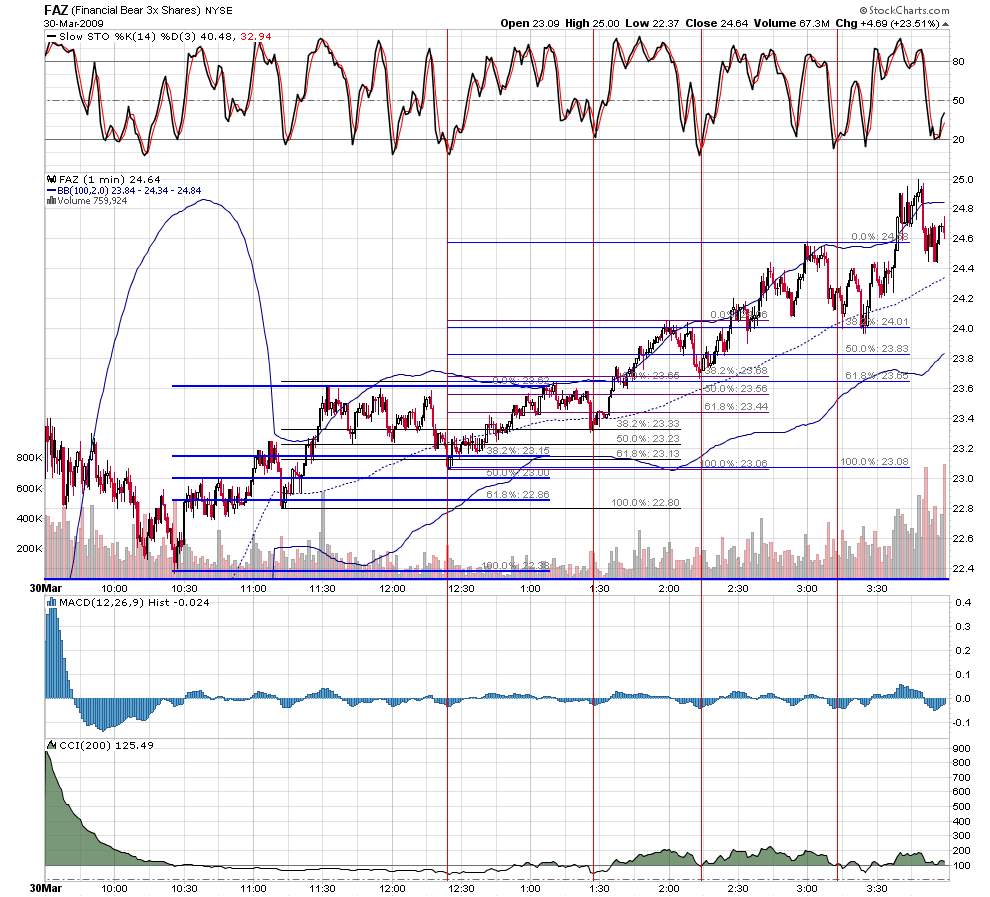 Click image for original size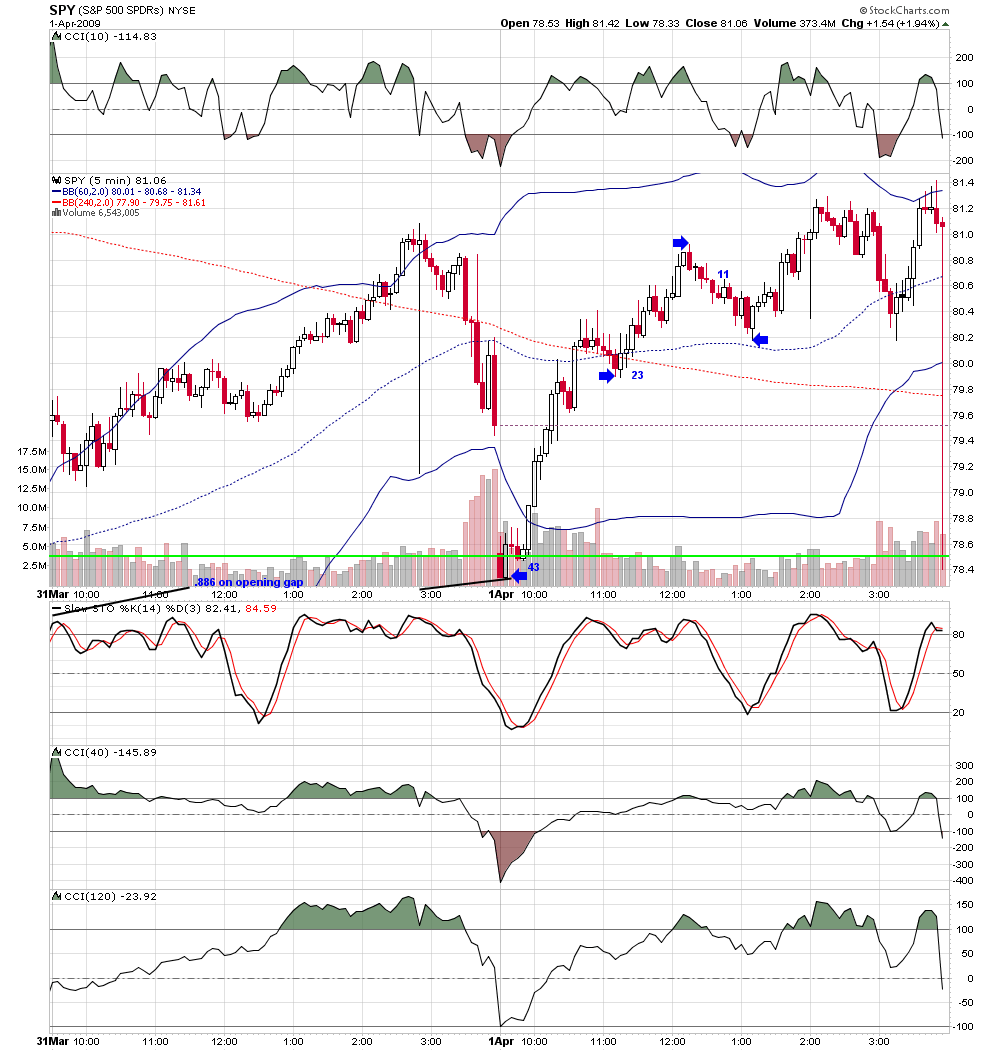 one more... again this is not in any books... 3 harmonics stretch trade.. when gann( green horizontals)fib( highlighted with red hash marks)and lines from medianline sets are close but not exact, i look for price to'' stretch'' until it kisses all 3 and then turns...3 setups today...i.e i am looking for a moment in time when these 3 groups of traders are looking to push price in the same direction...
Click image for original size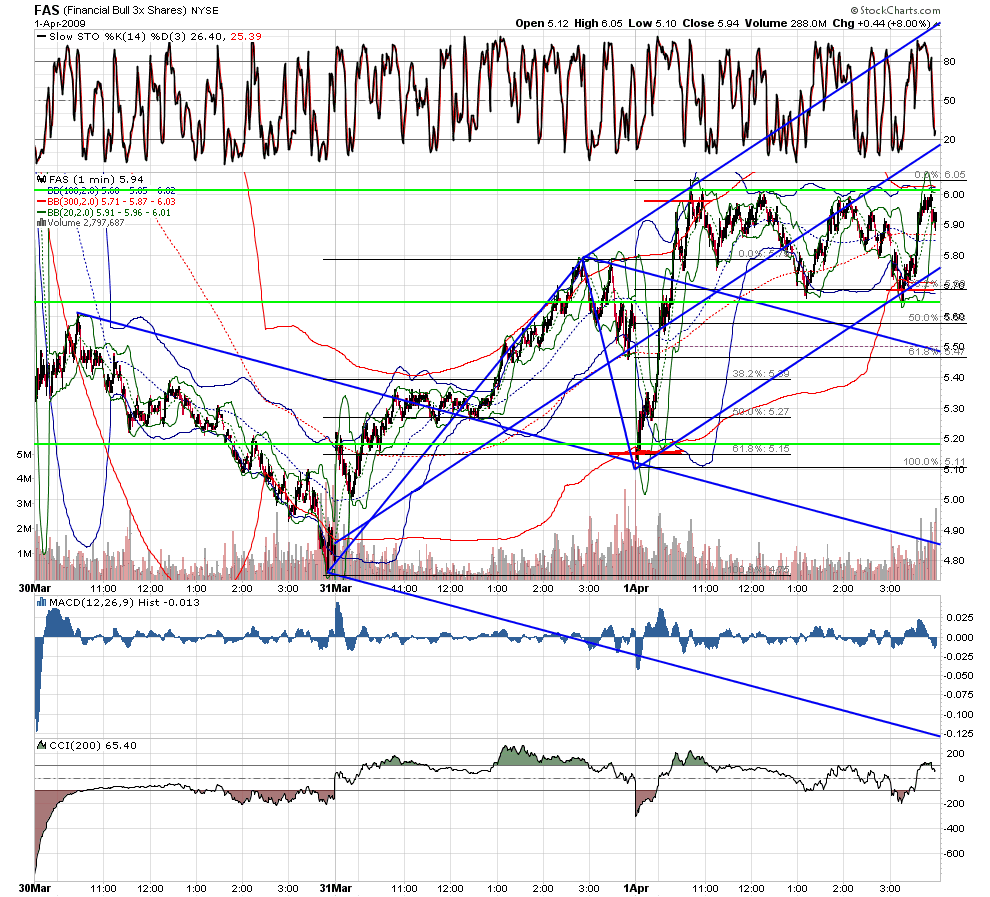 April 20th 2009 is 1/8th of a year from the lows @ 665.75
The number of points from the march 6th lows was a square of nine.
871 is square of nine. So I am looking for at least a short term high.
1)On the technical side we had another high with no new
RSI
high.
2)Yet another bearish
MACD
div on the daily.
3)We are approaching some major resistance @ 873-76 level in an overbought situation.
4)We are 84 points above the 50 day
SMA
this is the largest we have seen since the high in oct 2007, the number then was 86 points. And from a % basis its 10% from its 50 day
MA
overbought since levels not seen since 2003.
On a bullish note the
ES
market has rallied back strong from every pullback, not giving the bears any chance to take out previous lows. The largest pullback we've seen this bull run is only 42 points. And that was due partly (
IMO
) to a NR7 day just before it. We also had a NR7 friday with a NR7 on the weekly as well, so either way it goes I'll follow. Although I am betting on the downside.
Click image for original size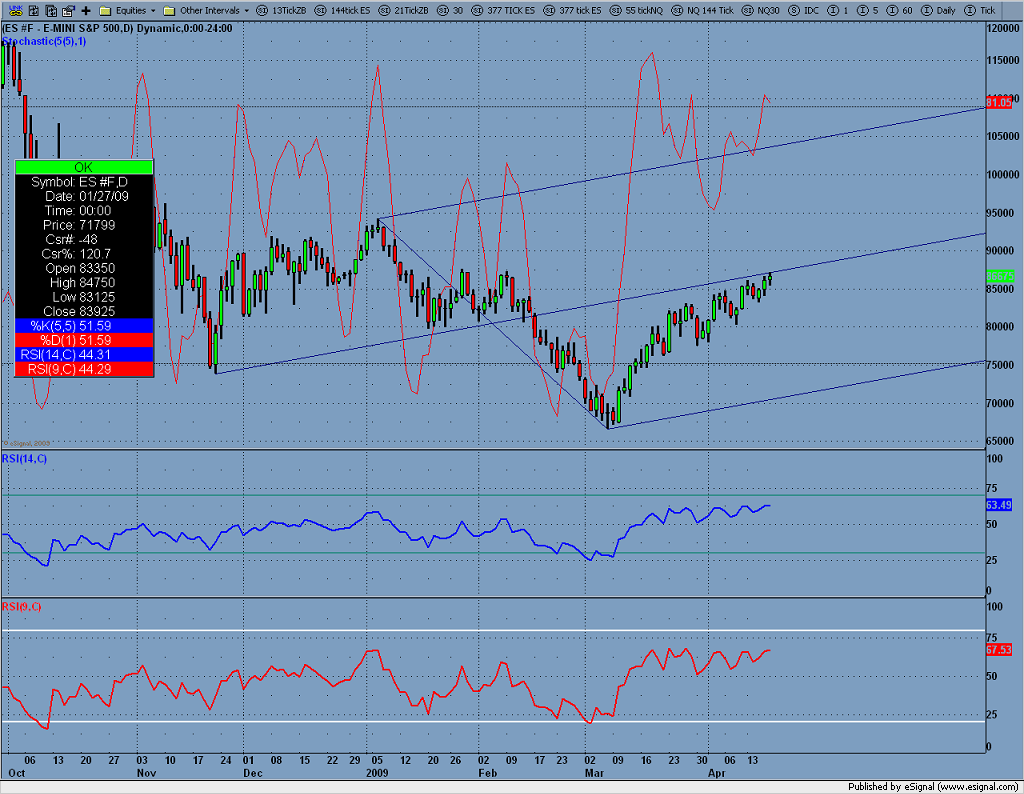 I'm waiting to see if the only aspect in gann's emblem from last oct. (837) holds. It rejected price hard. Buyers broke through but never did make support out of it.
Click image for original size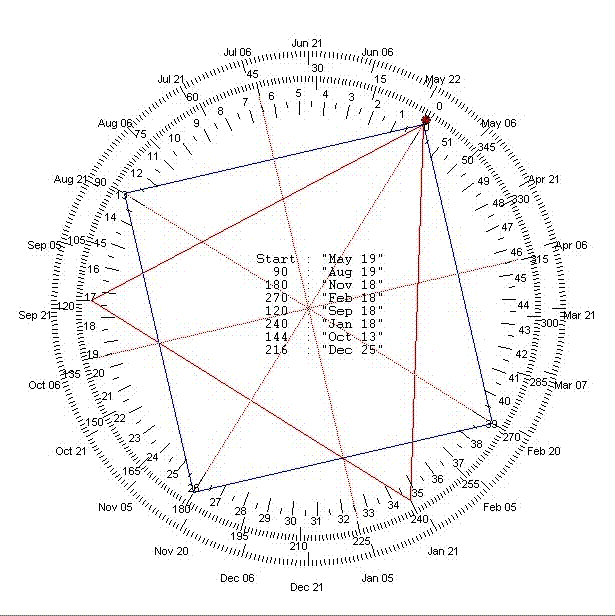 Here's my time/360° squared of 9 with appropriate channels for the
ES
daily:
Click image for original size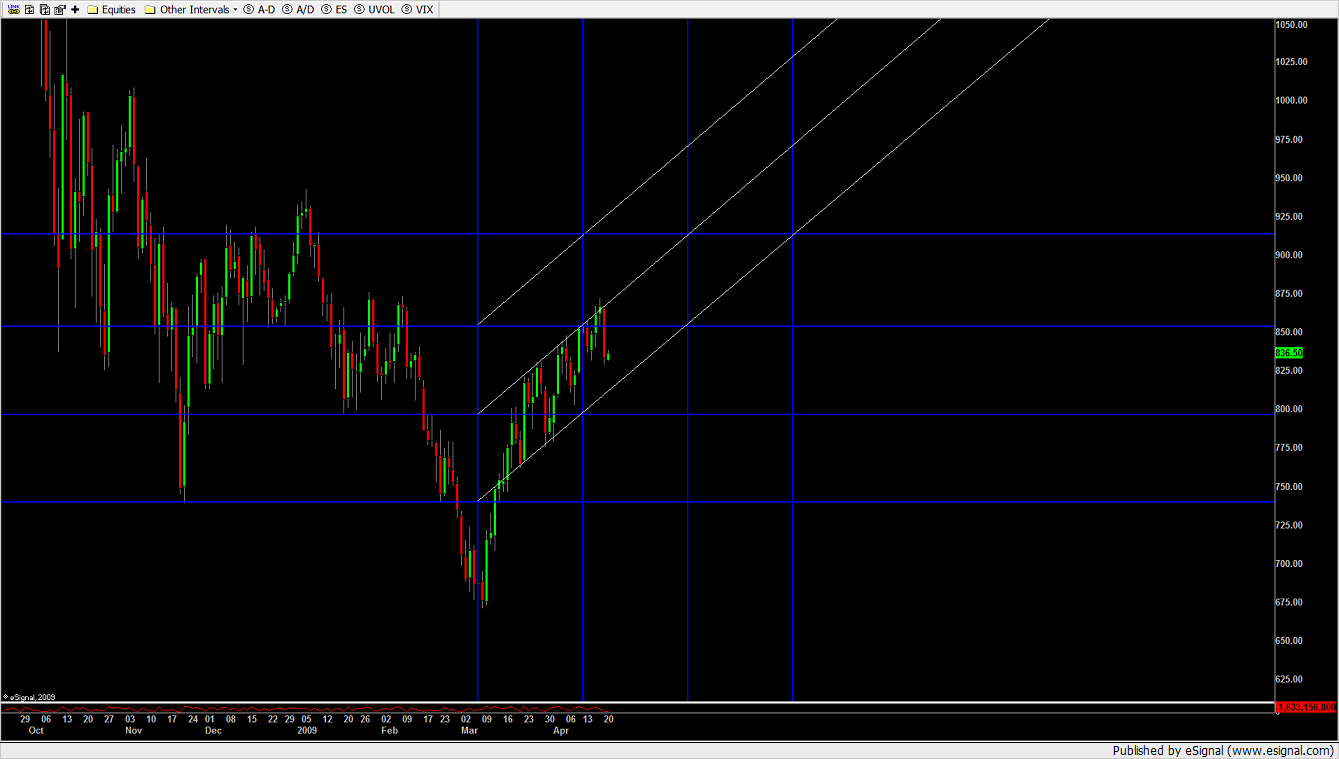 SQRT (swing low close) + 1(squared)
1=180
itineration
2=360
3=540
4=720
(
add
in an uptrend and subtract in a bear)
Time squared: Square root of extreme swing low or high (round to the nearest whole number and place at (per 360 cycle) dates.
Piece-meal gems, please be patient.
How do ya calculate the "Square of Nines" ??? Keep it simple, I'm not brilliant in math.
Can some one tell me if the square of 9 figures on the first page on this thread or for the
ES
? Thank you.
All the info on this thread seems very much like a product that I have been getting email promotions about. I actually asked about it on another thread in the forum and was unable to retrieve any real information. Do any of you use or have knowledge about the "Prime Line" product? thanks in advance.
I haven't traded bonds yet, I started using
Sierra charts
Aug 1st & it has a sq of 9 study, I remembered this thread & put the sq of 9 study on
GC
&
ZB
just to see, the #s are like magnets! The settings that seem to work best are 22.5 degrees & 45 degrees in that order.