Trading the ABC
Click image for original size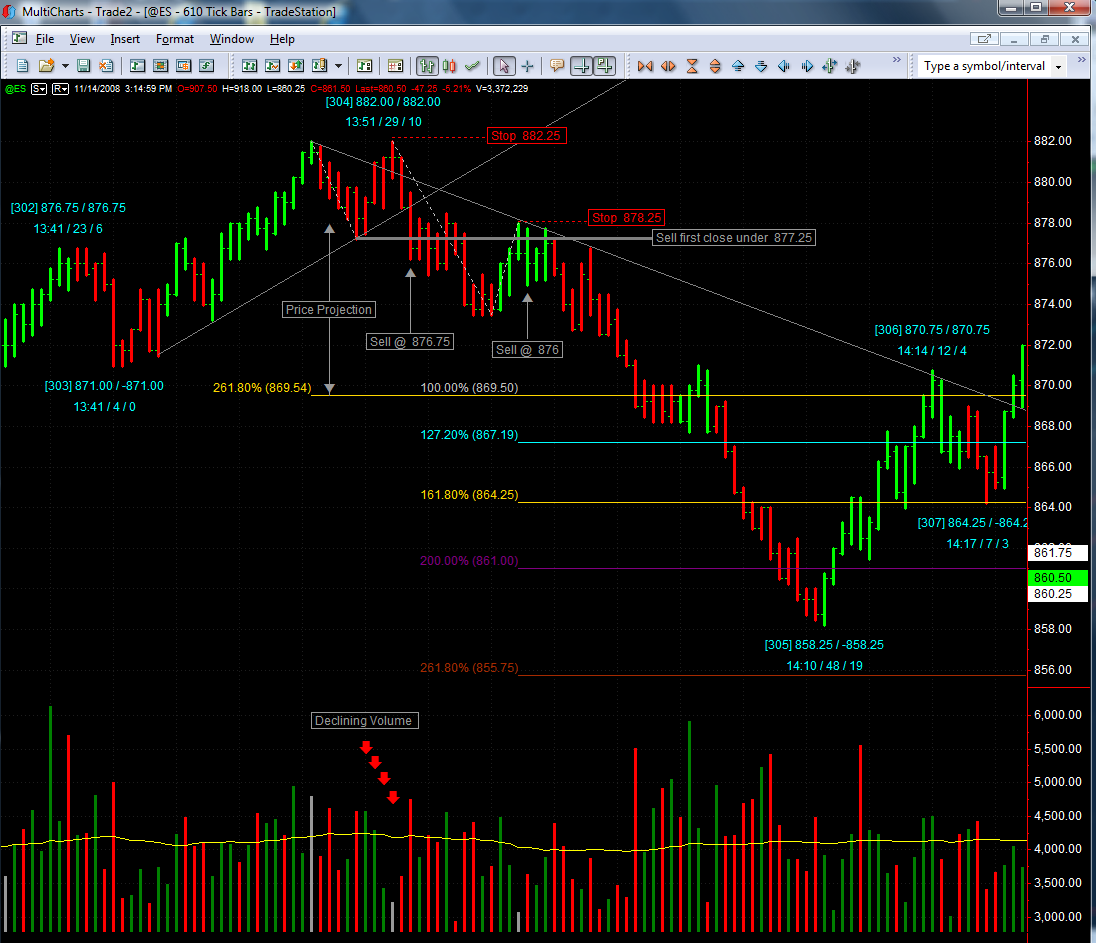 Here are 2 successful trades I had 11/13/08 in the
ES
based on a couple of patterns that I trade - a little double top and the
ABC
. I hope that some of you might find value in this. Commentary to follow.
Hey guys. There are a lot of great contributors to this site and I wanted to do my little part. For those of you that follow the
ES
thread I just wanted to give you an idea of my style or how I trade and maybe somebody can get some value out of it.
We had been in a prolong uptrend since that massive flush job down to 816.75 when these 2 patterns presented themselves. The first one is a little doudble top followed closely by an
ABC
. The double top/bottom and
ABC
's are my top two patterns that I trade. In the above chart you notice that we made a 882 H and then retraced down to 877.25 L and the trendline, really flagging for a continuation move up, but look at the volume decline on each bar we made higher. We were also at some resistance I had and when we didn't push over 882 I put a trendline on the 877.25 L and knew we had a tradable pattern if it closed below it. I took a price projection from the 882 H and 877.25 L which is marked on the chart.
When we ClOSED below 877.25 with an increase in volume I sold at market (filled @ 877.25) put stop 1
tick
above 882 H. We messed around for a few bars and took 7
ticks
of heat before we had a nice wide range bar down, but for three bars we couldn't break 873.50 so I took a quick 3 points. If you play this pattern then you know that it is very common to retrace back to the breakdown area. It retraced back to breakdown and 50% from the 882 H setting a nice
ABC
.
When we made a lower low CLOSE from the 50% retrace bar I sold at market (filled @ 876) and put my stop 1
tick
above the trigger bar high (previous bar) at 878.25. I ran a Fibo Trend Based Price Extension from the 882 H to the 873.50 L back to the 878 H and it automatically plotted my targets. Most all your platforms have this tool. I then drew the trendline from the first 882 H to the 878 H. I have to be honest I wasn't 1000% comfortable because we had been in a heck of a uptrend and my paintbar study still had green bars and yes
ABC
patterns are like any other pattern and they will fail at times. I took another 7
ticks
of heat before we had 3 down bars and then it came back on weak volume and was repelled at the trendline. Then the fun started. I took 1 contract off at the first target (869.50), which happend to be the exact same number as Kool's price projection, and moved my stop up to BE +3 points. I did this because I can't sit through a retrace once I have that much profit in a trade. I did not take profit at the second target because I only had 2 contracts but when it got there I again moved my stop to 871.25 (1
tick
above the 14:05 H). It didn't really matter because the 3rd target hit in no time @ 864.25. If I had had more than 2 contracts on I would have peeled 1 at the 2nd target and kept a runner.
Between the two trades I took 21.25 handles of their money with 2 patterns that are there each and everyday. Do they always work out this good? Nooope. Sometimes they are even better and sometimes not nearly as good. Do they work everytime? Nooope. Like I said above all patterns will fail at times and these two are no exception. I can tell you that the double top/bottom and
ABC
patterns are reliable and profitable and everybody should consider trading them. Thats my story and I'm stick'n to it. GL traders.
Excellant review! And helpful also. Ive heard you and Margie talking many times about the a-b-c- pattern and really didnt understand!
I like it
VO
! I'am heading down to the book store today for good coffee and more reading of The Master Swing Trader.
I used reply to topic...attach file...picked my uploaded file...maybe someone could give me guidance on what I need to do to attach additional charts
quote:

---

Originally posted by VOwater

I used reply to topic...attach file...picked my uploaded file...maybe someone could give me guidance on what I need to do to attach additional charts

---
It was the # in the file name that was causing problems. I changed it to an underscore _
Here is another example of one that was "nice and clean" and very profitable. I got sorta lucky on this because I was filled at 998.75 and on my DOM my stop is set at 2 points and I actually moved it to 900 instead of 900.25. The markets don't stop and wait for you until your ready and they move damn fast. Price came back and touched 900 but they didn't take me out!
Click image for original size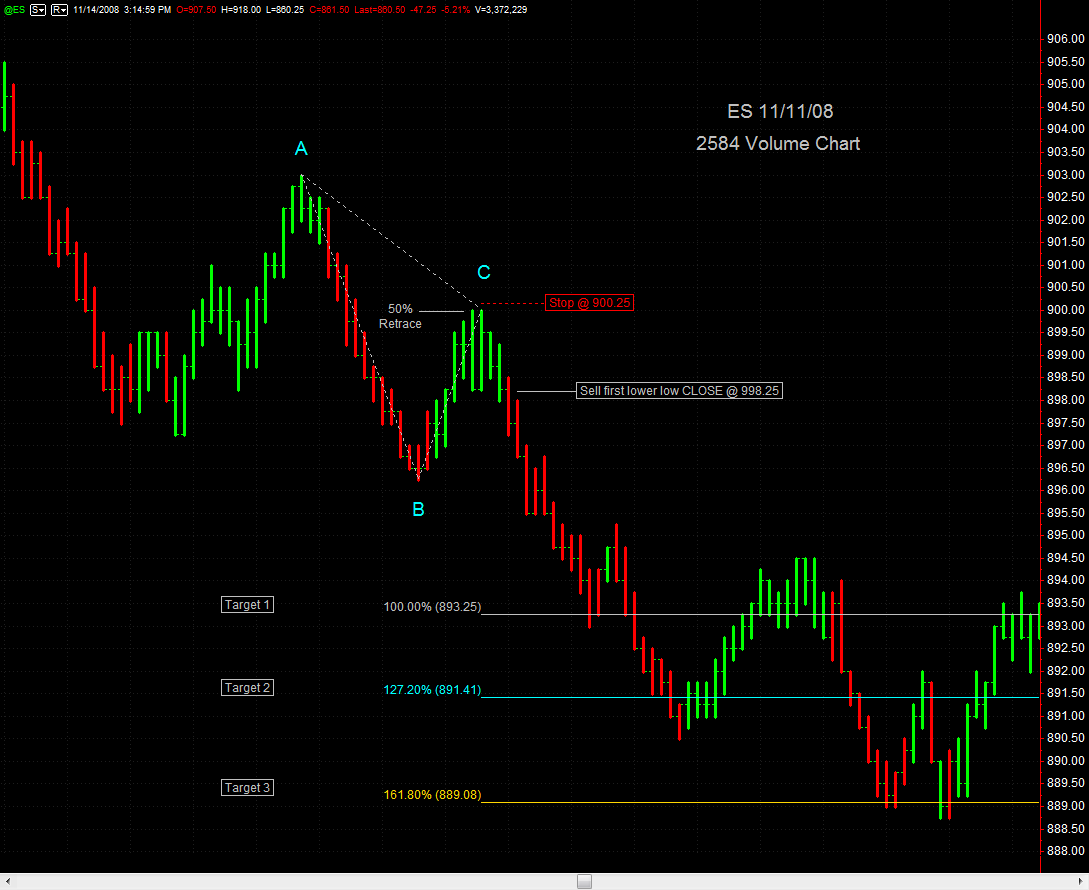 In the above chart that shows 3
ABC
's there are actually 4. If you look at the first one that I call bigger picture and follow down from the B point for 6 red paintbar candles you see a wide range candle that makes a higher high close. That happened at a 50% retrace and I was long @ 854.25 and they got me at 850.50, which was 1
tick
below the low of the candle before the WR candle. So you see they don't always work out. Thats ok because I got em back on the next little abc and unfortunately I didn't trade the last one.
Congrats VOwater for being open about your trading strategy. We all look forward to learning more from your experience and technique.