ES 12-18-2008
Good morning to the USA, good evening in Asia. As of now, 45 min before
RTH
. It took a steep plunge to the pivot at 903, all in less than 10 min.
As a short term scalper. Lets see for the first 3 mins to confirm EMA3 is on top of EMA9, 3 green candles with bearish resistance with
MACD
pointing up. Target 4 points with SL at 3. Trailing stop change to 5 when price changes to 3.
Have a profitable day everyone.
Click image for original size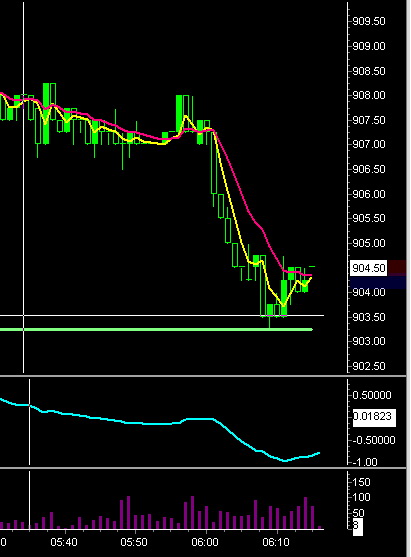 ,
thanks for that email Kool...My friend sent me some stuff on their course once he realized I was working with one minute thrusts.....they do good work and the ONLY flaw I can find in them is on one of their entries...plus you need to lease there software and there Volume levels and paintbars can change as they use relative/ average volume.....I like their stuff though
I couldn't short with all those matching highs up at the 908
PT
....I gotta see them run out
if that's not the ultimate clue that we are thin and waiting on something then I don't know what is!!
quote:

---

Originally posted by BruceM

Thanks Vo that's what I had imagined ...so you can use price projection failures on the lower time frame to get you going in the direction of the larger time frame......

quote:

---

Originally posted by VOwater

and yes bruce the bigger time frame projections do indeed carry more weight


---




---
speaking of failures....*cough *cough
(im alluding to myself)
yes yes i need more confidence but poking fun at myself is better than seriously saying im a tool.