Paint Bar Factory PBF Squeeze indicator
Paint Bar Factory PBF Squeeze indicator
I have been reading about the PBF (paint bar factory)
Squeeze indicator,
off the Paint Bar Factory site.
http://paintbarfactory.com/
Lots of charts and interesting read.
Has anyone had any experience with this indicator,
and does anyone use it in trading the E-Mini?
I would appreciate any/all comments,
since I'm quite interested in it.
thanks in advance
I have
Ninja
and have paid the full package price for the
ALL
the indicators and paid additional money for the HolyGrail indicator.
All I can say is, AWESOME!!!!!!!!!!!!!!!!!!!!!!!!!!!!!!!!!!!!!
His customer service is top notch. He replies to every single email with in hours and even in minutes, depending on the time of day. He doesnt have a trading room chat room, but his customer service is way better that the other gurus with other trading rooms.
He doesnt have a trading room, but he does have good reasons why, why would he have a room when he can concentrate on trading for himself and make more money and not waste his time chatting.
You need to LEARN the indicators and set-ups. I have not come across other indicators that are so quick like PaintBsrFactory's. These indicators
DO
NOT LAG !!!!!
It was hard to learn these indicators, but after re-reading his site and guides and in SIM mode for a month, these indicators are the bomb. And no, I am not a
shill
, and not a part of PaintBarFactory. I am just a trader that found an edge!
But I am a trader that LOVES hearing a trading room as well, so I do subscribe to other trading rooms such as ViperTradingSystems and EOTPROLIVE, which I wrote about in the respective threads.
Anyone wants to creat a special thread for PBF members, I'm all for it.....I'd like to hear others on how they use these PBF indicators as well....
PS, the PBF Squeeze is the BOMB !!!!!!!!!!!!!!!!!!!!!!!!!
If you're an
eSignal
user then we have the same indicator available in our indicator collection but we've called it the BBKCSwap. The BB stands for Bollinger Band and the KC for Keltner Channel and the swap means that when these values swap over the signals change.
Here is an example of what it looks like:
Click image for original size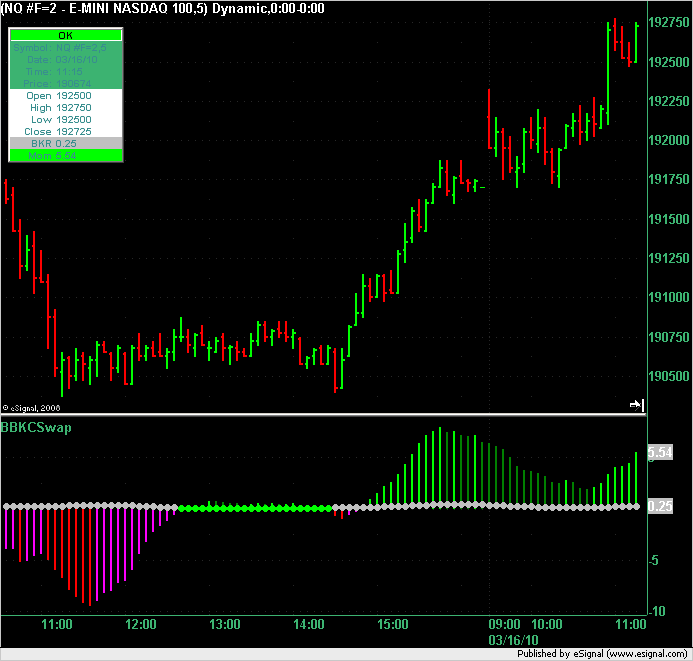 Most of the
indicators that we provide
are documented but at the time of writing this the BBKCSwap indicator is not documented. Hopefully we'll get to that in the near future.
If, however, you're an
eSignal user
then you can use this indicator immediately if you're a
Premium Member of MyPivots
. It will be one of the indicators that is downloaded from the
Premium Access
section of the site.