VENDORISMS
Taken verbatim from websites and emails hawking trading education, systems or methods. To pass muster, the promotional blather must satisfy one or more of the following:

1. High "cheese ball" factor – This speaks for itself … just plain cheesy … like a used car salesman's "what will it take to get you in this car today."

2. Old trite, worn out lines that you can find in any 1970's sales book sitting on the shelf at your local Half Priced Books store.

3. A claim or comment that is so insanely full of bull$hit that it takes your breath away at the sheer brazen attitude that a human bean would believe it.

Thought this might be semi-entertaining when the market gets slow (like now). Not intended to denigrate any vendors here, only to have a little fun with their promotional material.
Here's a few I've collected:
Trading and investing gurus are furious with me ever since I started making them look silly with my outrageous guarantee. And guess what really frosts their tail? I've come out of nowhere to challenge theses gurus. It's like they got blindsided.
This is totally unlike anything I've offered before ... it is brand new! In fact, I've been teaching my grandchildren already, and I'd love to share it with you as well.
Introducing the Most Powerful Day Trading Program on the Planet! We now present the
ALL
FREE
, Final Solution - period, ANY MARKET, ANYTIME, ANYWHERE in the world.
I'm only offering this sneak peek at my system to a select number of traders. To give it out to more would dilute its effectiveness. So get yours now.
Making an income with WaveRiderPro is easier and faster than it takes to drive to your bank's
ATM
machine.
For the first time ever, a 20 year veteran trader reveals his secrets showing you how to make 300% Today !
my loss is your gain, due to the unforseen circumstances I will now share with you my Closely Guarded Secrets, register here to read the first chapter now.
This method is so drop-dead simple that practically anyone with an I.Q. above room temperature could find and make trades all day long.
Learn how I Effortlessly Profit Every Single Day Trading The E-Mini
S&P
… And the Best Part Is I'm Finished By Noon. Here's The Proof!
Winning Edge Day Trading Signals Performance:
A $10,000 account trading one big
S&P
futures contract could have resulted to $1,691,223.00.
Click image for original size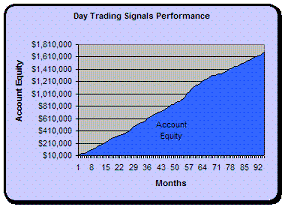 This fits the breathtaking BS award ... sign me up!
Hey Red ... is that for real??? I actually laughed when I saw it ... brought to mind the Geico caveman commercials. What a great promo catch phrase!